Brochure: GORE® Aerospace Cables and Materials for Civil Aircraft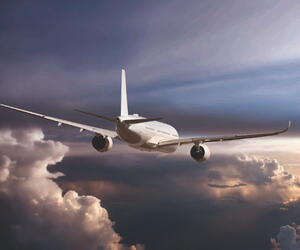 Brochures, English
The demand for new and updated aircraft is strong for many reasons, from the increasing demand for travel and better fuel efficiency to expectations for quick, reliable connectivity to devices and in-flight entertainment (IFE). To support this shift towards enhancing aircraft aerospace technologies, W. L. Gore & Associates offers GORE® Aerospace Cables and Materials for civil aircraft.
---
Cable Performance and Specifications
GORE Aerospace Cables and Materials for civil aircraft are engineered with Gore's innovative fluoropolymer technology called expanded polytetrafluoroethylene (ePTFE). This durable construction makes their performance superior to many alternatives on the market, with benefits such as the following:
Unrivaled reliability: Gore's products are durable and flexible enough to withstand mechanical, electrical and environmental stress factors while maintaining excellent signal integrity.
Increased fuel efficiency: With smaller, lighter weight cable designs that fit into existing spaces, Gore's products help to reduce the overall weight of the aircraft and improve fuel efficiency without sacrificing performance.
Faster data transmission: To provide flight crews with impeccable performance and passengers with constant, reliable access to IFE and connectivity for their devices, Gore's cables carry more data and power faster over longer distances.
Process optimization: As the aviation industry continues to require the newest technologies, Gore's products deliver increased manufacturing throughput and aircraft availability and are easy to install.
GORE Aerospace Cables and Materials include cables and assemblies and aircraft sealants that ensure superior electrical performance and reliability in the most severe environments. The complete line includes:
GORE-FLIGHT® Microwave Assemblies, 6 Series
GORE® Microwave/RF Assemblies, including Types 7M & 5H
GORE® Aerospace High Speed Data Cables, including

GORE® Aerospace Ethernet Cables 
GORE® Aerospace Fiber Optic Cables 
GORE® Aerospace HDMI 2.0 Cables 
GORE® Aerospace USB 3.1 Cables

GORE® Leaky Feeder Antenna
GORE® Aerospace Data Bus Cables
GORE® Aerospace Seat-to-Seat Cables
GORE® Aerospace Camera Link Cables
Other GORE® SKYFLEX® Aerospace Materials, including tapes and gaskets
Meeting Rigorous Standards across Various Applications
GORE Aerospace Cables and Materials are qualified for effective use in a variety of civil aircraft applications, including airframes, high-speed digital networks, wireless systems, and Ka, Ku and L band antenna applications. They are rigorously tested at Gore's world-class, certified laboratories, highlighting our commitment to product integrity. Whenever possible, we also test and validate our products and your components in real-world conditions, as our global testing facilities allow us to simulate many operating environments. Gore's labs are comprised of three expertise areas, including:
Digital and microwave signal analysis
Environmental and stress testing
Electromagnetic compatibility
How to Order GORE Aerospace Cables and Materials for Civil Aircraft
Whether you need high-performance cables, in-flight connectivity or aerospace materials for increased aircraft throughput, you can be confident that our products will perform reliably now and over the life of the aircraft. To learn more about GORE Aerospace Cables and Materials for Civil Aircraft, contact a Gore representative today to discuss your specific application. Prequalified, tested complimentary samples are also available for select high-speed data cables within 48 hours. When you're ready to purchase GORE Aerospace Cables and Materials, find a trusted authorized distributor.
---
FOR INDUSTRIAL USE ONLY
Not for use in food, drug, cosmetic or medical device manufacturing, processing, or packaging operations.