Overview
Continuous improvements in aerospace technology keep driving the demand to update military aircraft with cables that can transmit lots of data at higher speeds. Cables also need to deliver more power and reliable signal integrity in less space.
GORE Aerospace FireWire Cables are the premier solution for copper-based 1394b FireWire data links. Our cables provide high-fidelity signal links for interconnect solutions up to 75 feet at S400 data rates for uninterrupted high-speed communication on modern avionics networks.
SIGNAL INTEGRITY WITH FLEXURE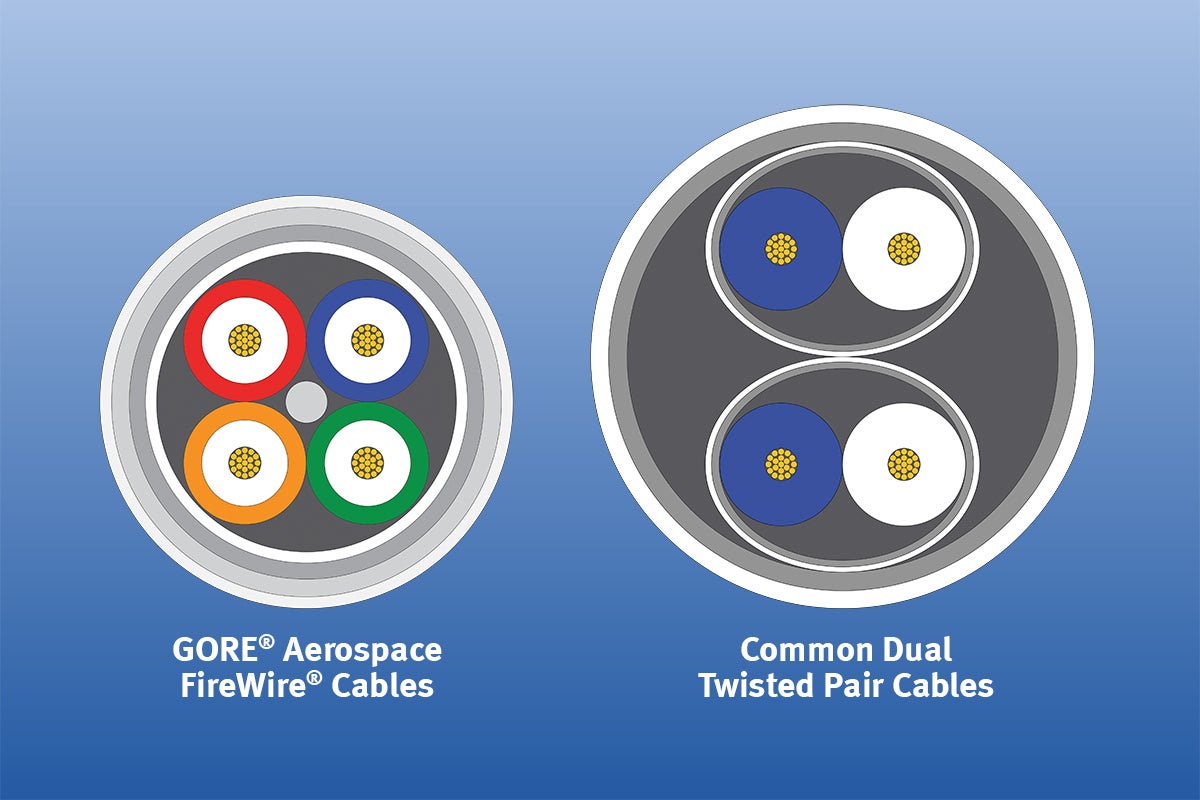 Smaller, Lighter Cable Design
We evaluated the eye pattern of our 1394b FireWire cables before and during flexure to ensure signal integrity. Results showed that they passed the eye mask test with margin, indicating greater transmission length is possible. Our highly flexible cables continued to maintain signal integrity even after we wrapped them around a mandrel 20 times. So, aircraft maintainers can easily and tightly bend our cables in narrow spaces during routing without damaging or breaking them.
Also, our specialized quad design is significantly smaller by approximately 40% and lighter weight when compared to conventional constructions such as dual twisted pair cables. So, our 1394b FireWire cables can save as much as 11.5 lbs. (5.2 kg) per aircraft on average. But, even though they're smaller and lighter, our cables boost performance and protection in challenging military environments because of the added strength in their construction.
Flexible Construction of GORE Aerospace FireWire Cables, 1394b.
FireWire is a trademark of Apple, Inc., registered in the U.S. and other countries.
Applications
GORE Aerospace FireWire Cables, 1349b are engineered to perform reliably in a variety of military applications, including:
avionics networks
flight control
mission systems
propulsion control
If you have any questions or to discuss your specific application needs, please contact a Gore representative.
Benefits
GORE Aerospace FireWire Cables, 1349b provide manufacturers with many benefits that improve electrical and mechanical performance such as:
high-fidelity signal links for interconnect solutions up to 75 feet at S400 data rates
excellent signal integrity with greater transmission length before and during flexure
added strength that boosts performance and protection in extreme conditions
quad design that is approximately 40% smaller than common dual twisted pair constructions
lighter weight construction proved to save as much as 11.5 lbs. (5.2 kg) per aircraft
tighter bend radius for easier routing in narrow spaces surrounding sensitive electronics
For more information about the benefits of our cables, please contact a Gore representative.
Properties
These values demonstrate the electrical, mechanical and environmental performance of GORE Aerospace FireWire Cables, 1349b.
Electrical Property
Value
Standard Impedance (ohms)
110 +6/-4
Typical Operating Voltage
<15
Velocity of Propagation (nominal) (%)
80
Time Delay (nominal) [ns/m (ns/ft)] - 24 AWG
4.10 (1.25)
Capacitance [pF/m (pF/ft)]
39.4 (12.0)
Near-End Crosstalk (NEXT)
dB min @ 10 MHz
dB min @ 100 MHz

50.0
35.0
Skew (ps/ft) Within Pair (typical)
26.25 (8.0)
Dielectric Withstanding Voltage (Vrms)
Conductor-to-Conductor
Conductor-to-Shield

1500
1000
Mechanical / Environmental Property
Value
Jacket Material
Engineered Fluoropolymer
Jacket Color
White (Laser Markable)
Conductor
Silver-Plated Copper or Silver-Plated Copper Alloy
Conductor Color-Coding
Red/Green
Blue/Orange
Dielectric Material
ePTFE/PTFE
Temperature Range (°C)
-55 to +200
Part Numbers and Drawings
Download the drawings to view product specifications, like diameter, weight, minimum bend radius, and attenuation values.
Qualifications
GORE Aerospace FireWire Cables meet the stringent specification requirements of military aircraft. They have undergone substantial qualification testing to ensure they meet the specifications of the most current standards and our customers' requirements.
ANSI/NEMA WC 27500 Performance Requirements: Environmental Testing, Jacket and Marking
AS4373 Test Methods for Insulated Electric Wire
BSS7239 and ABD0031 (AITM 3.0005): Toxicity
FAR Part 25, Appendix F, Part I: Flammability
FAR Pt 25, Appendix F, Part V: Smoke Density
SAE AS6070™ AS5643: IEEE 1394b Interface Requirements for Military and Aerospace Vehicle Applications
SAE AS6070™/8: IEEE 1394b (110 Ohm): RCN8645,RCN8647, RCN8652
Fill out a short form to receive a complimentary sample of our pre-qualified cables for prototyping and evaluation
Resources
Recent News