Overview
Improvements in aerospace technology and the need for more power performance are driving the demand to update civil aircraft with higher data rate cables. At the same time, cables need to provide consistent power performance and signal integrity in less space.
GORE Aerospace Quad Cables provide outstanding electrical and mechanical performance compared to standard quad cables — making them an ideal solution for a variety of high-speed data protocols. For Ethernet Cat5e requirements, they maintain reliable signal transmission up to 70 meters for size 24 AWG and 50 meters for size 26 AWG. When tested, Gore's cables provided reliable signal integrity before and during flexure, indicating greater transmission length is possible.
Size and Weight Savings with Gore's Materials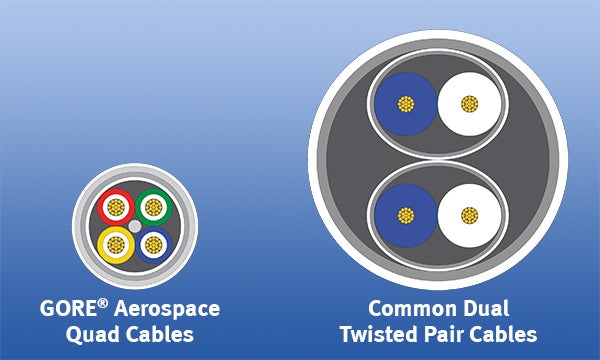 Smaller Quad Cable Design
The unique design our cables offers significant size and weight savings when compared to conventional constructions such as twisted pair or standard quad cables. Our quad design is approximately 40% smaller than common dual-twisted-pair constructions and has saved as much as 11.5 pounds per aircraft. The small cable diameter also increases flexibility with a tight bend radius making initial routing easier.
The excellent signal integrity of our cables can enable utilization of smaller gauge cables in your system architecture. Because of their electrical performance and long transmission distances, our cables can reduce the need for additional signal amplification — further decreasing weight and power requirements.
Applications
GORE Aerospace Quad Cables are engineered to perform reliably in a variety of civil aerospace applications, including:
box-to-box systems
digital visual interface (DVI)
Ethernet networks
high-definition serial digital interface (HD-SDI)
Benefits
GORE Aerospace Quad Cables provide manufacturers with many benefits that improve electrical and mechanical performance such as:
reliable signal transmission up to 70 meters (24 AWG) and 50 meters (26 AWG) for Ethernet Cat5e protocol
high-speed data transmission over longer distances, minimizing the need for additional signal amplification
excellent performance in extreme temperatures ranging from -65⁰ C to 200⁰ C
unique design that is 40% smaller than common dual-twisted-pair constructions
durable construction that is lighter weight and proven to save more than 11 lbs. per aircraft
For more information about the benefits of our cables, please contact a Gore representative.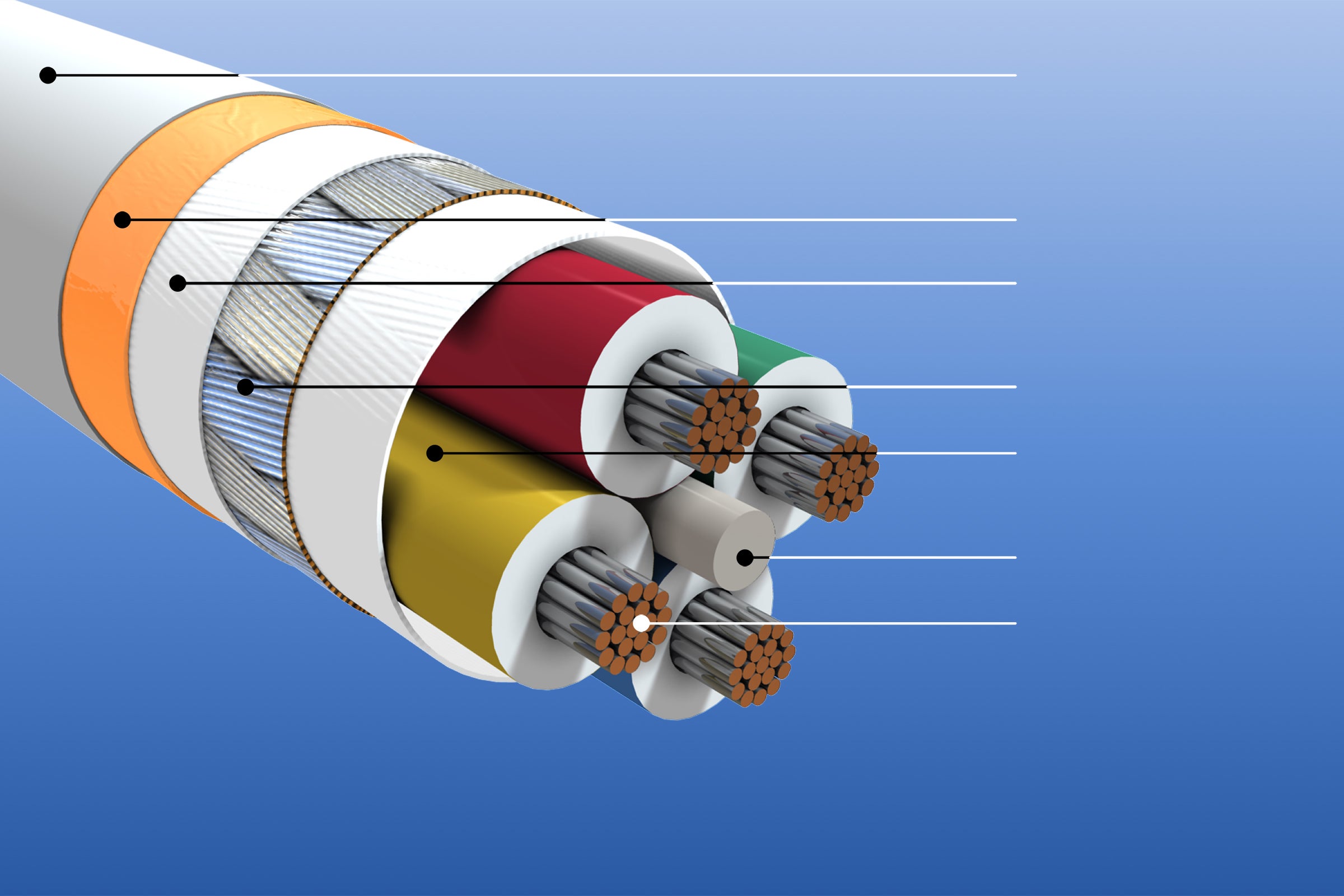 Lightweight construction of GORE Aerospace Quad Cables
Properties
These values demonstrate the electrical, mechanical and environmental performance of GORE Aerospace HDMI 2.0 Cables.
Property
Value
Standard Impedance (ohms)
100 ± 5
Voltage Rating (V)
< 50
Velocity of Propagation (nominal) (%)
> 70
Near-End Crosstalk (NEXT)
dB min @ 10 MHz
dB min @ 100 MHz

50
35
Capacitance [pF/m (pF/ft)]
50 (15)
Test Voltage (DC)
Conductor-to-Conductor
Conductor-to-Shield

2500
2500
Mechanical and Environmental
| Property | Value |
| --- | --- |
| Jacket Material | Engineered Fluoropolymer |
| Jacket Color | White |
| Conductor | Silver-Plated Copper Alloy |
| Conductor Color-Coding | Blue, Red, Green, Yellow |
| Dielectric Material | ePTFE/PTFE |
| Temperature Range (°C) | -65 to 200 |
Resources
Recent News