Microwave Journal Article: Shielding Effectiveness of Microwave Cable Assemblies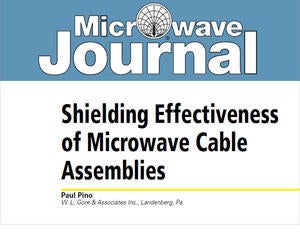 Industry Articles, English
The importance of a microwave cable assembly's shielding effectiveness cannot be understated. Across defense, civil, and aerospace applications, it impacts the system performance of the aircraft and could impede upon data transmission capabilities. In this Microwave Journal article by Paul Pino of W. L. Gore & Associates, you can learn the difference between a quality shield and a poor one when navigating options for your airframe cable assemblies.
---
About the Article
Microwave Journal is a highly respected source for news regarding RF and microwave assembly technologies. In "Shielding Effectiveness of Microwave Cable Assemblies," Pino provides readers with a stronger understanding of cable assembly shielding effectiveness, its importance and how it impacts overall performance. He also explores microwave cable assembly construction techniques and provides advice on the questions aircraft engineers, operators and manufacturers should be asking when choosing the right solutions.
GORE-FLIGHT® Microwave Assemblies for Aircraft
In many applications, the shielding effectiveness of microwave cable assemblies is often ignored. Often, this is because adequate performance is often assumed and rarely verified by manufacturers before products enter the market. However, this excludes solutions from Gore, as Pino explains in the article. All Gore products are prequalified to the most stringent industry standards, including GORE-FLIGHT Microwave Assemblies for Aircraft, which are available for defense and civil applications.
Proven to deliver high performance in harsh aerospace conditions, GORE-FLIGHT Microwave Assemblies for Aircraft are trusted around the world by operators, engineers and manufacturers. In the defense sector, they are ideal for airborne electronic surveillance, counter measures and jamming applications, as well as those involving C5ISR, electronic and signal intelligence, electronic warfare (EW) systems, navigation and communication systems, radar interconnects and radar warning receiver (RWR) systems. They are also approved for various civil applications, including Ka-Band SATCOM antennas and Ku-Band SATCOM antennas.
Exploring Cable Assembly Shielding Effectiveness and Construction
Thanks to their robust construction in a lightweight, flexible package, GORE-FLIGHT Microwave Assemblies for Aircraft are known to provide a host of benefits, such as:
Fewer aircraft production delays and failures, resulting in lower installation costs
Enhanced durability for high performance in harsh conditions
Reduced RF interference with superior shielding effectiveness across electronic systems
Elongate system life with less downtime, decreasing overall cost of ownership
Deliver lowest insertion loss at all times, including:

After installation
During use
Over the system's lifespan

And more.
Download Now or Contact Gore for More Information
Interested in more information? Download the full version of this Microwave Journal Article authored by Gore: Shielding Effectiveness of Microwave Cable Assemblies by filling out the form below or contacting us today.
---
FOR INDUSTRIAL USE ONLY
Not for use in food, drug, cosmetic or medical device manufacturing, processing, or packaging operations.