Defense Cable & Cable Assemblies
The military depends on critical avionics, vectronics and tactical equipment to deliver real-time Intel and constant communication for mission success, safety and survivability. Undoubtedly, cables and cable assemblies connected to these sophisticated electronics represent a lifeline to military personnel. Whether you're a pilot flying an F-16 fighter jet or UH-60 Blackhawk rotorcraft, a soldier geared up for ground combat or an aircraft maintainer, cables and cable assemblies must function reliably at all times.
But, cable materials can get easily damaged from complex routing, which causes abrasion, cut-through and even breakage. Other stress factors like extreme temperatures, tough weather and terrain, severe vibration, high impact and harsh chemicals can cause cable materials to deteriorate over time. These challenges can risk missions and personnel safety, plus result in cost-intensive cable replacements, maintenance, repair, labor and downtime.
It all starts with cable material durability, flexibility and reliability, and this is where Gore's expertise can make a difference.
How Can Gore Help?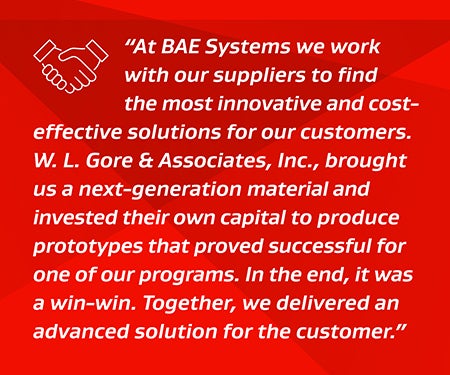 Our commitment to innovation is based on decades of carefully understanding materials and how they interact with real-world conditions. We have unique and unparalleled expertise in manipulating expanded PTFE (ePTFE) and other fluoropolymers. Our engineers can change a material's structure, shape, thickness and surface geometry, then pair it with complementary materials to provide the performance qualities required by the application and customers. The result is our ability to make cables and cable assemblies that are more durable, flexible and reliable. Despite their environments, our products have been proven now and over time.
Standard cable materials with more durability tend to be thick and heavy, but each extra pound/kilogram of weight can increase operating costs. Fortunately, we can manipulate our materials to make them thinner, lighter and smaller without compromising durability or signal quality and transmission. Some of our products are up to 60% lighter than industry alternatives, saving valuable weight and space in aircraft, vehicles and soldier-worn equipment. And unlike standard materials that are stiff and difficult to handle, our cable materials are highly flexible for faster, trouble-free routing and use.
Whatever the mission or operation, we offer standard and custom cables and cable assemblies for aerospace and defense to meet your exact application requirements and future needs.
High-Speed Data Cables
Our variety of vehicle and aircraft micro cable configurations meet higher data rate demands and bandwidth-intensive requirements for modern vectronics and airborne digital networks. They support the latest open-source architectures and standardized protocols, like Ethernet, CAN Bus, IEEE 1394 FireWire®, Fibre Channel, HDMI, USB and more. They're also compliant with stringent military standards, like SAE AS4373™ and VG95218-31.
With proven installed performance, these robust cables send secure signals and transmit high speed data and video with low loss after installation for the duration of your system and equipment. The military can feel confident that they'll receive clear, accurate Intel in real-time without delay for a decisive edge in volatile situations.
Microwave/RF Cable Assemblies
With higher frequencies and 5G capabilities on the rise, our products deliver quality signals from 18 GHz to extremely high frequencies (EHF) up to 110 GHz. They maintain low loss, reliable VSWR and consistent phase/amplitude stability for improved system performance and test outcomes. These small, high flex coax cable assemblies in rugged constructions survive rigorous handling and routing in the tightest areas compared to leading competitors.
Our vehicle and aircraft cable assemblies perform reliably in many applications, like SATCOM antennas, C5ISR suites, AESA (active electronically scanned array) radars, portable analyzers, vector network analyzers (VNAs) and 5G test systems.
Proven & Trusted for Decades
Since 1958, the armed forces have trusted and relied on Gore's defense cable and cable assemblies for mission success and personnel safety. We're proud that our products have won industry awards and are used in many land and aviation applications, including every major military aircraft, like the latest fifth-generation F-35 fighter jet.
Videos
Our 1.8 mm Simplex with enhanced crush protection outperforms the competition in resisting high impact. We tested our cable's resistance at a higher weight than specified in ARINC and BMS aerospace standards.
By comparing signal integrity before and after installation, Gore can engineer aerospace cable assemblies that withstand airframe installation and the demands of the aircraft's flight envelope.
We engineer our products right, from the outset saving you time and money and so much more. Start your next defense air and land project with us.
Gore supports enduring and future fleets by delivering reliable cables and materials proven to ensure mission-critical success, rotary-wing survivability and personnel safety.
Free Webinars
Using real-world examples, our experts show how failing to select the right connectors and cables early in the design process can negatively impact aircraft availability and EWIS (electrical wiring interconnect system) performance.
Learn how choosing the wrong aviation cable assemblies for SWAP (size, weight and power) trade-offs can severely impact installed performance, operational readiness and overall costs for the aircraft survivability equipment market.
Industry Awards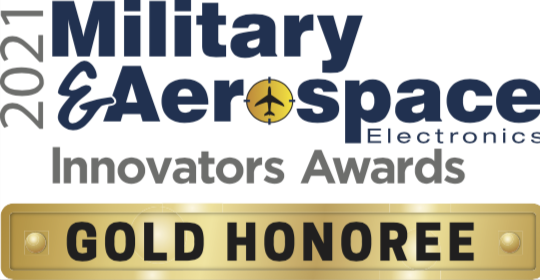 GORE® High Performance Aerospace Wires were recognized for providing EWIS reliability, increase operational readiness, improve safety and reduce total lifecycle costs for next gen aircraft.
---
FOR INDUSTRIAL USE ONLY
Not for use in food, drug, cosmetic or medical device manufacturing, processing, or packaging operations.