Filter Bags for the Metals Industry
The wide-ranging metals industry is united by a need for efficient, reliable and cost-effective filtration systems that can be counted on from day to day. GORE® Filter Bags deliver increased airflow, efficient energy utilization and better temperature capabilities for greater flexibility in your air pollution control system.
Contact Us
United States
+1 800 437 5427
Australia
+61 2 9473 6800
Central America
+52 81 8288 1281
France
+33 (0)1 56 95 65 65
Germany/Austria/Switzerland
+ 49 89 4612 2211
Netherlands
+31 (0) 135 07 47 00
Scandinavia
+ 46 31 706 7800
South America
+ 55 11 5502 7800
South Africa
+ 27 11 894 2248
Taiwan
+ 886 2 8771 7799 x28731
United Arab Emirates
+971 2 4437749
United Kingdom
+ 44 1506 460123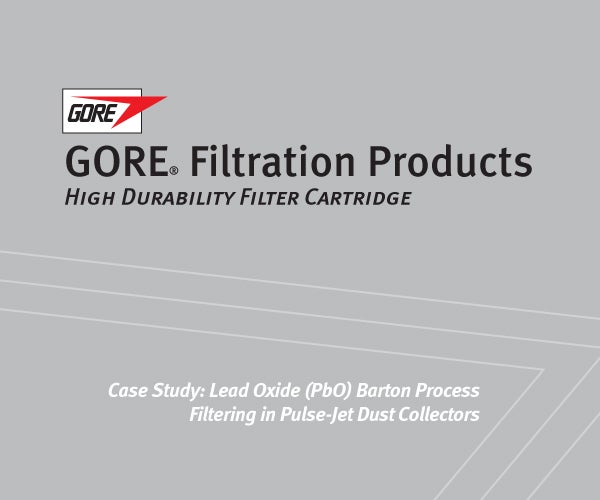 Particle and Gas Filtration for Industrial Processes & Bag Houses GORE Filter Bags - By Industry
Original set of GORE® membrane filter bags were in service for more than three years and were removed during a planned maintenance shutdown. Emission levels measured less than required by standards/regulations during this operational period.
English (U.S.)
All Resources For Filter Bags for the Metals Industry
Overview
The key to high-efficiency filtration in metal manufacturing industries is higher durability. You need a filter that works in the long-term, to not only keep you in compliance, but to give you the flexibility to meet demands, and all with a low total cost of ownership.
GORE® Filter Bags are proven across the steel, secondary lead, ferroalloy and non-ferrous metals industries, in operation such as smelting, refining, recycling and recovery. Designed by experienced baghouse filter manufacturers, our metallurgical filter bags provide both reverse air and pulse jet fabric filter baghouses with:
Greater efficiency
Lower resistance
Greater airflow
The three key filtration factors
Baghouse operators purchase filter bags primarily for particulate collection. This is a primary filtration factor. As the particulate is collected, the resistance to flow, differential pressure, increases, causing higher fan energy costs. This is a secondary filtration factor. When the filters have holes so they are no longer as efficient at particulate capture as they need to be, or when the differential pressure of the filter bags is too high, the filter bag life is over. Although life is a primary thing considered during a filter selection, it is defined by the primary and secondary factors. Gore provides the optimal balance of
extremely high filtration efficiency
very low resistance to flow
and extremely long filter life.
These qualities make our high temperature dust collector filter bags extremely durable and reliable through each cleaning cycle, resulting in a long product life overall. Because our industrial dust collector filter bags stay running longer, they don't need to be replaced as often — equaling lowered maintenance costs, increased yield and greater productivity. This amounts to lowered overall cost of ownership.
Why Gore?
As the leading developer of high-quality, reliable filtration products for baghouses in the metals processing industries, we've listened to our customers and taken industry needs into account when developing solutions that truly address what metals manufacturers face each day.
Gore was the first to develop PTFE-based membrane filters. With their PTFE membrane and robust construction, our filter bags deliver high performance — and value — while ensuring your plant meets all environmental regulations. Across all of our filter products, reliability is the Gore standard.
Our recent, innovative solutions include GORE® LOW DRAG Filter Bags, which are proven to reduce operating costs by promoting improved airflow and energy utilization, and GORE® Low Emission Filter Bags, whose seam-taped design reliably prevents emission leaks through stitch holes.
When analyzing Gore's filtration products for use in your filtration system, we encourage you to consider three important factors:
our truly innovative products which offer filtration performance that you will not find elsewhere
our proven product reliability and
our unique system approach to filtration process optimization, which includes our technical support for the lifetime of the filter bags
These three attributes enable Gore's solutions to deliver the lowest total cost of ownership available in a filtration system.
Steel
In steel production, flue gas streams flow through baghouse filters to extract any particulates generated during the smelting process. This process, though simple, must reliably meet all regulatory requirements while being operated and maintained at the lowest total cost. This reliability, capability and cost can be drastically different depending on the specific filters used.
For one, filters must help plants comply with regionally specific EPA regulations and the National Ambient Air Quality Standards (NAAQS). Total particulate emissions, both from the baghouse as well as from the meltshop, are closely monitored; non-compliance results in significant additional costs and attention for the plant. Another concern is worker safety; plants must create a comfortable and safe working environment inside the meltshop, or risk non-compliance with the Occupational Safety and Health Administration (OSHA) regulations and poor labor relations.
In the extreme, poor performance in a steel industry dust collector can force plants to curtail operations and production rates to maintain compliance
Innovative Products for steel producers
GORE Filter Bags are superior in steel baghouses because they reliably capture more of the finest particulates while providing better airflow. This results in increased fugitive capture efficiencies and lower overall particulate emissions. Because of the high-performing, PTFE-based membranes in our filters, binding of the filtration media is prevented and a consistent airflow is maintained in the process. Due to increased cleaning efficiency, the overall baghouse pressure drop is reduced, and a 10–15% increase in airflow can be typically achieved.
GORE LOW DRAG Filter Bags: Lower Resistance to Flow has many possible benefits!
Though each of our filters provides these benefits to smelting industry filter bags and the wider steel industry, the GORE LOW DRAG Filter Bag is especially effective. The lower the resistance, the less energy is needed to move air through a steel plant baghouse. Through the use of a new proprietary membrane, Gore is able to achieve a filtration surface that's left almost perfectly "clean" and unclogged after each cycle of a cleaning system, allowing for lower pressure drops and more air to flow.


The results include:
Increased fan energy efficiency
Increased flow capacity
Increased bag life due to reduced cleaning
The potential to decreased number of filter bags installed
Greater steel operations flexibility
Reduced emissions
GORE® LOW DRAG Filter Bags improve your overall operation of air pollution control systems in metallurgical processing operations. This video details how improvements such as increased airflow and efficient energy utilization allow for maximum compliant flexibility in operations such as smelting, refining, recycling and recovery.
Our filter bags reliably deliver the emissions control that keeps steel manufacturers in good standing with the EPA and other environmental organizations around the world. The Gore difference is that while our customers remain compliant, they can also explore options to reduce that cost of compliance, through energy savings and/or improved fugitive capture at the furnace and meltshop due to the increased capacity of their off-gas system. Such improved performance can allow for more flexibility to optimize their meltshop operations.
Secondary Lead
So prevalent in consumer electronics and automobiles, lead is one of the world's most versatile and recycled metals. Unfortunately, use of this metal presents some risks, and the EPA and other international environmental organizations have set extremely tight regulations for lead dust emissions by the lead refining and recycling industries. In the U.S., for instance, the combined stack limit is 0.2 milligrams/normal cubic meter of lead particulate.
Equally regulated are the limits for plant workers' exposure to lead. Due to fumes potentially escaping smelting furnaces and refining kettles, workers are at risk of lead exposure by breathing air that could be contaminated. This has led the industry to adopt a rigorous blood-level monitoring program with current targeted blood-lead concentrations of less than 20 ug PB/dl.
With costly impacts to operations if workers were to exceed these limits, the goal for lead recycling plants is to absolutely minimize worker exposure, which includes improving the fugitive capture of lead emissions at their source.
Innovative Products for secondary lead producers
While many ePTFE membrane filter bags can meet low emissions requirements only through the filter media itself, GORE Low Emission Filter Bags take emissions capture assurance and worker safety to a new level.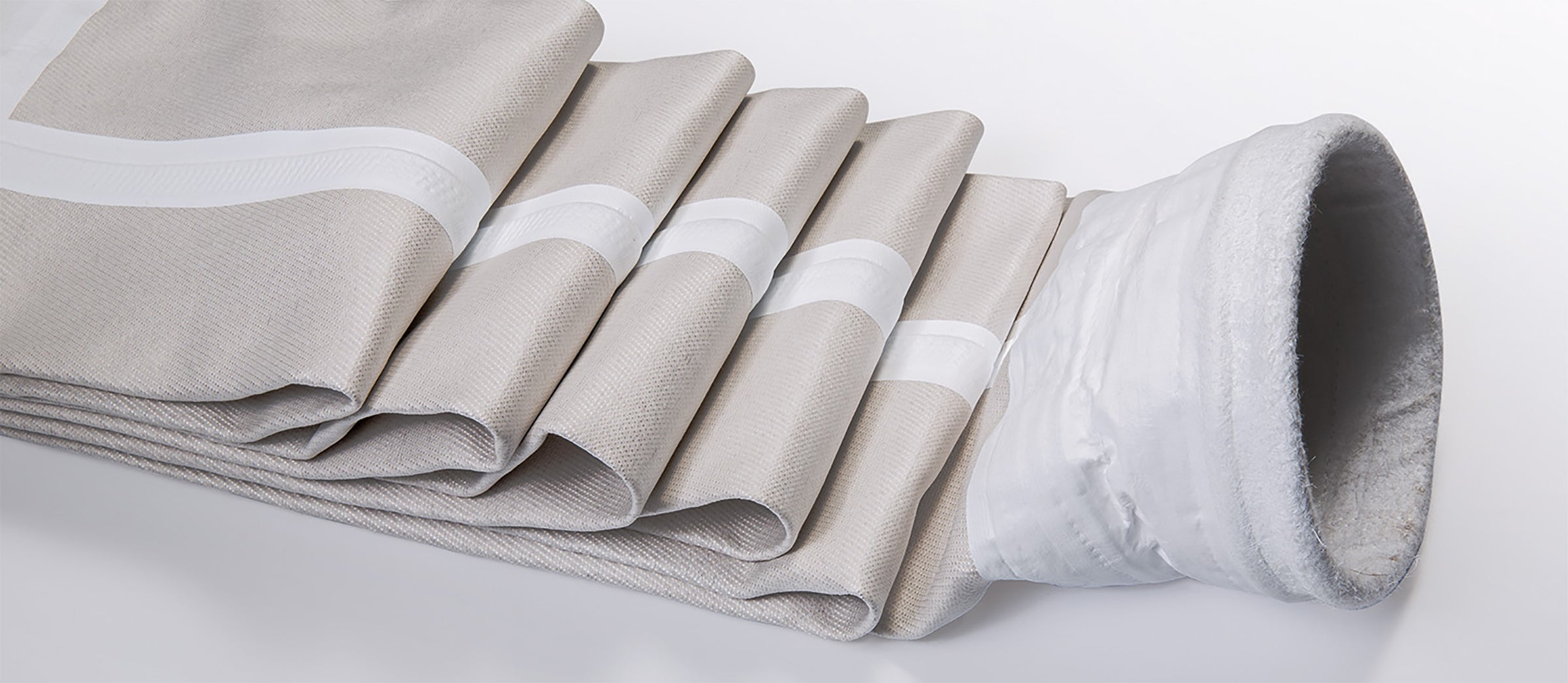 In addition to robust constructions and highly durable, efficient membranes, GORE Low Emission Filter Bags are seam-taped to prevent any leaks through the stitching holes created during manufacturing. This allows the bags to meet the strictest lead emissions regulations — good news for workers and each plant's overall compliance — while providing the same level of quality and reliability as our standard filter bags.
What is unique to Gore is the ability to tape high temperature, chemically resistant filters with a newly engineered and patented high-durability PTFE seam tape covering all stitches on the filter bag. The PTFE is resistant to cracks despite continuous cleaning cycles, high temperatures and chemical exposure, allowing the bags to comply with the strictest emissions in the world.
When designing filter bags for our secondary lead customers, we always target zero emissions. With the GORE Low Emission Filter Bags, we can reliably strive for that target for the benefit of your plant and your workers.
Ferroalloys
In order to stay competitive in today's world, ferroalloys producers are constantly looking for ways to improve and increase the capacity of their furnace systems and enhanced alloy smelters, without adding significant costs to their plant off-gas systems. In a world of increasingly stringent environmental regulations, the baghouse and fume extraction systems are constantly being stressed and operated at their maximum capability. In this environment, consistent operation, premium performance and reliability plays a more important role in ensuring constant plant operations.
The goal, then, is to find a filter bag that reliably ensures emissions control while maintaining a consistently high extraction volume from the furnace. At Gore, that's what we seek to achieve for our customers — and even add proven cost-effectiveness.
Innovative Products for ferroalloys producers
GORE Filter Bags are superior for ferroalloys production because they capture the fine particulates typical in Fe-alloy systems while providing better airflow. This results in increased capture efficiencies and lower overall particulate emissions. Because of the high-performing, PTFE-based membranes in our filters, binding of the filtration media is prevented and a consistent airflow is maintained in the process. GORE Filter Bags can operate at 1.5 to 2 times the air-to-cloth ratio of non-membrane filters and are designed to last longer than any other filter on the market. Gore combines high performance filter media with over 30 years of durable bag design experience to provide the ferroalloy industry with a filter bag that offers the lowest total cost of ownership.
Maximizing System Performance
Among our filtration solutions, GORE LOW DRAG Filter Bags offer the greatest overall system maximization for ferroalloy producers. We engineered these bags for the utmost in emissions control, while helping producers control their maintenance, energy and total system costs. System improvements start as soon as you install the filter bags.
GORE LOW DRAG Filter Bags incorporate a newly developed membrane, which is noteworthy for its enhanced cleanability. After each cycle, the filter is virtually free of residual cake dust, significantly reducing the pressure drop within the baghouse. Air can then flow more effectively through the filter after each cleaning cycle — resulting in lower fan energy costs, longer bag life and less downtime for repairs — while the filter effectively captures emissions at a greater rate than standard-membrane filters.
Simply by installing the GORE LOW DRAG Filter Bags (without any other changes to your APC equipment), you can potentially achieve:
10–15% greater airflow
15–20% lower fan energy costs
80% reduction in < PM0.5 emissions
10–40% longer bag life
For ferroalloys producers, melt shop evacuation is a key component in long term compliance. With their industry leading cleanability, our GORE LOW DRAG Filter Bags maximize evacuation through greater airflow — ensuring compliance and cost savings with just the installation of a filter bag.
Case Study: 26% Greater Gas Flow for Ferroalloy Producer
A South African producer of silicomanganese (SiMn) with five submerged arc furnaces tapped GORE LOW DRAG Filter Bags to help expand its production capacity through greater emissions control and overall cost savings. Read the full story.
Non-Ferrous Metals
It takes a great amount of energy to smelt non-ferrous metals like copper, aluminum, platinum and zinc. At the same time, this process results in a significant amount of particulate emissions, which are regulated by the EPA and other environmental agencies. To meet these regulations while hitting their bottom lines, non-ferrous metal plants need efficient filtration solutions.
Innovative Products for metal refiners and producers
GORE LOW DRAG Filter Bags provide excellent particulate capture while allowing for greater airflow than alternatives. The result: less energy needed to smelt non-ferrous metals and faster and more frequent production cycles — without the risk of exceeding emissions limits.
The key to the high performance of our filter bags is their ePTFE membranes. Because of our membrane's low filter resistance, our filters provide the highest airflow and lowest pressure drop available, while also providing the highest particulate capture efficiency available to the industrial filtration market.
Despite our filters' high particulate capture, they stay "clean" and unclogged after each cleaning. As a result, more air can flow through the baghouse, and the evacuation process requires less energy. This means stable production and a lower overall cost of ownership.
We offer a number of different ePTFE membrane filter media, each with different performance capabilities and price, and can design each to fit your application. For the successful and energy-efficient smelting of non-ferrous metals, GORE LOW DRAG Filter Bags provide the best value and assurance that you'll meet all environmental regulations in the most cost-effective manner.
Reliability
Among baghouse filter suppliers, Gore has gained a reputation for reliability – and that starts with our materials. More than 40 years ago, we invented ePTFE (expanded polytetrafluoroethylene) membrane-based filter bags. This material offers many advantages over conventional filter bags, thanks to the essential characteristics of ePTFE, which is chemically inert, suitable for use in extreme temperatures, mechanically tough and hydrophobic. In short: it is an ideal solution for metals industries.
Over time, the demands of the metallurgical industries have evolved, with processes and regulations growing more complex. We have worked to meet these demands and surpass our customer's expectations by perfecting the form, fit and function of our filtration product designs. The result is a highly durable filter bag that outlasts those of other industrial dust filter manufacturers, while also ensuring less downtime, lower costs and a reduced total cost of ownership.
One of the ways in which we ensure this quality if through our dedicated global manufacture system. We have strict production and testing measures to ensure consistently high performance that you can depend on. Our GORE Filter Bags are designed for long-term success – measured in years not months.
Our System Approach
When you buy filter bags from Gore, you're buying a partnership with one of the world's most trusted, time-honored manufacturers and a systems approach tailored to your specific needs.
As part of our system approach, we:
determine, design and manufacture the filter bags that uniquely fit your specific application and process
thoroughly test and inspect our bags for their weight, size, permeability and performance
provide technical support and troubleshooting for the lifetime of the filter bags
We put our experience to work, supporting you with bag design and installation, as well as working with you to optimize your flow parameters for maximum productivity. This partnership approach ensures optimum performance and a quick response if you have any problems, so you maintain the throughput you need – even if you don't have filter bag experts on staff.
What Do Filter Bags Cost?
Our filter bags deliver the filtration industry's lowest available total cost of ownership, which goes beyond the price of filter bags to consider what your filtration system will cost you over time. Several factors impact the total cost of ownership for a baghouse, including:
purchase price of filter bags
labor cost to install filter bags
duration of product life
energy cost of fans that move air through a baghouse
costs of maintenance and cleaning
GORE Filter Bags deliver exceptional value. With your bags, you get a cutting-edge membrane laminate, robust filter bag design and construction, a system approach optimized for your baghouse and technical support for the life of your filter bags — along with the reliability our customers come to expect from Gore. With these factors combined, we provide the lowest total cost of ownership available in a filtration system.
Determine Your Total Cost
We'd like to help you get a sense of what your filter bags will initially cost and the overall cost of ownership you can expect. To begin our conversation, please contact us.
Success Stories
Metallurgy industry pollution control is simplified with GORE Filter Bags. Metals manufacturers have found success using GORE Filter Bags in a wide range of applications. Learn the story of a secondary lead smelter who lowered emissions with help from GORE Low Emission Filter Bags.
Eliminating Stitch-Hole Emissions
A secondary lead smelter was operating a shaker baghouse off a reverberatory furnace. To control emissions, woven ePTFE membrane filter bags were installed with "normal"-sewn seams. However, upon startup, the plant immediately noticed that fine lead oxide fume was leaking through the bags' stitch holes. The plant's initial stack testing showed unacceptably high stack emissions that exceeded allowable stack emission limits.
Even though the original supplier used a high-efficiency ePTFE membrane laminate, the leakage was found to be excessive. The plant was operating under extremely strict emission requirements and couldn't take a chance that the lead oxide fume would plug the stitch holes.
To immediately address the emissions problem, an emergency order was placed for GORE Low Emission Filter Bags. The new filters were rushed to the plant site and the leaking filters were completely replaced.
Once in place, our seam-sealed ePTFE membrane filters successfully addressed the issue; no fume leaks were found through seams or elsewhere. Currently, the plant measures stack emissions well below 0.5 mg/Nm3 total particulate (less than 0.2 mg/Nm3 of lead), which keeps them in full compliance with the latest U.S. MACT and NESHAP stack emission requirements for the secondary lead industry.
We continue to work with the plant to improve the efficiency and durability of our technology and optimize the overall filtering system, enabling the plant to maximize the filters' ongoing performance.
Product Comparison
Our range of filter bags varies by material and resistance to temperatures, moisture, oxygen, acid and alkali.
In steel, ferroalloy and non-ferrous metal plants where manufacturers need to weigh EPA regulations against production needs, we recommend GORE LOW DRAG Filter Bags. With the lowest filter resistance of all filter bags on the market, our bags allow for both excellent particulate capture and increased airflow. As a result, our customers have seen a 10–15% increase in airflow achieved through their off-gas system.
In secondary lead plants, where zero emissions is always the goal, we recommend GORE Low Emission Filter Bags. The bags are seam-taped to prevent any lead particulate leaks and meet the strictest emissions regulations — including NESHAP — while providing the same level of quality and reliability as our standard filter bags.
The following basic information will help us to choose the right material for you:
filterbag size, current material and quantity
baghouse operating parameters (e.g.: airflow rate, temperature, differential pressure)
particulate description (ideally including concentration, particle size, bulk density)
cleaning cycle parameters (e.g.: pulse jet pressure, cycle time)
Please contact us to discuss which solution is right for your industrial application.
GORE® Filtration Products Most Commonly Used in the Metals Industry
Resources
---
FOR INDUSTRIAL USE ONLY
Not for use in food, drug, cosmetic or medical device manufacturing, processing, or packaging operations.