As spaceflight has evolved, Gore has continued to innovate. We first applied our understanding of materials and how they interact with diverse environments in 1962 during the first U.S. TV satellite, where our products helped relay the live transatlantic TV feed. During the historic 1969 Apollo 11 mission, our products supported getting men to the moon, were involved in experiments on the moon's surface and helped astronauts navigate back home safely. Our fibers were also woven into the outer layer of astronauts' suits during the first space shuttle mission in 1981.
Traditional Space Products
We work closely with partners in the industry, especially two major organizations — NASA (National Aeronautics and Space Administration) and ESA (European Space Agency) — to share our materials expertise for the good of space exploration. No matter our partners, we're involved in every phase of our products' lifetime cycles — doing so is key to making sure our products contribute to the mission's overall success.
To our partners, we deliver valued reliability from an ESA-qualified and ISO 9001:2000-certified manufacturing facility. Our spaceflight products are thoroughly tested to stringent industry specifications and qualified according to NASA Level 1, ESA Class 1 and Technology Readiness Level (TRL) 9.
Unique Fluoropolymers for Spaceflight
Above Earth's insulating atmosphere, spacecraft are routinely exposed to extremely hot and cold temperatures, radiation and high vacuum. Also, ultraviolet light, x-rays, high energy-charged particles and atmospheric atoms put materials under stress, making them more vulnerable to corrosion. Another significant challenge is materials outgassing in vacuum environments. And as a consequence, condensation on sensitive electronic and optical equipment. Making repairs in space is risky for astronauts, so system reliability is critical and an absolute must.
Gore's response to the most pressing challenges for robust designs under the harshest mechanical and environmental conditions is expanded polytetrafluorethylene (ePTFE). Our products leverage this unique fluoropolymer to ensure power and data are delivered safely and reliably. No matter if they're used in low earth orbit at 1,200 miles (2,000 kilometers) above the Earth, geostationary earth orbit at 22,000 miles (35,000 kilometers) above the equator or deep space millions of miles away.
Decades of Failure-Free Performance
As systems need to communicate with each other, signal transmission and onboard processing are crucial to mission success and safety. High-speed balanced lines and interconnects, like our cables that meet XAUI RapidIO™ protocol, ensure signals and data are transmitted quickly without failure. GORE® Space Cables and Assemblies, Datalines have been used successfully in many applications, like the International Space Station and the XMM-Newtown Space Observatory.
Bi-directional, high data rate transfer is mainly needed for radar sensors, high-resolution cameras or electrical ground support equipment (EGSE) to test satellites before launch. Our SpaceWire cables have stood the test of time in programs like the James Webb Space Telescope.
Cables delivering power are just as critical as the system that generates it. Our high-voltage cables send the necessary power to make sure highly sensible systems and subsystems work in satellites like the Eurostar 3000 and LS-1300.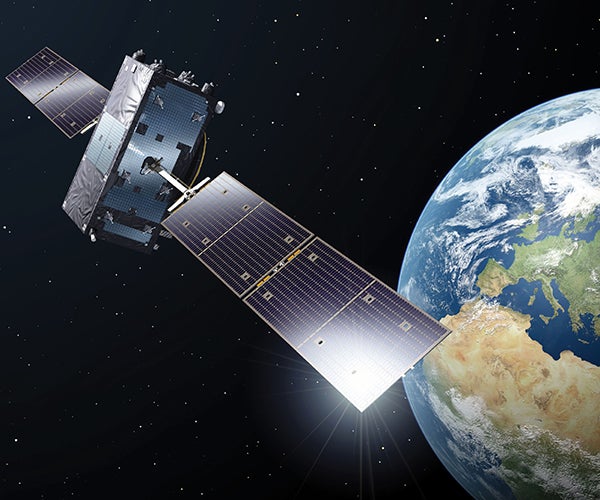 Finally, GORE® Spaceflight Microwave/RF Assemblies transfer data gathered from spacecraft instruments to the board's probe and back to Earth. For example, our Type 8S qualified to ESCC 3408/002 and on the ESA Qualified Parts List (QPL) is used in satellites like the Galileo. Our assemblies have been instrumental in NASA's Mars 2020 Perseverance Rover mission addressing high-priority scientific goals for exploration that can help us answer questions about potential life on the planet. They're also implemented in NASA's New Horizons space probe to understand where Pluto and its moons fit in with the other objects in the solar system. And India's Space Research Organization (ISRO) used our assemblies in the Mars Orbiter Mission.
Gore understands that absolute reliability is a key factor as cables and assemblies are deployed in extraordinarily difficult missions because of their extreme distances from home. We're proud that our solutions have been used in hundreds of global spaceflight programs with a 100% success rate over the years. And we'll continue innovating solutions that ensure mission safety and success in the most challenging conditions imaginable.
Get Started Now with Gore's Traditional Space Solutions
Since the 1960s, cables and assemblies from W. L. Gore & Associates have been involved in many well-known global spaceflight programs with a failure-free performance record. Get in touch with one of our trusted distributors when you're ready to order our in-stock products for your next space mission.
Or, contact a Gore specialist today to find out how our spaceflight solutions can meet your specific application needs and requirements.
Contact Us
United States
+1 800 356 4622
Germany
+49 9144 6010
+49 9144 6816 (fax)
UK
+44 1382 56 1511
+44 1382 56 1007 (fax)
Italy
+39 045 6209 209
+39 045 6209 165 (fax)
France
+33 1 5695 6565
+33 1 5695 6401 (fax)
Spain
+34 93 480 6900
+34 93 373 7850 (fax)
Sweden
+46 31 7067800
+46 31 864226 (fax)
China (Beijing)
+86 10 5707 4999
+86 10 5707 4900 (fax)
China (Shanghai)
+86 21 5172 8299
+86 21 6247 9199 (fax)
China (Shenzhen)
+86 755 8359 8262
+86 755 8359 1654 (fax)
South Korea
+82 2 393 3411
+82 2 393 1285 (fax)
Japan
+81 3 6746 2582
+81 3 6746 2571 (fax)