Brochure: GORE® Space Cables and Assemblies for Traditional Space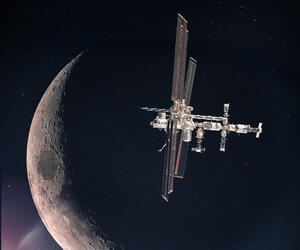 Brochures, English
For decades, W. L. Gore & Associates has served as a trusted partner to hundreds of spaceflight programs, delivering failure-free performance through GORE® Space Cables and Assemblies. They are suitable for a range of low Earth orbit (LEO) and geostationary Earth orbit (GEO) applications, from satellites that help forecast weather to launchers that transport payloads from Earth's surface to orbit. Gore's cables and assemblies are also ideal for use in deep space exploration telescopes, helping astronomers observe the most distant events and objects in the universe.
---
GORE® Space Cables
Our solutions ensure that power is delivered safely and reliably, signal speed improves and electrical integrity is maintained across mission-critical systems. They are also smaller and lighter weight with greater flexibility, facilitating easy routing and faster installation while withstanding shock, vibration, radiation, extreme temperatures and other harsh aerospace conditions.
Gore's complete line of GORE® Space Cables includes the following:
Type SPC
Approved for GEO applications, Type SPC is qualified to ESCC 3901/009 and provides high-quality power transmission with low-resistivity wires.
Type SSP
Qualified to ESCC 3901/017, Type SSP is engineered for high-current applications and provides excellent ATOX resistance, as well as withstands temperatures ranging from -200 °C to +200 °C.
Type SPM
Chemically-inert, thermal-resistant and qualified to ESCC 3901/018, Type SPM withstands the atomic oxygen commonly found in LEO environments.
Type SPL
Small and lightweight, Type SPL for GEO applications is qualified to ESCC 3901/019. It's easy to install in tight areas and helps to reduce the spacecraft's total launch mass.
Type SPLD
Qualified to ESCC 3901/021 and approved for GEO applications, an additional drain wire simplifies shield termination in Type SPLD.
Type CSWL
Type CSWL is constructed with materials resistant to chemicals and extreme temperatures, well-suited for all spacecraft areas and qualified to ESCC 3901/024.
Type CSC
A cost-effective alternative thanks to a smaller, lightweight design, Type CSC is qualified to ESCC 3901/025 and helps in reducing mass and launch costs. Plus, identification during routing is easier thanks to enhanced color coding.
Type GCX/GTX/GBL/GSC
Qualified to ESCC 3902/002 for dataline applications, these types provide excellent electrical and mechanical performance, with reliable signal transmission up to 1 GHz.
Type SpaceWire
Providing bi-directional, high-speed data transmission up to 400 Mbit/s with low skew, minimal crosstalk and signal attenuation, Type SpaceWire is qualified to ESCC 3902/003. This type is also easy to integrate across many different satellite programs by using a serial, point-to-point dataline with low voltage differential signaling (LVDS).
Anti-Static Wire (ASW)
Gore's ASW cables protect vital interconnects from static electricity, provide the lowest surface conductivity possible and operate reliably in extreme temperatures ranging from -200 °C to +200 °C.
High Voltage
According to Gore's test data from real-world conditions, these cables, available as hook-up wires or round cables, provide reliable performance at maximum voltage ratings for at least 10,000 hours.
Fiber Optics
Gore's 1.2 mm and 1.8 mm Simplex cables deliver stable optical performance – even after exposure to repeated vibration, mechanical shock, tension and extreme temperatures.
GORE® Spaceflight Microwave/RF Assemblies
GORE® Spaceflight Microwave/RF Assemblies come in cable sizes ranging from 0.047 inch (1.2 mm) to 0.320 inch (8.1 mm) and can operate from DC to 40 GHz. They're also available in a variety of connector options, including but not limited to:
SMA
SSMA
MSSS™
SMP
SMPM
2.92 mm
TNCA
TNC
And more.
With proven heritage, Gore's microwave/RF assemblies are low-risk solutions for mission-critical success. They're ideal for the following types of applications:
High-power: Typical applications include power handling, multipaction and passive intermodulation (PIM).
High-frequency: They are generally used in Ka, Q and V band applications.
High-density: Inside-the-box and box-to-box applications benefit from their small footprint and push-on connectors.
High-flex: Please contact Gore to discuss your specific flex needs.
Learn More About GORE Space Cables and Assemblies
Based on Gore's long heritage and extensive test data, our capabilities have enabled us to develop and qualify solutions to meet the critical needs of your spacecraft. To learn more about how GORE Space Cables and Assemblies can benefit your specific application, contact a Gore representative. GORE Space Cables and Assemblies are available for purchase through Gore's trusted distributors.