Data Sheet: GORE® USB Cables for Aircraft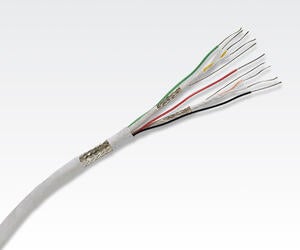 Data Sheets, English
To maintain operation of essential aviation systems, aerospace wire and cable must deliver high-speed data transfer and a rugged design. GORE USB Cables for Aircraft from W. L. Gore & Associates keep up with these demands with nonstop signal transmission up to 10 Gb and rapid charging to keep devices powered for crew and passengers alike. Thanks to a rugged design tested to the most rigorous industry standards, our USB 2.0 and USB 3.1 cables withstand a lifetime of exposure to harsh aerospace environments while continuously providing reliable performance.
---
Cable Performance and Specifications
Available in USB 2.0 and 3.1 protocol configurations, GORE USB Cables for Aircraft utilize a silver-plated copper alloy conductor protected by an engineered fluoropolymer jacket, braided shield, and ePTFE (expanded polytetrafluoroethylene) binder. Their rugged construction is credited to several benefits compared to alternative products, including the following:
Non-Stop Signal Transmission
Both versions of GORE USB Cables for Aircraft equally deliver non-stop signal transmission up to 10 Gb, which ensures that high volumes of data and video are uploaded and downloaded instantaneously.
Compatible with Latest Power Management Systems
So passengers and aircrews can charge carry-on devices quickly, easily and without delays, GORE USB Cables for Aircraft support the latest power management systems.
Added Lifetime Protection
Withstanding extreme aircraft environments for a lifetime of service, GORE USB Cables for Aircraft have been proven to meet complex design requirements and stringent industry standards for small, at-seat modules in commercial aircraft.
Meeting Rigorous Standards across Several Applications
Airborne environments are among the most challenging for power and data cables, exposing sensitive components to harsh conditions. To ensure durability and optimal performance, GORE USB Cables for Aircraft are tested and pre-qualified, meeting standard SAE AS4373™ for Test Methods for Insulated Electric Wire. They also adhere to the following standards:
Toxicity: ABD0031 (AITM 3.0005); BSS7239
Smoke Density: ABD0031 (AITM 3.0008B); BSS7238; FAR Part 25, Appendix F, Part V
Environmental Testing, Jacket and Marking: ANSI/NEMA WC 27500
Flammability: CS/FAR Part 25, Section 25.853, Appendix F, Part I (b)(7)
GORE USB Cables for Aircraft are ideal for a wide range of power and data transfer applications for aircrew and passengers, as well as high-speed aerospace and defense connector systems and backshells. Our USB 2.0 and USB 3.1 cables are commonly used for:
Content loading
Data transfer
Digital video systems
Electronic flight bag (EFB)
Portable electronic devices
Powering remote devices
How to Order GORE USB Cables for Aircraft
Available in a variety of standard sizes, GORE USB Cables for Aircraft offer the speed, reliability, and durability needed for essential civil and military aerospace applications. For more information about our aerospace wire and cables, browse our sample library and learn more about lead times. We offer pre-qualified samples and small quantities of GORE USB Cables for Aircraft, which arrive in 48 hours and are available in the following part numbers:
2.0 Version

RCN8800- 22D-22P-H
RCN8800- 24D-22P-H
RCN8800- 26D-24P-H

3.1 Version