Data Sheet: GORE® Cable Protection Systems for Aerospace & Defense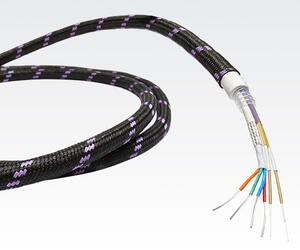 Data Sheets, English
With many decades of unrivaled experience, W. L. Gore & Associates provides some of the highest-quality solutions available today in the industry. Among them are GORE Cable Protection Systems for packaging copper wires and fiber optic cables. Comprised of crush- and abrasion-resistant materials, they're durable enough to withstand harsh flight and mission conditions, like fluctuating temperatures and severe vibration. They also tolerate complicated routing in cramped areas around avionics and vectronics.
---
Cable Performance & Specifications
GORE Cable Protection Systems for Aerospace & Defense are engineered with an expanded polytetrafluoroethylene (ePTFE) jacket and proven to perform optimally in temperatures ranging from -65°C to +260°C. They're designed for packaging GORE® High Speed Data Cables or industry alternatives and deliver many benefits that improve mechanical performance, such as:
SUPERIOR LEVELS OF DURABILITY
To eliminate the risk of damage from installation and operation, Gore's cable protection systems feature specialized fluoropolymer technology that makes them resistant to abrasion, crushing and other harsh aircraft and military land conditions.
QUICK & EASY INSTALLATION
During installation in cable runs and sharp edges in airframes and vehicle structures, Gore's cable protection systems allow copper and fiber to float freely without failure or becoming damaged. They're also highly flexible and have tighter bending capability than alternative materials, so copper and fiber optic cables can be routed without exceeding the minimum bend radius. GORE Cable Protection Systems for Aerospace & Defense eliminate the risk of over-bending, require less space and remove installation hassles.
VALUABLE WEIGHT SAVINGS
With a thinner, lighter-weight cable jacket envelope, Gore's unique cable jacket design contributes to vital weight savings for civil and military aircraft and defense land vehicles —allowing space for other vital electrical systems, cargo and payload.
COMPATIBLE CONNECTOR SYSTEMS & TERMINATION
Our cable protection system fits various high-speed connector systems and backshells, such as Glenair®. Download termination instructions for mating our cable jacket with Mil-Spec M85049/88 connector backshells, adapters and backshells with a similar banding platform.
Meeting Air & Defense Industry Requirements
GORE Cable Protection Systems for Aerospace & Defense meet the demands of original equipment manufacturers (OEMs) and system suppliers who require higher levels of protection for packaging high data rate copper wires and fiber optics. This thin, lightweight and routable cable jacket is tested and pre-qualified to meet the following industry standards:
SAE AS81914™/1-6: Plastic Convoluted Tubing Requirements
ABD0031 (AITM 2.0005); BSS7230; FAR Part 25, Appendix F, Part I: Flammability
ABD0031 (AITM 3.0005); BSS7239: Toxicity
ABD0031 (AITM 3.0008B); BSS7238; FAR Part 25, Appendix F, Part V: Smoke Density
How to Order GORE Cable Protection Systems for Air & Defense
Available in standard sizes for packaging high data rate copper wires and fiber optics, Gore's cable jacket can be purchased from our trusted distributors in the following part numbers:
FON1580
FON1594
FON1599
FON1611
FON1612
You can also browse our sample inventory to prototype and evaluate certain GORE High Speed Data Cables in your aviation or military application. To learn more about our cable protection systems and discuss your specific characteristic limits and application needs, contact a Gore representative today.
---
Glenair is a registered trademark of Glenair, Inc.
FOR INDUSTRIAL USE ONLY
Not for use in food, drug, cosmetic or medical device manufacturing, processing, or packaging operations.