Data Sheet: GORE® Cable Protection Systems for Aircraft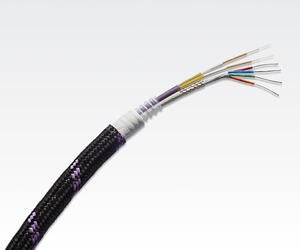 Data Sheets, English
With many decades of unrivaled experience, W. L. Gore & Associates provides some of the highest-quality solutions available today in the modern aviation industry. Among them are GORE Cable Protection Systems for Aircraft. Comprised of crush- and abrasion-resistant materials, they are durable enough to withstand harsh flight conditions, such as fluctuating temperatures and severe vibration, and tolerate complicated routing in cramped electrical systems.
---
Cable Performance and Specifications
GORE Cable Protection Systems for Aircraft are engineered with an expanded polytetrafluoroethylene (ePTFE) jacket and proven to perform optimally in temperatures ranging from -65°C to 260°C. They are designed for packaging GORE Aerospace High Speed Data Cables or industry alternatives and deliver many benefits that improve mechanical performance, such as:
Critical Weight Savings
With a thinner, lighter-weight and smaller footprint than alternative products, Gore's cable jacket design contributes to vital weight savings for civil and military aircraft, allowing space for other vital avionics, cargo and payload.
High Flexibility for Easier Routing
During installation in cable runs and sharp edges in airframes, Gore's systems allow copper and fiber to float freely without failure or becoming damaged. In addition, they're highly flexible and have tighter bending capability compared to alternatives, allowing copper and fiber to be routed without exceeding the minimum bend radius. As a result, these solutions eliminate the risk of over-bending, require less space and remove hassle from the installation process.
Superior Levels of Durability
To eliminate the risk for damage from installation and operation, Gore's cable protection systems feature specialized fluoropolymer technology that makes them resistant to abrasion, crushing and other harsh aircraft conditions.
Compatibility with Various Connector Systems and Backshells
GORE Cable Protection Systems for Aircraft fit various high-speed aerospace and defense connector systems and backshells, including MIL-STD-38999 and MIL-Spec M85049/88, for further ease in the installation process and enhanced reliability – especially when terminated with connector systems and backshells that improve tensile strength and durability. Exact part numbers, tooling information and termination instructors are available through the specific manufacturer, such as Amphenol® or Glenair®.
Meeting Rigorous Standards across Several Applications
Gore's cable protection systems meet the demands of aircraft original equipment manufacturers (OEMs) and system suppliers, which require higher levels of protection for packaging high data rate copper wires and fiber optics in small, lightweight and routable designs. They are tested and pre-qualified to adhere to the following:
ABD0031 (AITM 2.0005); BSS7230; FAR Part 25, Appendix F, Part I: Flammability
ABD0031 (AITM 3.0005); BSS7239: Toxicity
ABD0031 (AITM 3.0008B); BSS7238; FAR Part 25, Appendix F, Part V: Smoke Density
SAE AS81914™/1-6: Plastic Convoluted Tubing Requirements
How to Order GORE Cable Protection Systems for Aircraft
Available in standard sizes, GORE Cable Protection Systems are available for purchase from Gore's trusted distributors, with part numbers including:
FON1594
FON1580
FON1611
FON1612
FON1599
Tested, prequalified samples and small quantities of certain Gore products are also available upon request. To learn more about GORE Cable Protection Systems and discuss your specific characteristic limits and application needs, contact a Gore representative today.
Amphenol is a registered trademark of Amphenol Corporation. Glenair is a registered trademark of Glenair, Inc.