Visit Gore at MEMS & Imaging Sensors Summit in Grenoble (France)
September 19, 2023 - September 21, 2023
Grenoble, France
Join us at the highly anticipated MEMS & Imaging Sensors Summit, a premier event in field of sensor technology and innovation. We are excited to announce that our company will be showcasing our latest cutting-edge solutions at booth #19 during the summit, held in the picturesque city of Grenoble, France from September 19 to 21, 2023.
---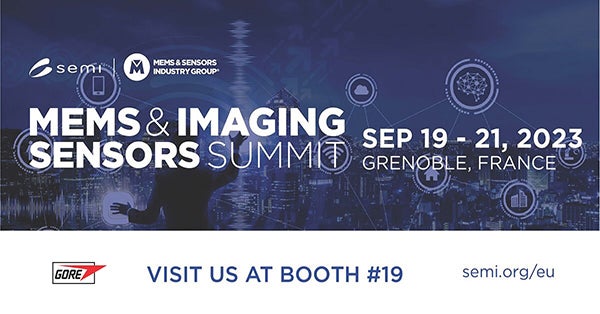 In today's technology landscape, the demand for smaller yet more powerful electronic devices is on the rise. To meet these needs, it becomes crucial to provide effective protection against environmental hazards such as water, dust, dirt, and pressure imbalances. This ensures consistent, optimized thermal and acoustic performance throughout the device's lifespan.
At our company, we collaborate closely with manufacturers and their suppliers to deliver reliable protection and enhance the in-service performance of electronic devices and enclosures. We are committed to enabling greater durability and overall efficiency for these products.
We'll be featuring GORE® MEMS Protective Vents, GORE® Acoustic Vents, GORE® Protective Vents & GORE® Performance Membranes for Gas Sensors in the exhibition area at our booth.
Get more information about the event.