Data Sheet: GORE® Quad Cables (Specialty Versions) for Aircraft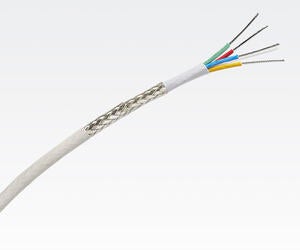 Data Sheets, English
Modern aviation relies on high-speed data and video transfer. At the same time, aircraft environments expose sensitive components to extreme temperatures, vibration and more while presenting challenging routing configurations. W. L. Gore & Associates meets these challenges with our GORE Quad Cables (Specialty Versions) for Aircraft featuring high-speed data and video transmission, a low-dielectric size and a rugged design to guard against failure in even the harshest environments.
---
Cable Performance and Specifications
GORE Quad Cables (Specialty Versions) for Aircraft are designed to rigorous standards to provide the flexibility and quality required for aerospace applications. Each cable is crafted to meet the demands of modern avionics, with controlled impedance at 100 ohms and tight skew requirements at just 13.12 ps/m (4.0 ps/ft.) per pair. Nominal time delay as low as 4.10 ns/m (1.25 ns/ft.) supports high-speed performance and a low-crosstalk design reduces interference for clear, strong signals.
Additional features include:
Smaller, Lighter Quadrax Design
With an innovative quadrax design originally invented by Gore, these quad cables offer a lighter, more compact size that's up to 40% smaller than comparable cables with dual twisted pair construction. This unique design simplifies routing in space-limited aircraft systems and reduces weight by up to 5.0 kg (11 lb.) per aircraft.
Rugged Construction
A tough engineered fluoropolymer jacket, double-braided shield and expanded polytetrafluoroethylene (ePTFE) binder give GORE Quad Cables (Specialty Versions) for Aircraft superior strength. This rugged design allows the cables to withstand complex routing configurations, extreme temperatures as low as -55°C or as high as 200°C and other challenging conditions typically found in aerospace environments. Other construction features include color-coded composite dielectric, a silver-plated copper alloy conductor, and a fluorinated ethylene propylene (FEP) filler.
High-Speed Data and Video Transfer
Designed for high speed serial data and video protocols, GORE Quad Cables (Specialty Versions) for Aircraft feature dual differential pairs to transfer bi-directional signals at speeds up to 1 GHz at lengths up to 30 m (100 ft.). This allows essential information to travel quickly from one end of the aircraft to another, ensuring critical systems operate as expected.
Meeting Rigorous Standards across Several Applications
Tested and pre-qualified, Gore's civil and military aerospace cables deliver the quality performance needed to support aviation applications from the cockpit to the cabin and beyond. Their resilient, reliable design ensures that designers, manufacturers and crews can have the utmost confidence in long-lasting performance. GORE Quad Cables (Specialty Versions) for Aircraft meet SAE AS4373 standards and a number of other important standards, including:
ABD0031 (AITM 2.0005); BSS7230; FAR Part 25, Appendix F, Part I: Flammability
ABD0031 (AITM 3.0005); BSS7239: Toxicity
ABD0031 (AITM 3.0008B); BSS7238; FAR Part 25, Appendix F, Part V: Smoke Density
AFDX/ARINC 664, Part 7: Ethernet Networks
ANSI/NEMA WC 27500: Environmental Testing, Jacket and Marking
IEEE 802.3: Ethernet 1000BASE-T
SAE AS4373™: Test Methods for Insulated Electric Wire
With a strong, flexible design that routes easily, saves weight and ensures durability, these specialty quad cables are ideal for a wide range of high data rate and video transfer applications, such as:
Avionics digital networks
Box-to-box systems
Digital visual interface (DVI)
EO/IR (electro-optical infrared) sensors
Ethernet backbone
Flight control
Mission systems
Propulsion control
Video networks
How to Order GORE Quad Cables (Specialty Versions) for Aircraft
Aircraft that must function at the highest standards require quality data and video transfer cables for successful flight. Tested, prequalified, complimentary samples could also be available for this product within 48 hours of your request. To learn more about GORE Quad Cables (Specialty Versions) for Aircraft (part numbers RCN8752, RCN8982 and RCN8973) and other solutions for aerospace and defense, contact a Gore representative today. When you're ready to order, reach out to a distributor for purchase.