Data Sheet: GORE® Fibre Channel Cables for Aircraft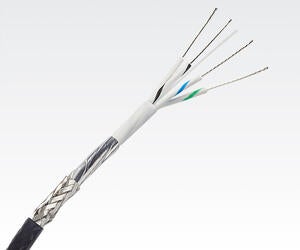 Data Sheets, English
Backed by decades of innovation, GORE Fibre Channel Cables for Aircraft from W. L. Gore & Associates are a proven interconnect solution on many military, commercial and business aircraft, like the F-16, F-18, AV-8B and Falcon 7X. Featuring a balanced cable design with field-cancellation properties, they can transmit two differential signals within the same shield without interference. Our aviation cables are also smaller, lighter and more flexible than alternative designs making initial wiring quick without any effort.
---
Cable Performance & Specifications
GORE Fibre Channel Cables for Aircraft are fabricated to handle hazardous environmental factors and extreme flight conditions. With a low-dielectric cable geometry that maximizes the performance of quadrax design, their toughness offers a long service life with the following components:
Fluorinated ethylene propylene (FEP) outer jacket
Braided shield
Aluminized polyimide shield
Expanded polytetrafluoroethylene (ePTFE) binder
Color-coded composite dielectric
Silver-plated copper alloy conductors
FEP filler
Thanks to these unique features, Gore's fibre channel cables deliver the following benefits over alternative cable designs:
EFFORTLESS ROUTING & WEIGHT SAVINGS
Not only do GORE Fibre Channel Cables for Aircraft have a diameter that's 40% smaller, but they're also lighter in weight and highly flexible than dual twisted pair cables and other alternatives. These features and a tighter bend radius make for quick, effortless routing and significant weight savings for aircraft electrical systems.
CONSISTENT PERFORMANCE IN HAZARDOUS CONDITIONS
Resistant to wide temperatures, abrasion, chemicals and more, Gore's fibre channel interconnects enhance noise immunity and EMI suppression - all while maintaining consistent signal integrity at data rates up to 1 GHz with controlled impedance at 150 ohms. Their consistent high-speed performance holds true no matter the hazardous conditions inside or outside the aircraft.
Compliance with Industry Standards across Aircraft Applications
Like all of Gore's aerospace and defense solutions, GORE Fibre Channel Cables for Aircraft are tested and pre-qualified to comply with a host of strict industry standards, including the following:
ABD0031 (AITM 2.0005); BSS7230; FAR Part 25, Appendix F, Part I: Flammability
ABD0031 (AITM 3.0005); BSS7239: Toxicity
ABD0031 (AITM 3.0008B); BSS7238; FAR Part 25, Appendix F, Part V: Smoke Density
ANSI/NEMA WC 27500: Environmental Testing, Jacket and Marking
ANSI X3.303: Fibre Channel Physical and Signaling Interface-3 (FC-PH-3)
EN3475-503: Test Methods for Scrape Abrasion
SAE AS4373™: Test Methods for Insulated Electric Wire
Because of their trustworthy design and high-speed performance, Gore's fibre channel cables are commonly used in airborne applications — like flight management systems, active electronically scanned arrays (AESA), tactical aircraft moving maps and cabin and mission systems.
Further, Gore's fibre channel interconnects fit a variety of high-speed connector systems and backshells, including ARINC and MIL-STD-38999 with size 8 and 22D contacts and other types from manufacturers like Amphenol® and Glenair®. For exact part numbers, tooling information and termination instructions, contact the specific manufacturer.
To create assemblies and optimize performance in the smallest possible package, these interconnects can also be terminated with commercially available connectors for the following applications:
Between-the-box: MIL-C-38999 with size 11 contacts and DB-9 plug & receptacles
Inside-the-box: SMP, SMA, SSMC and MCX
How to Order GORE Fibre Channel Cables for Aircraft
Gore's proven interconnects for military, commercial and business aircraft are available in a standard size (part number RCN8328). For prototyping and evaluation, review our sample inventory of high-speed data cables available with short lead times based on in-stock availability.
If you're ready to purchase our fibre channel cables, review the exact specifications and connect with an authorized distributor. Or, contact a Gore representative for available test data or to discuss your specific aircraft application needs and requirements.
---
Amphenol is a registered trademark of Amphenol Corporation.
Glenair is a registered trademark of Glenair, Inc.
FOR INDUSTRIAL USE ONLY
Not for use in food, drug, cosmetic or medical device manufacturing, processing, or packaging operations.