Data Sheet: GORE® Ethernet Cables (Cat5e/6A/8, 4 Pairs) for Aerospace & Defense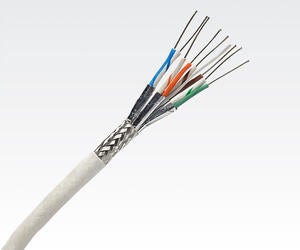 Data Sheets, English
Modern avionics and vectronics rely on high data rate digital networks. As the demand for these networks keeps rising with new advances in aviation and military technologies, GORE Ethernet Cables for Cat5e, Cat6A and Cat8 protocols from W. L. Gore & Associates provide the fast speeds and excellent signal integrity needed to support current and next-gen critical systems. And with a unique 4-pair design that reduces size and weight, they're easy to install and maintain, even when space is at a premium.
---
Cable Performance & Specifications
Our Ethernet cables are designed with speed and signal integrity in mind. In fact, the 2017 Military & Aerospace Electronics Innovators Awards Gold Honoree Cat6A cables deliver excellent signal integrity with a sufficient margin. They maintain clear data and video transmission with speeds up to 10G BASE-T at lengths up to 80 m (262 ft.).
For even faster speeds up to 40G BASE-T, our Cat8 version reliably transfers data and video at lengths up to 22 m (72 ft.) without transitioning to a new Cat8 wire and cable solution. And this version is backward compatible with our other Ethernet protocols without compromising system robustness or adding weight.
The cable's high-density construction features an engineered fluoropolymer outer jacket, braided shield and aluminized polyimide shield. Silver-plated copper or SPC alloy conductors surrounded by color-coded dielectric and a fluorinated ethylene propylene (FEP) filler complete the 4-pair design. As an alternative for use in military vehicle applications, we offer a PU halogen-free outer jacket.
Besides speed and a high-density construction, GORE Ethernet Cables (Cat5e/6A/8, 4 Pairs) for Aerospace & Defense outperform several leading alternative cables with:
CROSSTALK & INTERFERENCE REDUCTION
The performance of GORE Ethernet Cables (Cat5e/6A/8, 4 Pairs) offers a more reliable data transmission and vastly better insertion loss-to-crosstalk ratio. It all adds up to our cables providing an additional margin that helps overcome installation issues and operational challenges. And right out of the box, our unique 4-pair cable design has been shown to reduce crosstalk by more than 10 dB at 500 MHz for Cat6A frequencies compared to competing cables.
Our Cat8 version delivered reliable signal Integrity at higher frequencies with lower insertion loss up to 2000 MHz right out of the box, unlike a leading alternative cable that failed to meet the specification.
SIZE & WEIGHT SAVINGS
A unique 4-pair design significantly reduces size and weight over competing cables. We offer an Ethernet cable that is 24% smaller and 25% lighter than alternative cables utilizing a cross-section design. And we've proven that our unique design typically saves as much as 1.93 kg per 100 m (13 lb. per 1000 ft.) of weight in aircraft and combat vehicles compared to alternative cables.
If you replaced 4 leading alternative Cat6A cables with a single Gore Cat8 cable at 22 m (72 ft.), you could save installed weight up to 82 kg/km (180 lbs./1000 ft.). Our cables' slender diameters facilitate routing in tight spaces and make maintenance quick and easy.
CABLE ROUTING SIMULATOR
To evaluate the effects of severe bending on high data rate cables while being routed through an airframe or vehicle structure, we developed a simulator. It verifies whether a cable can withstand the complex challenges of installation that can degrade signal integrity. Based on the results, our Cat6A cable maintained a sufficient margin below the specification limit for return loss compared to the alternative cables, providing consistent impedance control at higher frequencies after routing and indicating reliable data transfer rates.
CONNECTOR-CABLE COMPATIBILITY
To assist designers in selecting the best option for a specific application, Gore tests connector-cable compatibility during the initial design process to ensure reliable interconnectivity. Our Ethernet Cat6A cables are compatible with a variety of high-speed aerospace and defense connector systems, like Amphenol®, Glenair® and many more.
Meeting Rigorous Industry Standards
Aircraft and land environments often present challenging conditions for sensitive electronic components, like Ethernet cables. To ensure lasting performance, GORE Ethernet Cables (Cat5e/6A/8, 4 Pairs) are rigorously tested and are compliant with:
ABD0031 (AITM 2.0005); BSS7230; FAR Part 25, Appendix F, Part I: Flammability
ABD0031 (AITM 3.0005); BSS7239: Toxicity
ABD0031 (AITM 3.0008B); BSS7238; FAR Part 25, Appendix F, Part V: Smoke Density
ANSI/NEMA WC 27500: Environmental Testing, Jacket and Marking
ANSI/TIA 568-C.2: Balanced Twisted Pair Cable Testing
ARINC 664 P2-3: Aircraft Data Networks Ethernet Physical and Data Link Layer 10BASE-T, 100BASE-TX, and 100BASE-FX (RCN9235-24,RCN9241-24, RCN9235-26)
IEEE 802.3: Ethernet 10G BASE-T (Cat5e/6A versions)
IEEE 802.3bq: Ethernet 40G BASE-T (Cat8 version)
SAE AS4373™: Test Methods for Insulated Electric Wire (Contact Gore for available data)
SAE AS6070™/5 & /6: 10G BASE-T (100 Ohms); QPL (RCN9034-24, RCN9047-26)
STANAG 4754: NATO Generic Vehicle Architecture (NGVA) for Land Systems (GSC-01-85237-VG, GSC-01-85238-VG, GSC-01-83134-VG)
VG95218-31: Performance Requirements (GSC-01-85237-VG, GSC-01-85238-VG, GSC-01-83134-VG)
Typical Applications & Cable Preparation
We also conduct extensive testing to ensure reliable connectivity in military and commercial aircraft and defense land vehicle applications. As a result, aerospace and defense industries rely on GORE Ethernet Cables (Cat5e/6A/8, 4 Pairs) to provide unfailing performance for a wide range of data transmission applications, including:
Avionics & vectronics digital networks
Cabin & flight management systems
Data storage
Ethernet backbone
HD streaming camera & video systems
Mission systems
Program updates (e.g., Advanced Air Mobility & Future Vertical Lift) — Abrams Main Battle Tank, C-130, F-16, KC-135 and UH-60 (Cat6A version)
Radio, radar & communications systems
Tactical links
Laser stripping is the preferred method to prepare our Ethernet 4-pair cables for your airborne or defense application. Thermal stripping and sharp mechanical strippers are appropriate as well.
How to Order GORE Ethernet Cables (Cat5e/6A/8, 4 Pairs)
In a compact, routable package, our Ethernet cables for Cat5e, Cat6A and Cat8 protocols are built for the increasing data demands of current and future airborne and military digital networks. If you're ready to order our products, review their exact specifications and contact one of our wire and cable distributors today.
You can also request samples of selected pre-qualified cables, which are complimentary and available within 48 hours based on in-stock availability. Part numbers for these Ethernet cables include:
Cat8 Protocol
RCN9241
RCN9235-24
RCN9235-26
Cat6A Protocol
GSC-01-85237-VG
GSC-01-85238-VG
GSC-01-83134-VG
RCN8966-24
RCN9034-24
RCN8966-26
RCN9047-26
RCN9034-28
Cat5e Protocol
GSC-01-83471-00
GSC-01-83472-00
To learn more about Gore's full portfolio of cables for aerospace and defense, contact a Gore representative today to discuss your specific characteristic limits and application needs.
---
Amphenol is a registered trademark of Amphenol Corporation.
Glenair is a registered trademark of Glenair, Inc.
FOR INDUSTRIAL USE ONLY
Not for use in food, drug, cosmetic or medical device manufacturing, processing, or packaging operations.