Data Sheet: Fiberglass Fabric Coated with Polytetrafluoroethylene 570 g/m2 (16.8 oz/yd2)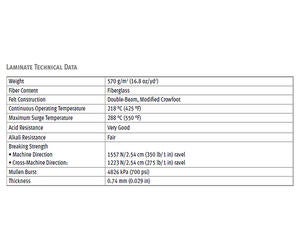 Data Sheets, English
A 218 °C (425 °F) maximum service temperature, stayed-polytetrafluoroethylene fiberglass fabric filter cartridge for use in pulse jet style dust collectors where high differential pressure and high cleaning pressures are required due to aggressive dust loading.
---
Features and Benefits
Patented GORE™ High Durability membrane technology provides an excellent combination of filtration efficiency, airflow, and durability.
Polytetrafluoroethylene fiberglass fibers provide good all-around chemical and temperature resistance. 
Available in top, bottom, and horizontal loading configurations. 
Withstands pressure drop up to 6.2 kPa (25 inches water gauge).
Applications
Chemicals Processing: Dryers and micronizers in TiO2 and pigment industries. 
Minerals Processing: Cement kiln/mill, alkali bypass, lime kiln, and lightweight aggregate dust collectors. 
Metals Processing: Iron and steel production foundries and ferro-alloy production. 
Power Generation and Incineration: Incinerators and boilers.
Technical Specifications
Weight
570 g/m2 (16.8 oz/yd2)
Fiber Content
Fiberglass
Felt Construction
Double-Beam, Modified Crowfoot
Continuous Operating Temperature
218 °C (425 °F)
Maximum Surge Temperature
288 °C (550 °F)
Acid Resistance
Very Good
Alkali Resistance
Fair
Breaking Strength

• Machine Direction
• Cross-Machine Direction


1557 N/2.54 cm (350 lb/1 in) ravel
1223 N/2.54 cm (275 lb/1 in) ravel
Mullen Burst
4826 kPa (700 psi)
Thickness
0.74 mm (0.029 in)
Note: All data expressed as typical values. This technical data is subject to change. Please contact W. L. Gore & Associates, Inc., directly to confirm current information.
---
FOR INDUSTRIAL USE ONLY
Not for use in food, drug, cosmetic or medical device manufacturing, processing, or packaging operations.