Data Sheet: GORE® CAN Bus Cables for Aircraft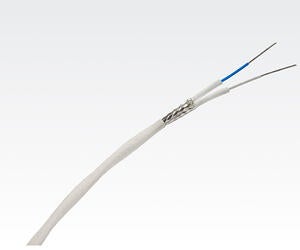 English
Modern digital networks demand aerospace wire and cable that deliver high-speed data transfer with quality signals. At the same time, a rugged, compact design is essential for installation in aerospace environments where conditions are harsh and space is limited. GORE CAN Bus Cables for Aircraft from W. L. Gore & Associates offer a slim design that makes installation simple paired with rugged construction to ensure fast, accurate data transmission for the life of the aircraft.
---
Cable Performance and Specifications
Our controlled-impedance, 120 ohm GORE CAN Bus Cables for Aircraft are 40% smaller than comparable cables, offering a slim, light design for improved flexibility and reduced bend radius. The multi-layer design utilizes an engineered fluoropolymer jacket and a braided shield for defense against challenging environments. They also deliver the following benefits:
Compact Footprint
The compact footprint of these cables, as well as their reduced diameter and enhanced flexibility, makes for trouble-free installation in tight aircraft areas.
High-Speed Capability
Our design also makes GORE Can Bus Cables for Aircraft compatible with many high-speed aerospace connector systems and backshells, like ARINC and MIL-STD-38999 with size 8 and 22D contacts. Please contact the specific manufacturer such as Amphenol® and Glenair for exact part numbers, tooling information, and termination instructions.
Meeting Rigorous Standards across Several Applications
Our cables are built for long lifespan in a variety of challenging environmental conditions and wide range of applications. To ensure durability and offer peace of mind in every situation, GORE CAN Bus Cables for Aircraft meet standard SAE AS4373™ for Test Methods for Insulated Electric Wire and have been prequalified and tested to meet the following standards:
Flammability: ABD0031 (AITM 2.0005); BSS7230; FAR Part 25, Appendix F, Part I
Toxicity: ABD0031 (AITM 3.0005); BSS7239
Smoke Density: ABD0031 (AITM 3.0008B); BSS7238; FAR Part 25, Appendix F, Part V
Environmental Testing, Jacket and Marking: ANSI/NEMA WC 27500
GORE CAN Bus Cables for Aircraft are ideal for advanced avionics networks and other applications that require fast, accurate data transfer and a compact, rugged cable design. Common uses include:
Cable management systems
Controller area networks
Digital video systems
Serial busses
How to Order GORE CAN Bus Cables for Aircraft
From simple installation to worry-free long-term use, GORE CAN Bus Cables for Aircraft are ideal for avionic networks and other applications that require high-speed data transfer in tight spaces and challenging conditions. To find out whether GORE CAN Bus Cables for Aircraft are right for your application, request prequalified, tested samples or small quantities of the following part numbers, which will arrive within 48 hours:
GSC-03-85752-22D
GSC-03-85752-24D
GSC-03-85752-26D