Data Sheet: GORE® CAN Bus Cables for Aerospace & Defense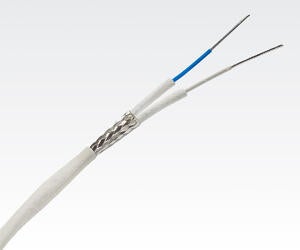 Data Sheets, United States
High-tech avionics and vectronics digital networks demand cables that deliver reliable high-speed data transfer with quality signals. At the same time, a rugged, compact design is essential for routing and operation where space is limited and conditions are severe. W. L. Gore & Associates brings a slim, robust design to GORE CAN Bus Cables that simplifies installation and ensures fast, accurate data transmission in aircraft and combat vehicles.
---
Cable Performance & Specifications
The 120-ohm controlled impedance GORE CAN Bus Cables for Aerospace & Defense offer a slim, light design for improved flexibility and reduced bend radius. Their multi-layer design utilizes a rugged engineered fluoropolymer outer jacket, a braided shield and expanded PTFE/PTFE insulation for protection against the most difficult aerospace and land defense environments. Color-coded inverted dielectric surrounds silver-plated copper or SPC alloy conductors. Our cables deliver other benefits as well, including:
COMPACT FOOTPRINT
These cables are 40% smaller than alternative cable designs, making them lighter without jeopardizing durability. Their reduced diameters and enhanced flexibility make for trouble-free installation in crowded areas of civil and military aircraft and tight spaces inside defense vehicles.
FAST DATA & VIDEO TRANSFER
Suitable for faster avionics and vectronics digital networks, Gore's cables ensure high-quality signals for high-speed data and video transmission up to 1 GHz with controlled impedance at 120 ohms. Because these cables provide versatile protection to shield sensitive wires from extreme mechanical and environmental impact, they perform accurately, reliably and securely over the application lifespan.
HIGH-SPEED CONNECTOR COMPATIBILITY
Our unique design makes GORE CAN Bus Cables for Aerospace & Defense compatible with many high-speed connector systems and backshells, like ARINC and MIL-STD 389999 with size 8 and 22D contacts. Contact the manufacturer, such as Amphenol® and Glenair® for exact part numbers, tooling information and termination instructions.
Meeting Stringent Industry Requirements
To ensure durability and offer peace of mind in every situation, GORE CAN Bus Cables for Aerospace & Defense are thoroughly tested to meet SAE AS4373™ Test Methods for Insulated Electric Wire and VG95218-31 Performance Requirements. They also meet the following standards:
Flammability: ABD0031 (AITM 2.0005); BSS7230; FAR Part 25, Appendix F, Part I
Toxicity: ABD0031 (AITM 3.0005); BSS7239
Smoke Density: ABD0031 (AITM 3.0008B); BSS7238; FAR Part 25, Appendix F, Part V
Environmental Testing, Jacket and Marking: ANSI/NEMA WC 27500
Low Voltage Primary Cable: SAE J1128™
Serial Control and Communications Heavy Duty Vehicle Network: SAE J1939™
Typical Applications & Cable Preparation
GORE CAN Bus Cables for Aerospace & Defense are built for a long lifespan in a wide range of commercial and defense aircraft and military ground vehicles, including:
Avionics & vectronics digital networks
Cabin management systems
Controller area networks
Data links
Electronic diagnostics
HD streaming video systems
Mission systems
Serial buses
Gore's cables have an inverted dielectric design that eliminates the need to remove several inches of insulation from the end and apply heat shrink — unlike standard 120-primary wires. Sharp mechanical strippers are the preferred method to prepare our cables.
How to Order GORE CAN Bus Cables for Air & Defense
From worry-free installation to peace-of-mind performance, our 120-ohm cables are ideal for advanced digital networks and other applications that require reliable high-speed data and video transfer for life. We offer our cables in the following part numbers:
GSC-03-84793-VG
GSC-03-85752-22D
GSC-03-85752-24D
GSC-03-85752-26D
To find out whether GORE CAN Bus Cables are suitable for your specific application, request complimentary samples for prototyping and evaluation or connect with a trusted distributor now to place your order.
---
Amphenol is a registered trademark of Amphenol Corporation.
Glenair is a registered trademark of Glenair, Inc.
FOR INDUSTRIAL USE ONLY
Not for use in food, drug, cosmetic or medical device manufacturing, processing, or packaging operations.