GORE® Thermal Insulation for Mobile Devices
GORE® Thermal Insulation has a thermal conductivity lower than air making it a powerful option in the thermal toolbox that can improve the consumer's experience through surface temperature hot spot reduction.
Contact Us
UNITED STATES
+1 410 506 7812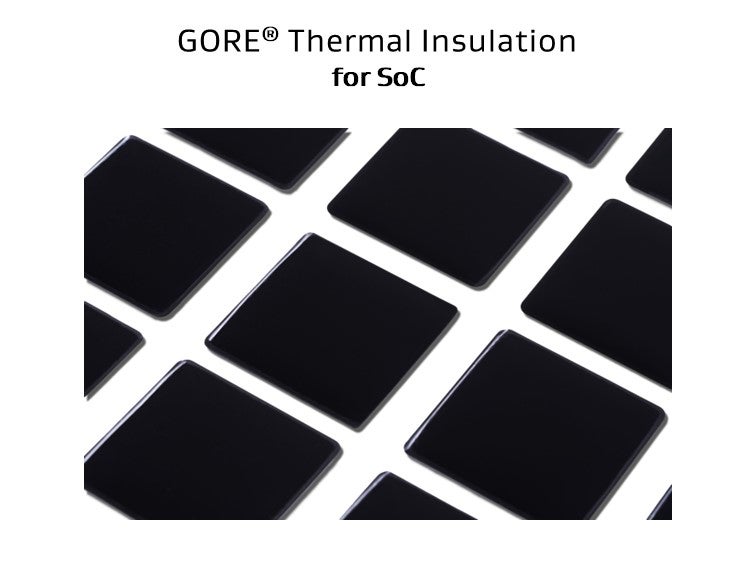 New way to significantly reduce hot spots and improve performance that's better than air.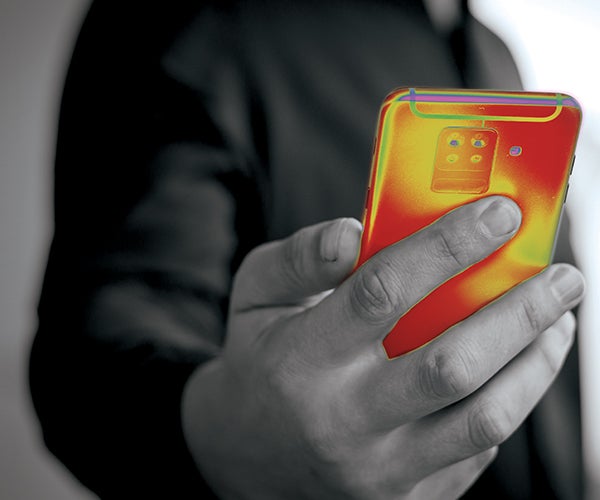 The client discovered a high temperature on RF modules in a smartphone.
English (U.S.)
All Resources For GORE® Thermal Insulation for Mobile Devices
Introducing the Best Thermal Insulator for Mobile Devices
Integrating higher power, higher temperature components into ever shrinking product form factors has created a thermal challenge in mobile electronics. Gore has developed GORE® Thermal Insulation, a thin, flexible, and highly effective thermal insulation to help mobile device designers address this thermal challenge.
GORE Thermal Insulation has significantly lower thermal conductivity than air when it comes to reducing hot spots and lowering surface temperatures. So, more time can be spent at optimal performance levels before having to throttle due to thermal constraints.
SUPERIOR THERMAL CONDUCTIVITY
at 0.020 W/mK, 23% lower than that of air gap at 25°C (0.026 W/mK)

HIGHER DEVICE PERFORMANCE
by delaying need to throttle to minimize heat generation

THINNER PRODUCT DESIGNS
by replacing an air gap of a specific size with thinner insulation while maintaining performance

REDUCED SURFACE TEMPERATURES
of 1-7°C based on power and insulation thickness

MORE STABLE THERMAL CONDUCTIVITY
compared to air when temperature changes

EASY INTEGRATION
with graphite or heat pipe solutions to optimize performance

ELECTRICALLY INSULATED MATERIAL
provides a physical barrier to avoid electrical short circuits or EMI/RF problems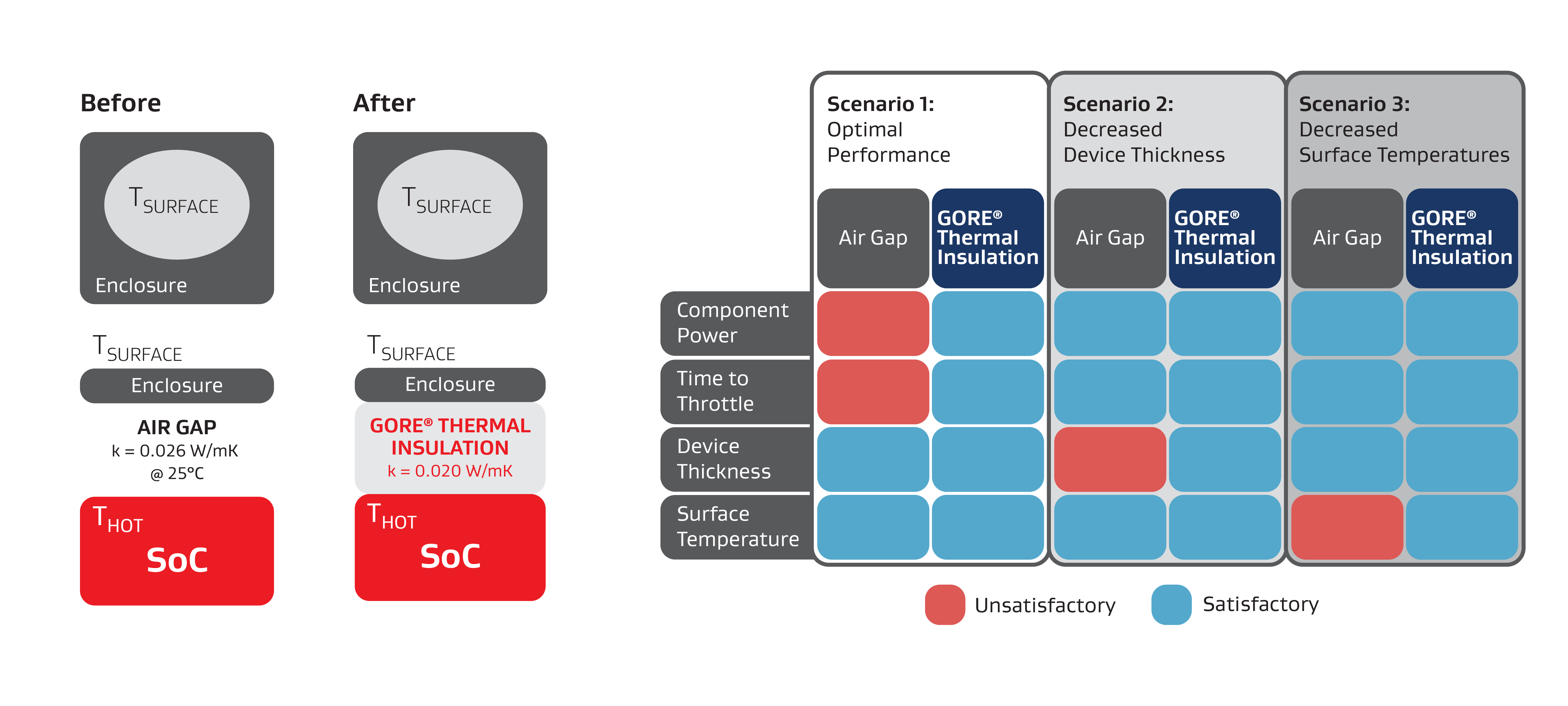 GORE Thermal Insulation usage scenarios
Scenario 1. Optimal performance
For designs within thermal limits, components can operate longer at ideal performance rates before needing to throttle to maintain surface temperatures.
Scenario 2. Decreased device thickness
This is achieved by shrinking the gap between the SoC and enclosure. If hot spots are present, it will redirect heat flow and reduce surface temperature.
Scenario 3. Decreased surface temperatures
Ideal for SoCs where surface temperatures often go above limits. With thermal conductivity of 0.020 W/mK, it's superior to air (0.026 W/mK @ 25° C) as an insulator.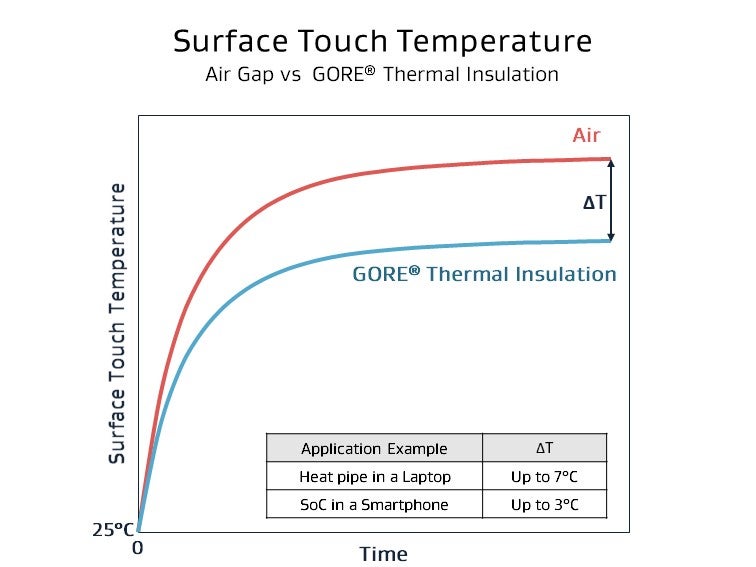 Customer testing has shown surface temperature reductions of 1-7ºC based on power and insulation thickness in smartphone and laptop.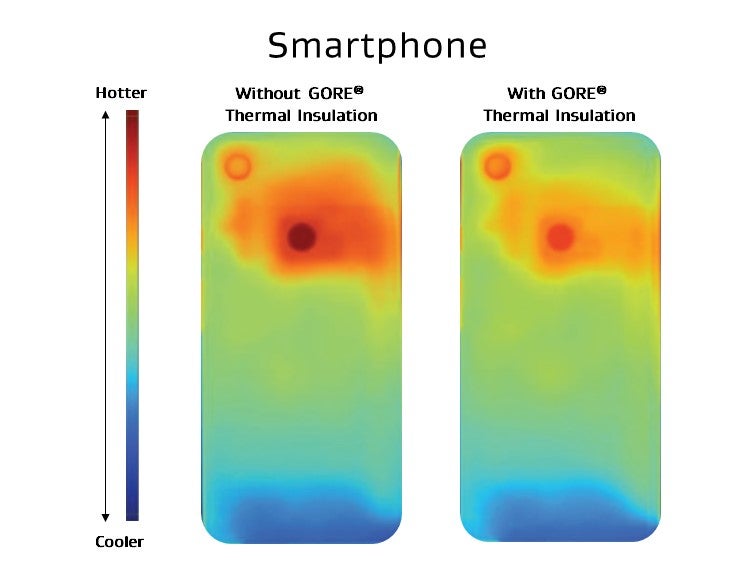 In this smartphone running at max power, GORE Thermal Insulation with 500µm insulation thickness was installed in a 0.50mm air gap and reduced surface temperature by  3.0°C compared to air after 90 minutes of run time.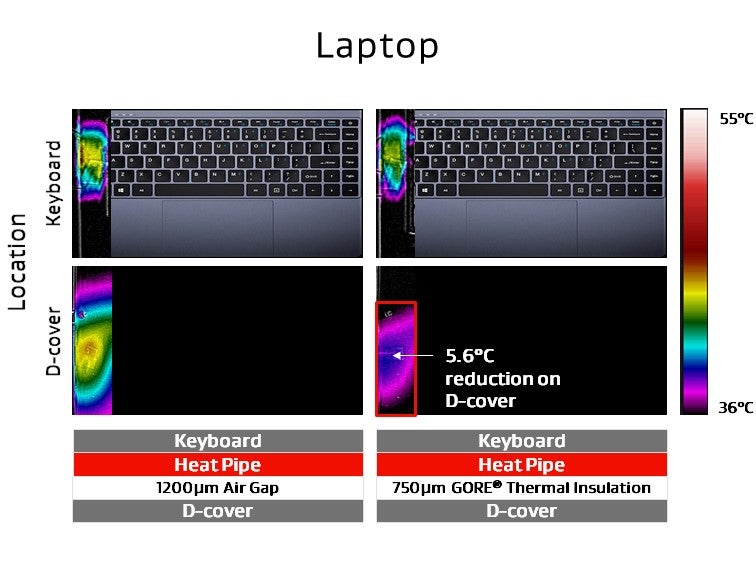 In this laptop with 23W of combined CPU and GPU power, GORE Thermal insulation with 750µm insulation thickness was installed in a 1.2mm air gap and reduced surface temperature by 7°C compared to air after 90 minutes of run time.
GORE Thermal Insulation Material Data*
Characteristic
Thermal conductivity (k)a
0.020 W/m•K
Specific heat capacityb
1.8 J/g °C
Bulk density
0.37 g/cc
Compression @ 100 kPa (14.5 psi)
6%
Operating temperaturec
-40°C to 100 °C
Protective cover film
Black PET
Adhesive type
Acrylic
RoHSd
Meets threshold requirements
Insulation thickness availablee
0.12 mm
0.28 mm
0.38 mm
0.54 mm
Adhesive encapsulation width (minimum)f
1 mm
1 mm
1 mm
1.5 mm
Max part size
100 mm x 200 mm
a nominal conductivity value based on a modified version of ASTM C518.
b nominal heat capacity measured according to ASTM E2716 Method B at 75 °C.
c alternate adhesives required to exceed 100 °C.
d to the best of our knowledge, the part numbers listed above do not have any restricted substances above the maximum concentration values listed in RoHS Directive 2011/65/EU and meets the substance restrictions of Article 4 of RoHS Recast including Commission Delegated Directive 2015/863.
e nominal thickness based on reported values of thickness of each component of the stack up.
f nominal minimum width.
*All values based on nominal characteristic and do not represent the specification and tolerance.
Get all the media and documentation available for GORE Thermal Insulation: