GORE® Thermal Insulation for Mobile Devices
Turn up the performance, turn down the heat! GORE® Thermal Insulation is an advanced thermal management solution with a conductivity lower than air. This innovation enhances heat spreading and therefore user experience.
Contact Us
UNITED STATES
+1 410 506 7812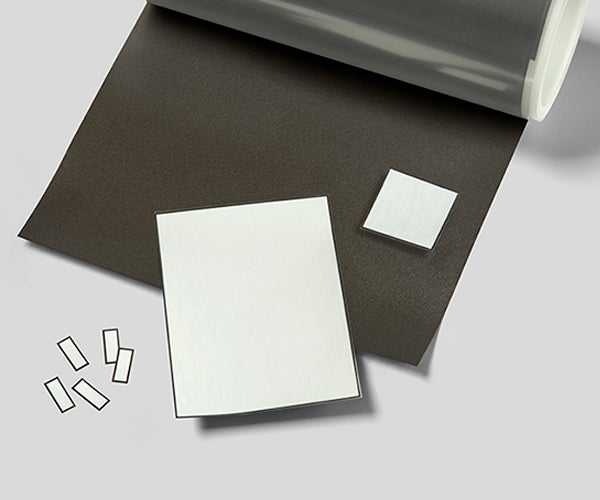 GORE® Thermal Insulation can be combined with graphite material to enhance thermal spreading.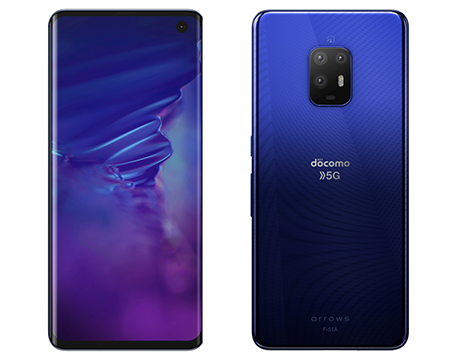 FCNT LIMITED discovered a high temperature on RF modules in a smartphone.
English (U.S.)
All Resources For GORE® Thermal Insulation for Mobile Devices
Meet Growing Thermal Challenges in Mobile Devices Using GORE® Thermal Insulation
The demand for greater performance, functionality, and smaller form factors is increasing thermal challenges in mobile devices, particularly as many powered components are generating more heat in smaller spaces. More heat generation requires advanced thermal conductivity designs to spread heat more evenly across the surface of the device.
GORE Thermal Insulation is an innovative thermal management solution that increases the designer's ability to direct heat by greater control of z-axis thermal conductivity. More control means superior spreading options that enable components to:
perform at higher levels for longer periods,
accommodate shrinking form factors,
meet surface temperature requirements.
GORE® Thermal Insulation can be Used in all Kinds of Mobile Devices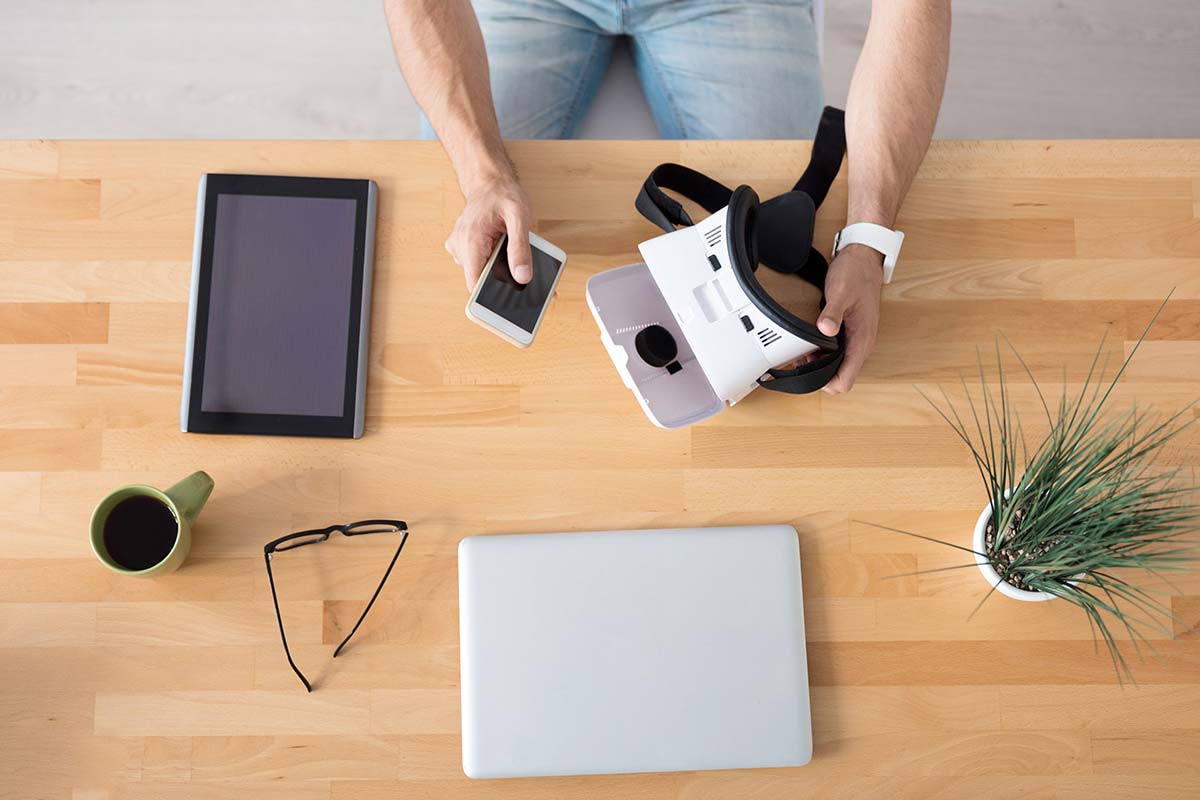 Application Example: GORE Thermal Insulation in Smartphones and Laptops
Experience and extensive testing confirm the effectiveness of GORE Thermal Insulation: Your customers will benefit from improved performance and an overall better user experience.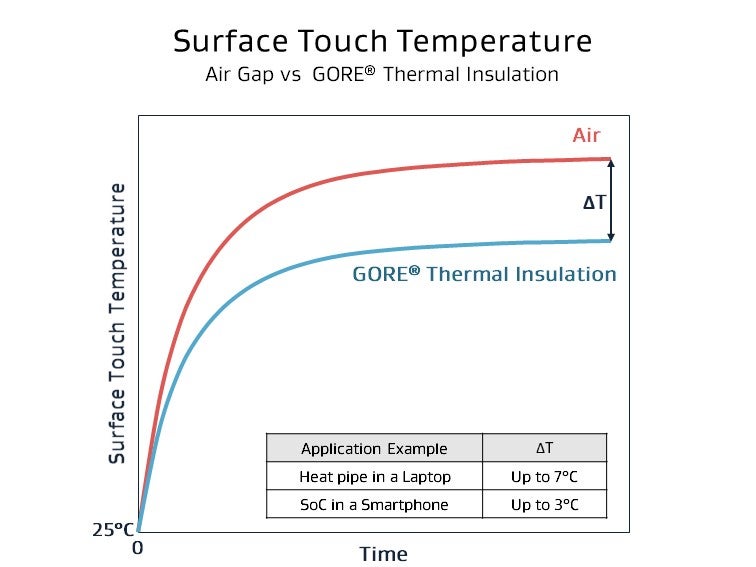 Customer testing has shown surface temperature reductions of 1-7ºC based on power and insulation thickness in smartphone and laptop.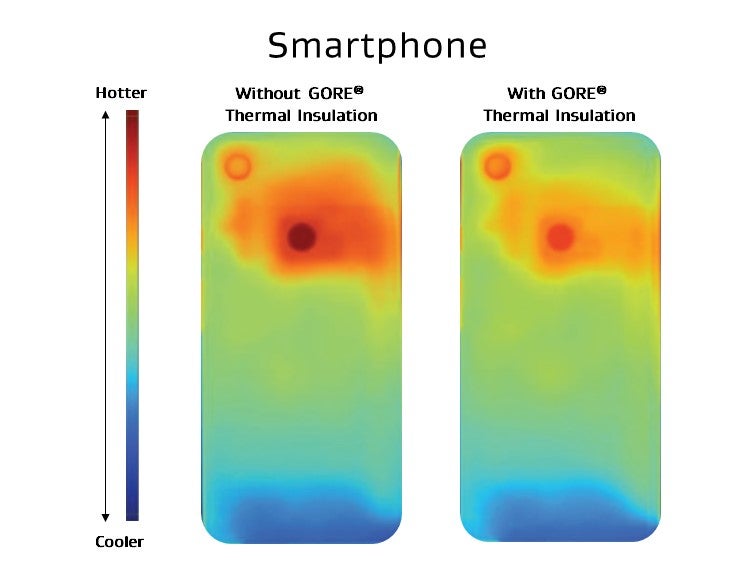 In this smartphone running at max power, GORE Thermal Insulation with 500µm insulation thickness was installed in a 0.50mm air gap and reduced surface temperature by  3.0°C compared to air after 90 minutes of run time.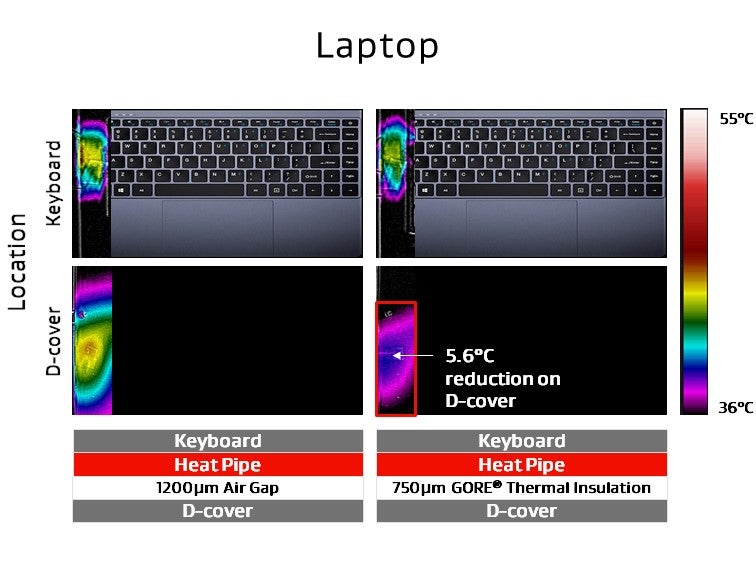 In this laptop with 23W of combined CPU and GPU power, GORE Thermal insulation with 750µm insulation thickness was installed in a 1.2mm air gap and reduced surface temperature by 7°C compared to air after 90 minutes of run time.
Effective Thermal Management With Enhanced Thermal Spreading
Thermal engineers use graphite, heat pipes and vapor chambers to spread and dissipate heat across a larger area to improve device performance. As thermal spreading requirements increase, these thermal designs can still fail to reduce hot spots due to insufficient resistance in the z-direction which reduces the spreading ratio and increases prevalence of hot spots.
With GORE Thermal Insulation, you can now improve the effectiveness of your thermal spreading solutions. With a thermal conductivity through-plane (kz) significantly lower than air, enabled by premium aerogel technology, GORE Thermal Insulation will enhance the heat spreading ratio and outperform system level air gaps. It can be used independently or in conjunction with heat spreaders to create a higher performing thermal design.
Comparison: Effectiveness of Thermal Spreading With and Without GORE Thermal Insulation
GORE Thermal Insulation increases the designer's ability to direct heat by greater control of z-axis thermal conductivity. More control means superior spreading options and design flexibility. Combining GORE Thermal Insulation with graphite for example – one of many possible configurations – allows for more graphite to be included due to needing a thinner amount of insulation compared to an air gap to get the same heat reduction.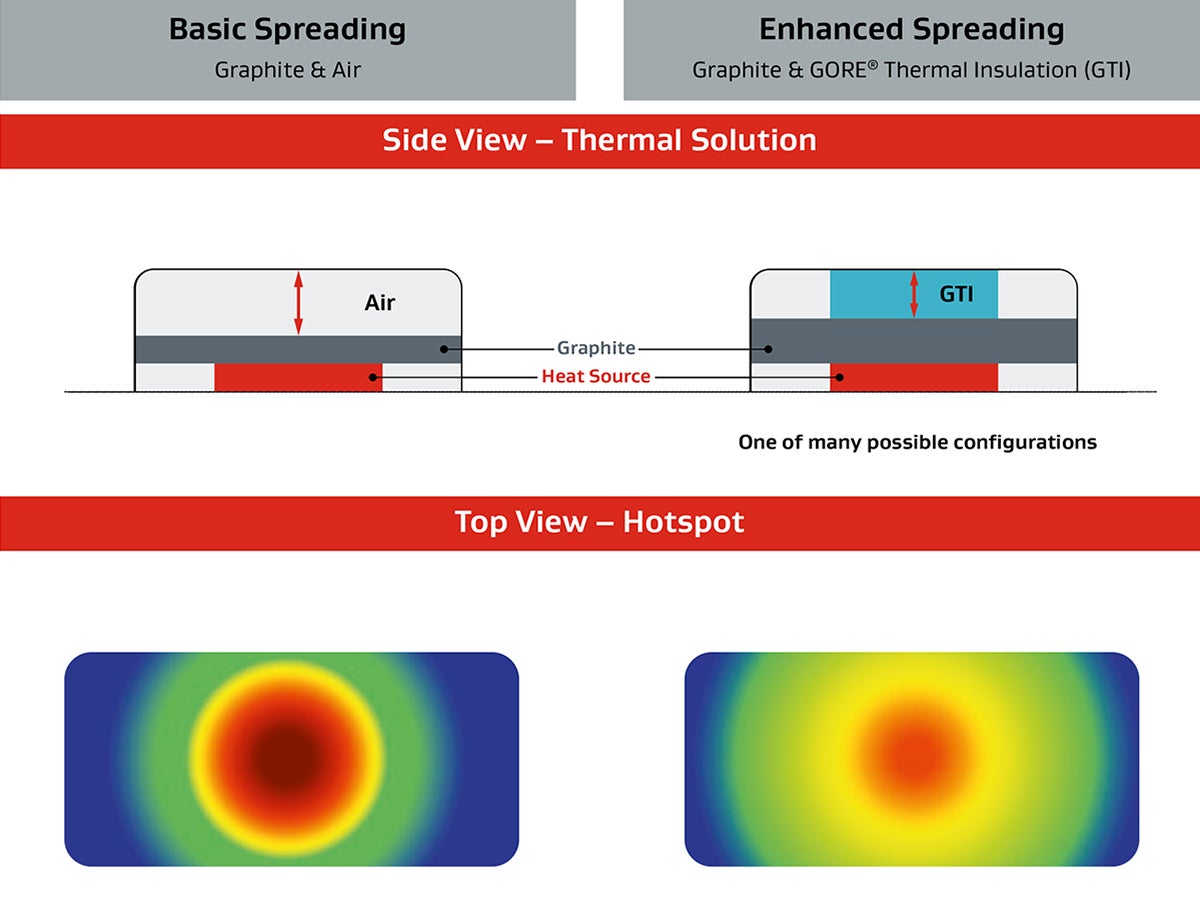 Improve Your Existing Solution With GORE Thermal Insulation: No More Compromises
Thanks to GORE Thermal Insulation, you can improve your existing thermal design without compromise. Incorporating this innovative heat spreading solution not only enhances the thermal management of your device, but also opens up new opportunities for your company to achieve peak performance and design excellence.
Increase Performance with with GORE Thermal Insulation
Reduce Hotspot temperature with GORE Thermal Insulation
Thinner Product Design with GORE Thermal Insulation

With a kz lower than air, thinner GORE Thermal Insulation can replace the air gap, allowing for more graphite to be included
Delay throttling of performance by moving heat away from the heat source and blocking heat from device surface
Enable components to operate at higher power for longer time

Reduce surface temperatures by 1– 6 °C (depending upon system power and insulation thickness)

Enable thinner designs while maintaining performance by replacing an air gap with thinner insulation
Additional Benefits of using GORE Thermal Insulation
Electrically Insulative
Provides a physical barrier between device components
Does not create electrical short circuits or EM/RF interference
Ease of Integration
Can be combined with graphite or heat pipes to optimize performance
Easy to install with 5 thickness options and ability to customize shape
Development Support
Gore engineers are available to support you with design guidance, modeling and integration from early design cycle through commercialization
You are interested in GORE Thermal Insulation and need more detailed information? Simply get in touch with our experts!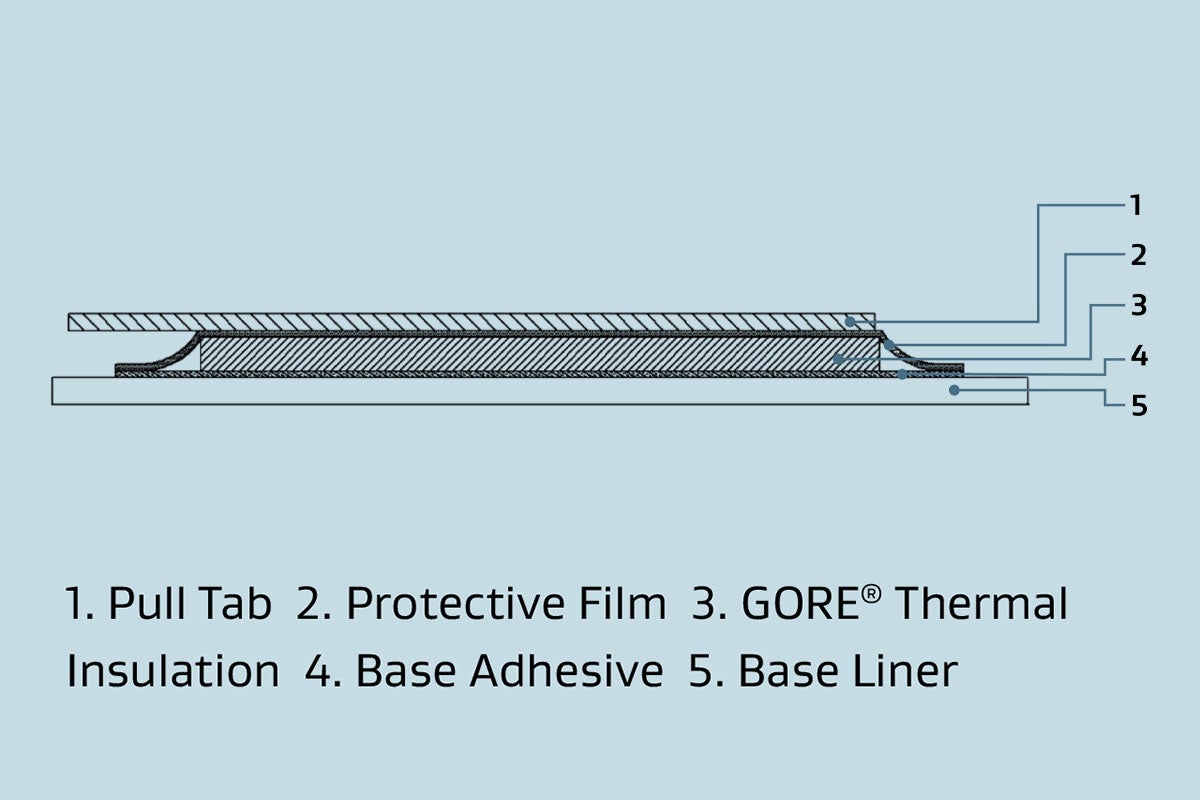 GORE Thermal Insulation 단면도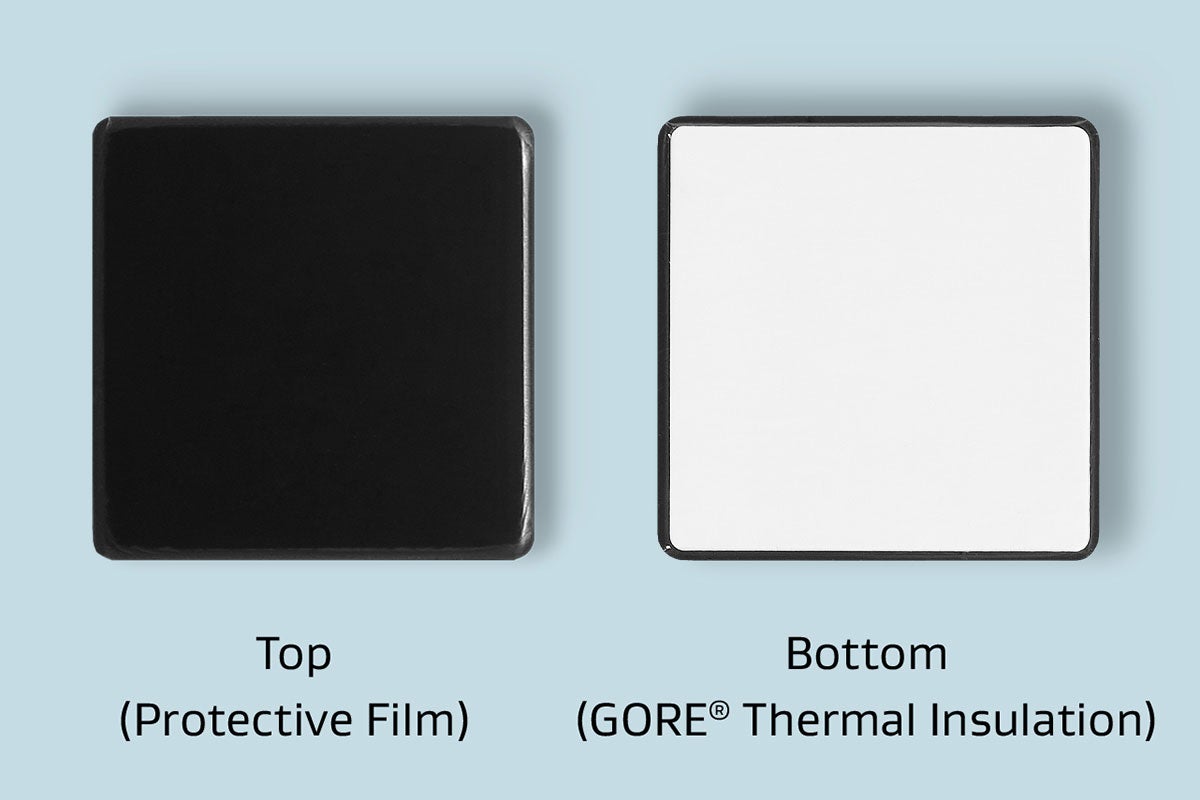 GORE Thermal Insulation 표면 이미지
Technology Expertise in Thermal Management for Mobile Devices
High loading of aerogel to obtain low conductivity
Consistent distribution of aerogel enables consistent conductivity
Consistent thickness across a range of thicknesses from 120-530 μm
GORE Thermal Insulation Material Data*
Characteristic
Insulation thickness availablea
0.12 mm
0.23 mm
0.28 mm
0.38 mm
0.53 mm
Adhesive encapsulation width (minimum)b
1 mm
1 mm
1 mm
1 mm
1.5 mm
Thermal conductivity (k)c
0.021 W/m•K
0.020 W/m•K
Compression @ 100 kPa (14.5 psi)
13%
8%
Specific heat capacityd
1.8 J/g °C
Bulk density
0.37 g/cc
Operating temperaturee
-40°C to 100 °C
Protective cover film
Black PET
Adhesive type
Acrylic
RoHSf
Meets threshold requirements
Max part size
100 mm x 200 mm
a Nominal thickness based on reported values of thickness of each component of the stack up.
b Nominal minimum width.
c Nominal conductivity value based on a modified version of ASTM C518.
d Nominal heat capacity measured according to ASTM E2716 Method B at 75 °C.
e Alternate adhesives required to exceed 100 °C.
f To the best of our knowledge, the part numbers listed above do not have any restricted substances above the maximum concentration values listed in RoHS Directive 2011/65/EU and meets the substance restrictions of Article 4 of RoHS Recast including Commission Delegated Directive 2015/863.

*All values based on nominal characteristic and do not represent the specification and tolerance.
By Your Side from Design to Manufacture
Leading OEMs select Gore because our products and services help develop differentiated and innovative products with low development and supply chain risk in a fast-paced, highly competitive market.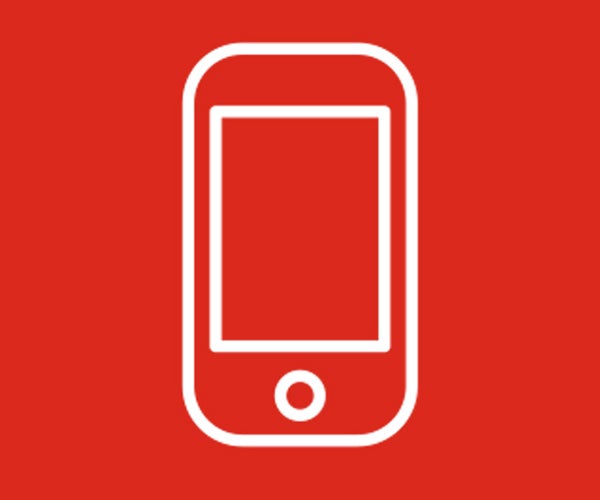 GLOBAL MOBILE SUPPLIER
Decades as a preferred venting partner of global top OEMs in a wide range of applications – from smartphones and smartwatches over tablets, earphones, and Bluetooth speakers to cameras.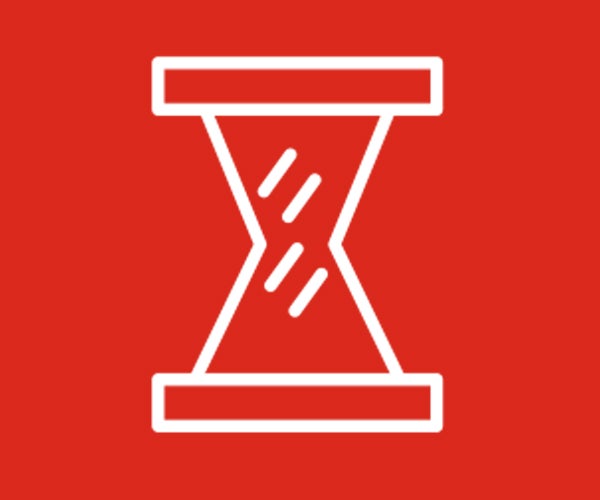 FAST RESPONSE DESIGNS
Gore supports the need of the mobile electronics industry for quickness with designs and prototypes to ensure that engineering teams can meet their project timelines.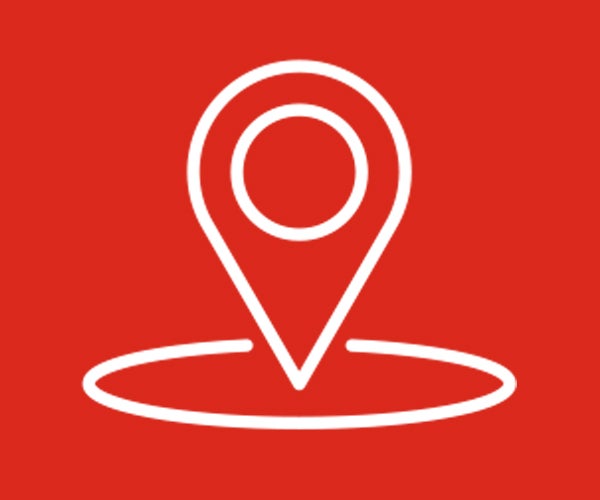 SUPPLY SECURITY
Years of experience in the challenging field of mobile electronics have made us experts at supplying high volume, fast ramp products with the timing and quality required for success.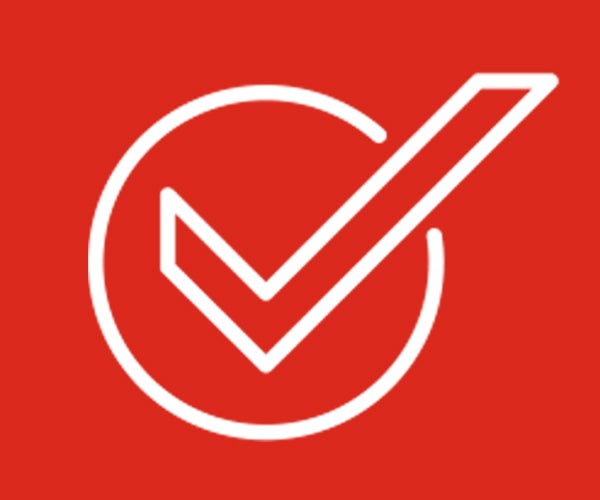 RELIABLE PERFORMANCE
Every Gore product must meet the highest standards of quality, performance and reliability. Through a deep understanding of end-use applications and demands, our products deliver what we promise.