Laptop Heat Dissipation for Sustained Peak Performance
Beat the heat with Gore thermal management solutions
Contact Us
UNITED STATES
+1 410 506 7812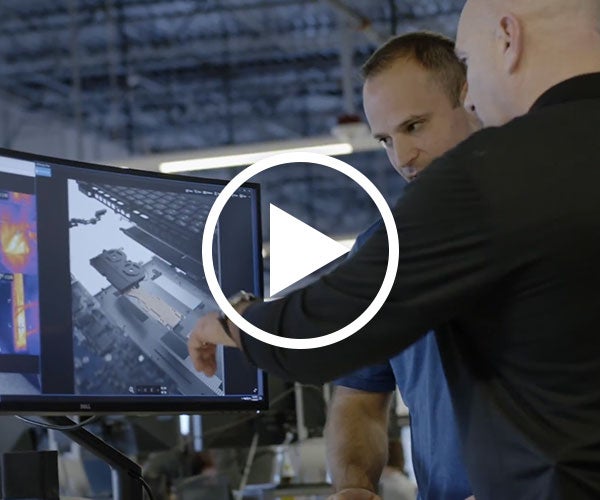 HOW DELL USES GORE® THERMAL INSULATION IN THE XPS 13
GORE® THERMAL INSULATION PROVIDES A TARGETED SOLUTION FOR LOCALIZED HOT SPOTS ON LAPTOP SURFACES.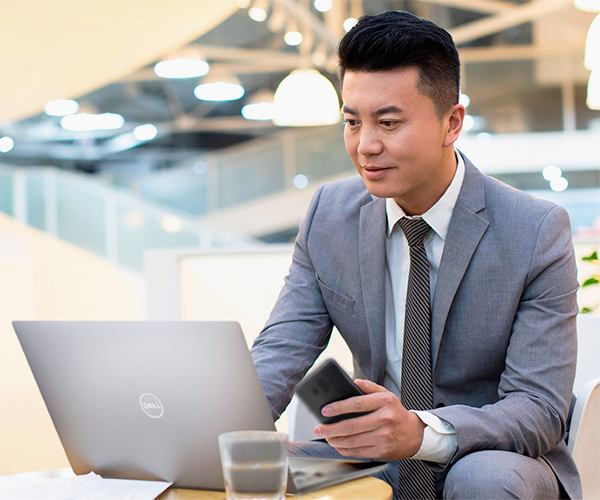 Learn how Gore Technology enabled DELL, a US-based market leader for business laptops, to release the best, most premium product possible.
English (U.S.)
All Resources For Laptop Heat Dissipation for Sustained Peak Performance
Overview
Laptop heat dissipation is one of the biggest issues in laptop development. To help with PC-case thermal management, laptops have used a variety of materials and techniques including graphite, heat pipes, vapor chambers, fans, thermal interface materials (TIMs), and thermal pastes. Currently, laptop thermal engineers are integrating GORE Thermal Insulation into their designs to provide a thermal solution that is the most effective laptop heat disperser.
NEW OPTIONS FOR LAPTOP THERMAL MANAGEMENT
GORE Thermal Insulation can be used to block heat from reaching the surface of the device. The thermals of a PC case are often a point of concern due to prolonged contact while typing, or when the device is used in a lap. Heat spreaders are most often used to disperse laptop heat, while insulation is used to prevent localized hot spots from harming users. Insulation can also be used in combination with spreaders in order to better spread the heat.
The memory in a laptop often produces a high heat load. Laptop memory heat spreaders are used to draw heat away from the memory area and move it to another area. Adding GORE Thermal Insulation to these laptop RAM heat spreader designs can help to further reduce hot spots on the laptop case.
GORE Thermal Insulation can also be used in conjunction with vapor chambers in laptops. While vapor chambers excel at moving heat away from high-power components using two-phase cooling technology, the materials used to construct a vapor chamber are thermally conductive in the through-plane direction. This can allow heat to reach the laptop case surface, creating hot spots. GORE Thermal Insulation can be placed atop specific portions of a vapor chamber to increase the efficiency at which the vapor chamber spreads heat, and to decrease hot spot temperatures.
Thermal Conductivity Lower Than Air
With GORE Thermal Insulation, you can now improve the effectiveness of your thermal spreading solutions. With a through-plane thermal conductivity (kz) significantly lower than air, enabled by premium aerogel technology, GORE Thermal Insulation will enhance the heat-spreading ratio and outperform system-level air gaps. It can be used independently or in conjunction with heat spreaders to create a higher-performing thermal design
APPLICATION EXAMPLES: GORE THERMAL INSULATION IN LAPTOPS
Experience and extensive testing confirm the effectiveness of GORE Thermal Insulation materials for laptops: Your customers will benefit from improved performance and an overall better user experience.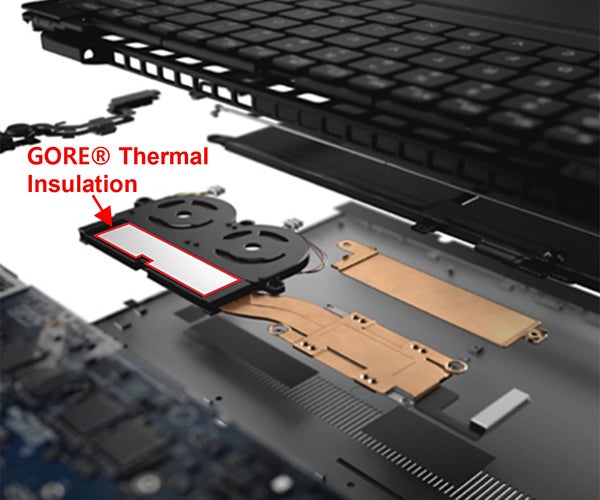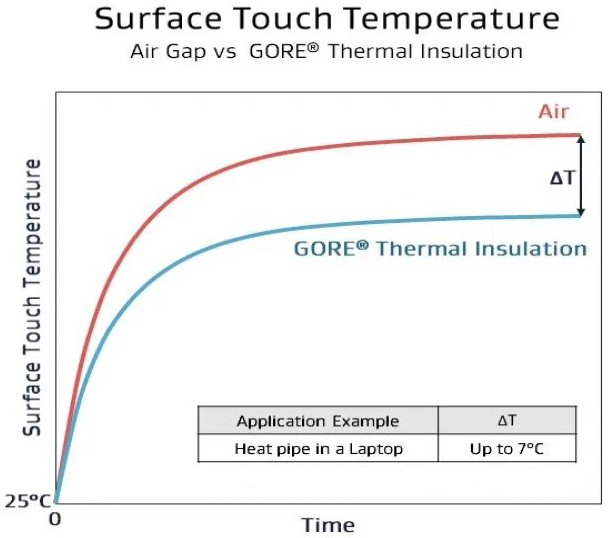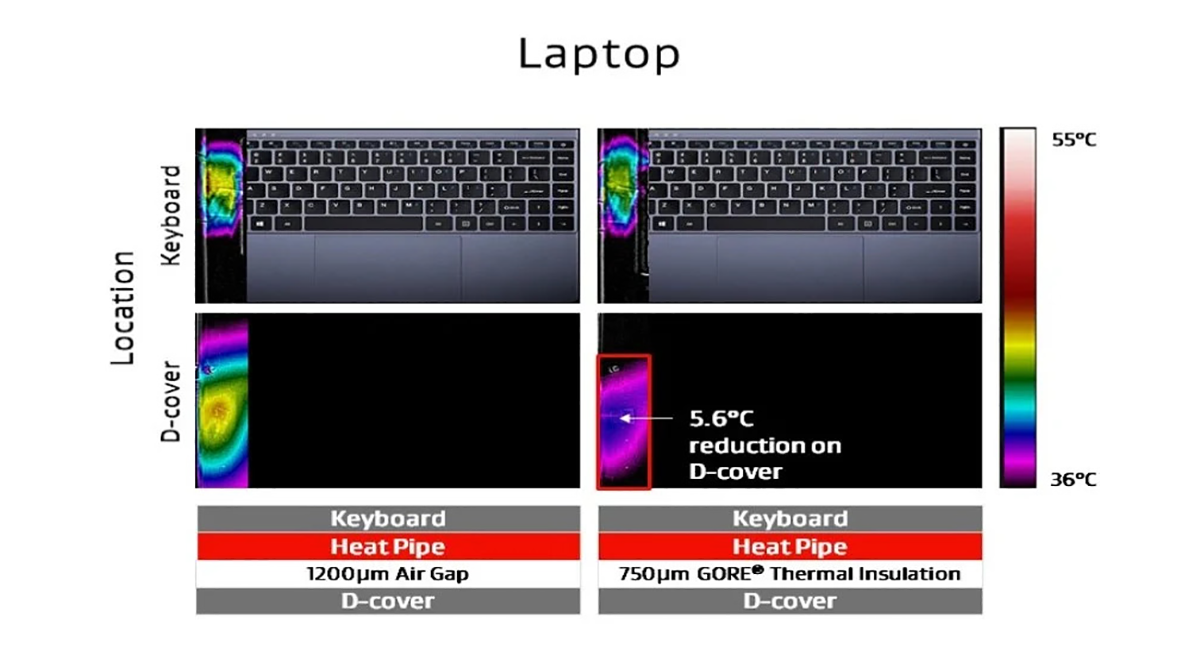 Working with Gore
By Your Side from Design to Manufacture
Leading OEMs select Gore because our products and services help develop differentiated and innovative products — with low development risk and a stable supply chain — in a fast-paced, highly competitive market.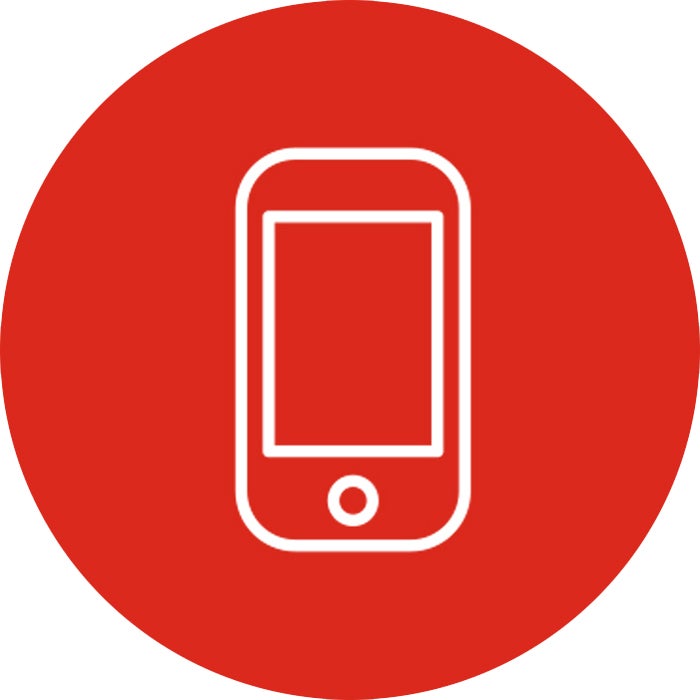 GLOBAL MOBILE SUPPLIER
Decades as a preferred venting partner of global top OEMs in a wide range of applications — from smartphones and smart watches to tablets, earphones, Bluetooth speakers to and cameras.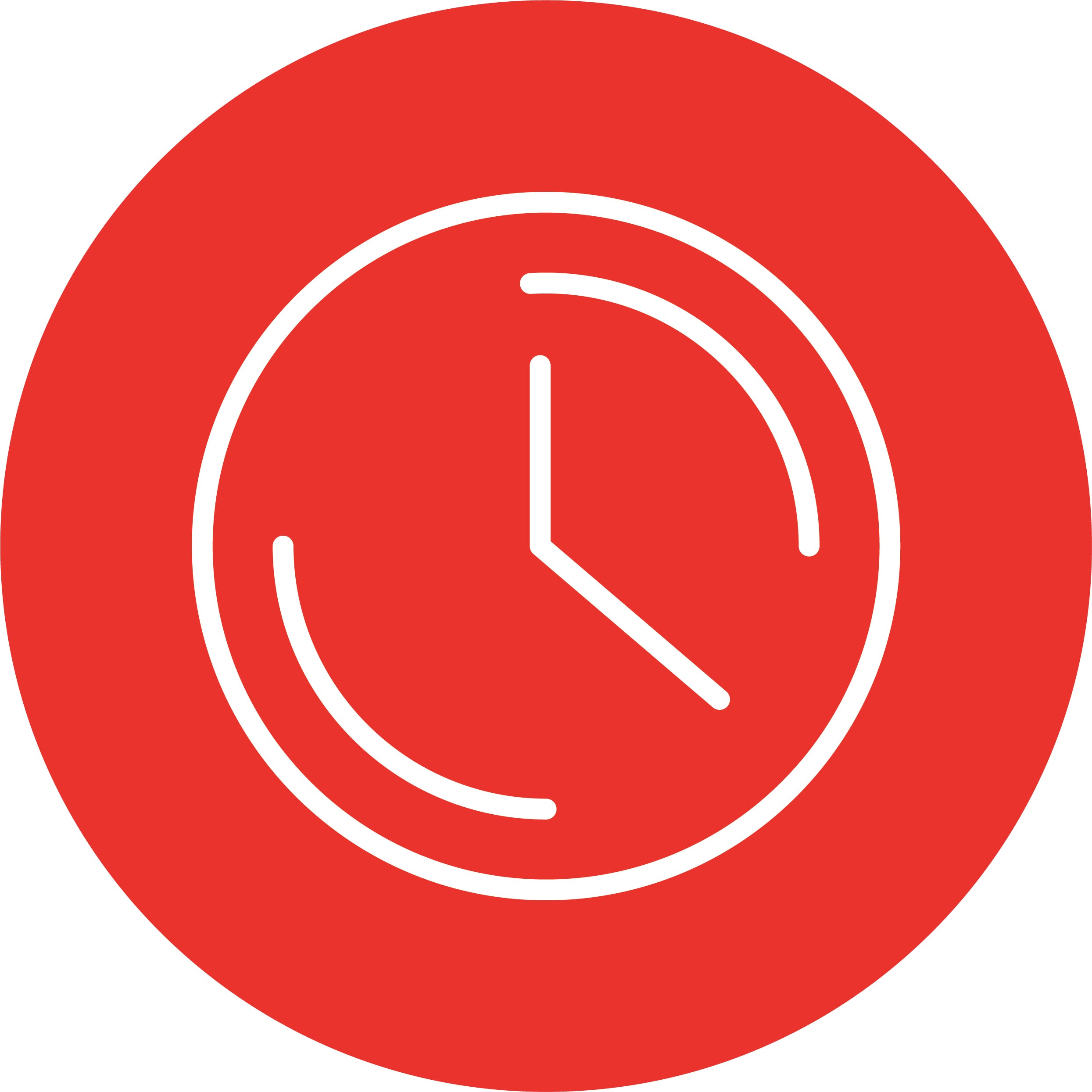 FAST RESPONSE DESIGNS
Gore supports the need of the mobile electronics industry with quick turnaround of designs and prototypes, to ensure that engineering teams can meet their project timelines.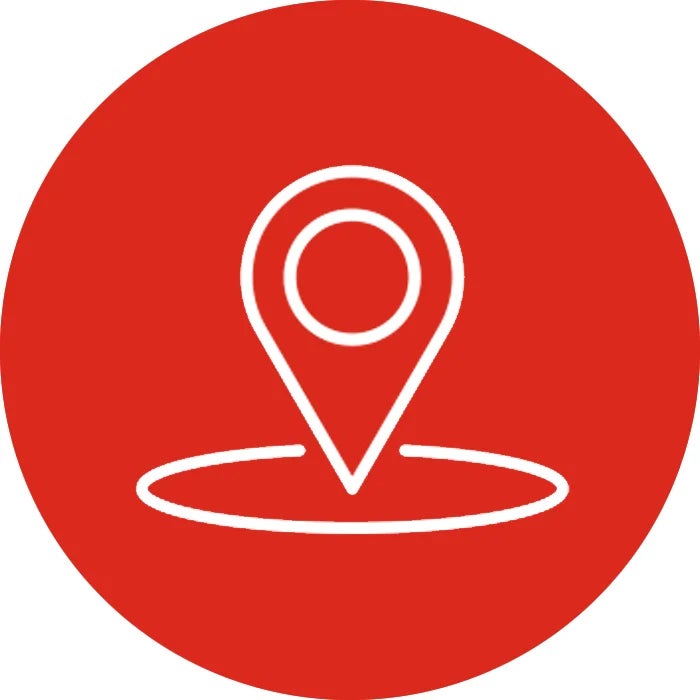 SUPPLY SECURITY
Years of experience in the challenging field of mobile electronics have made us experts at supplying high-volume, fast-ramp products with the timing and quality required for success.

RELIABLE PERFORMANCE
Every Gore product must meet the highest standards of quality, performance and reliability. Through a deep understanding of end-use applications and demands, our products deliver what we promise.
Resource Library
---
FOR INDUSTRIAL USE ONLY
Not for use in food, drug, cosmetic or medical device manufacturing, processing, or packaging operations.
Related Products
Electronic Components & Electrochemical Materials