GORE® Thermal Insulation for 5G Antennas
GORE® Thermal Insulation drives higher 5G mmWave smartphone customer satisfaction by providing surface temperature reduction with minimal interference to 5G mmWave signals for better performance.
Contact Us
UNITED STATES
+1 410 506 7812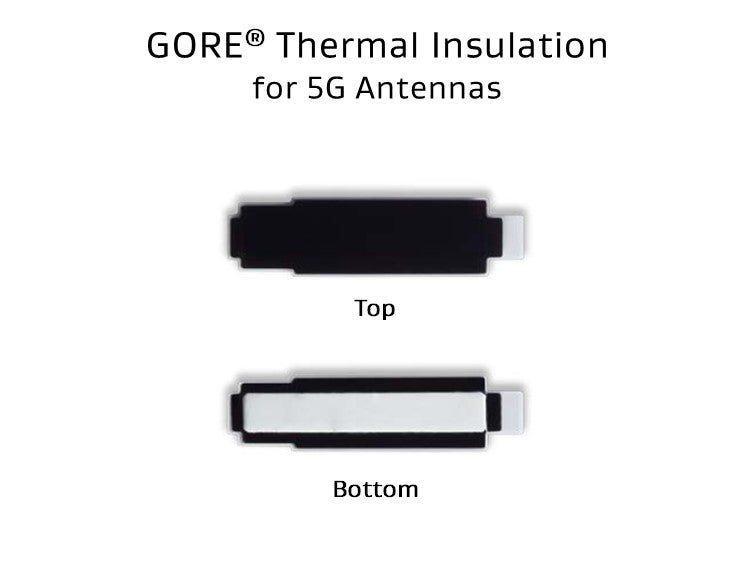 Reduce 5G Antenna hot spots with a new thermal insulator that's better than air.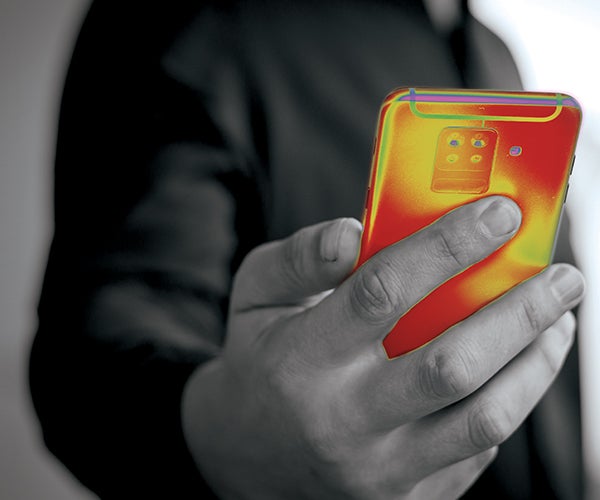 The client discovered a high temperature on RF modules in a smartphone.
English (U.S.)
All Resources For GORE® Thermal Insulation for 5G Antennas
Reduce 5G Hot Spots with a new insulator that's better than air
Today's 5G mmWave antennas have power amplifiers that generate heat close to the device edge which cause safety concerns and impact performance. Reducing surface temperatures can be achieved by increasing the air gap which can be difficult due to space restraints or throttling back the 5G signal which hurts performance. Electrically conductive thermal materials aren't an option because they interfere with the signal.
GORE® Thermal Insulation for 5G Antennas is a better solution to meet thermal challenges by helping maintain 5G signal duration while reducing surface temperatures for a superior user experience. It's a better insulator than air with extremely low RF signal transmission loss. Designed to fit over the Qualcomm® QTM525 mmWave antenna module, it's available in 3 thicknesses to fit the available air gap*. Gore can also support OEMs using other 5G antenna modules with custom parts.
*Qualcomm is a trademark or registered trademark of Qualcomm Incorporated. Qualcomm QTM525 is a product of Qualcomm Technologies, Inc. and/or its subsidiaries.
SUPERIOR THERMAL CONDUCTIVITY
at 0.020 W/mK, 23% lower than that of air gap at 25°C (0.026 W/mK)

IMPROVED PERFORMANCE FOR CONSUMERS
with longer duration of 5G mmWave signal before needing to throttle

MORE STABLE THERMAL CONDUCTIVITY
compared to air when temperature changes

ELECTRICALLY INSULATED BARRIER
prevents antenna module from accidentally touching the case which leads to dropped signals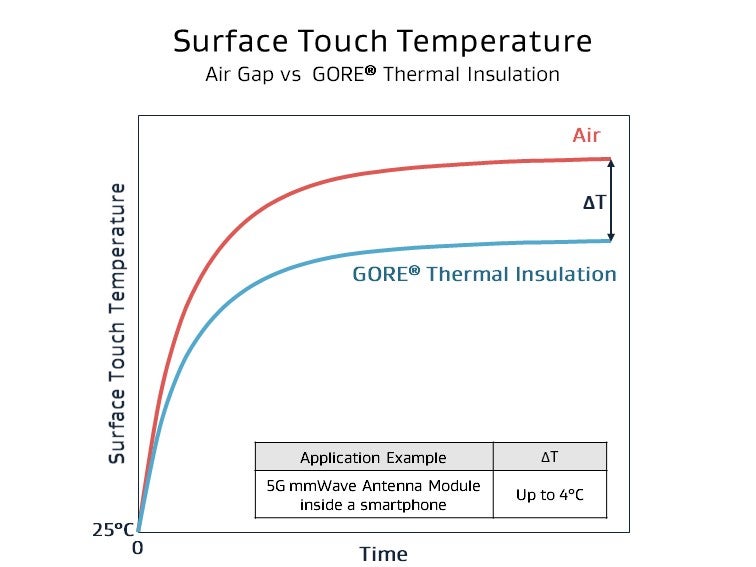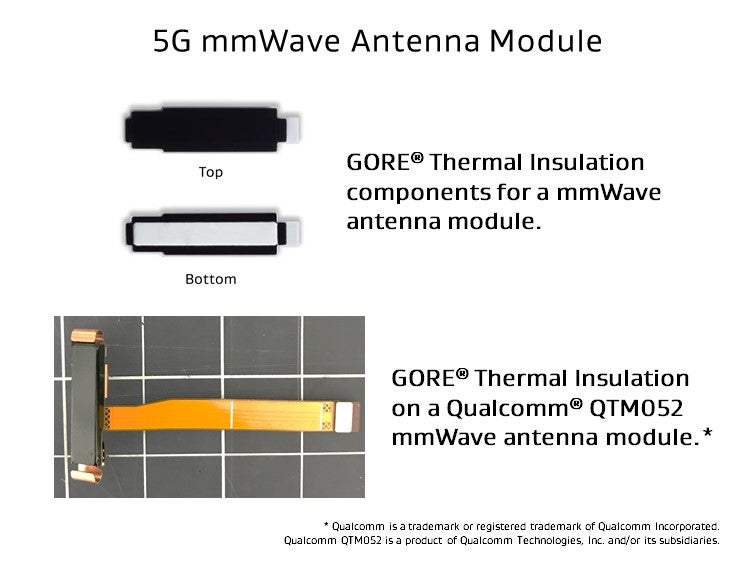 In a case study representing this 5G module antenna application with 1W of power, GORE Thermal insulation with 350µm insulation thickness was installed in a 500µm air gap and reduced surface temperature by 4°C compared to air after 20 minutes of run time.
GORE Thermal Insulation Material Data*
Material Data
Thermal conductivity (k)a
0.020 W/m•K
Specific heat capacityb
1.8 J/g °C
Bulk density
0.37 g/cc
Dielectric constantc
1.43
Loss tangentc
0.017
Typical signal loss [with GTI350525B]
< 0.3 dB
Compression @ 100 kPa (14.5 psi)
6 %
Operating temperatured
-40 ºC to 100 °C
Protective cover film
Black PET
Adhesive type
Acrylic
RoHSe
Meets threshold requirements
a nominal conductivity value based on a modified version of ASTM C518.
b nominal heat capacity measured according to ASTM E2716 Method B at 75 °C.
c nominal values representative of frequency range from 6 GHz to 70 GHz.
d alternate adhesives required to exceed 100 °C.
e to the best of our knowledge, the part numbers listed above do not have any restricted substances above the maximum concentration values listed in RoHS Directive 2011/65/EU and meets the substance restrictions of Article 4 of RoHS Recast including Commission Delegated Directive 2015/863.
*All values based on nominal characteristic and do not represent the specification and tolerance.
Standard Part Dimensions
GTI250525B
GTI350525B
GTI500525B
Nominal thicknessa
0.28 mm
0.38 mm
0.54 mm
Adhesive encapsulation width (minimum)b
1mm
1mm
1.5 mm
Dimensions
anominal thickness based on reported values of thickness of each component of the stack up.
b nominal minimum width.
Get all the media and documentation available for GORE Thermal Insulation: