GORE® Thermal Insulation for 5G Antennas
Turn up the performance, turn down the heat! GORE Thermal Insulation for 5G mmWave antennas enhances heat spreading with minimal interference to 5G mmWave signals for an enhanced user experience.
Contact Us
UNITED STATES
+1 410 506 7812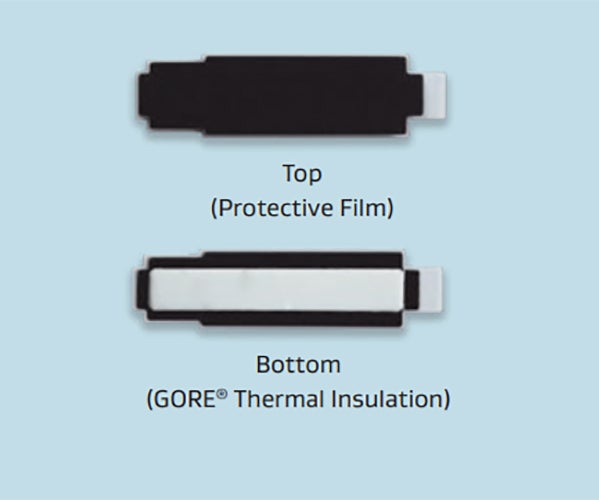 GORE Thermal Insulation reliably reduces 5G mmWave antenna hot spots.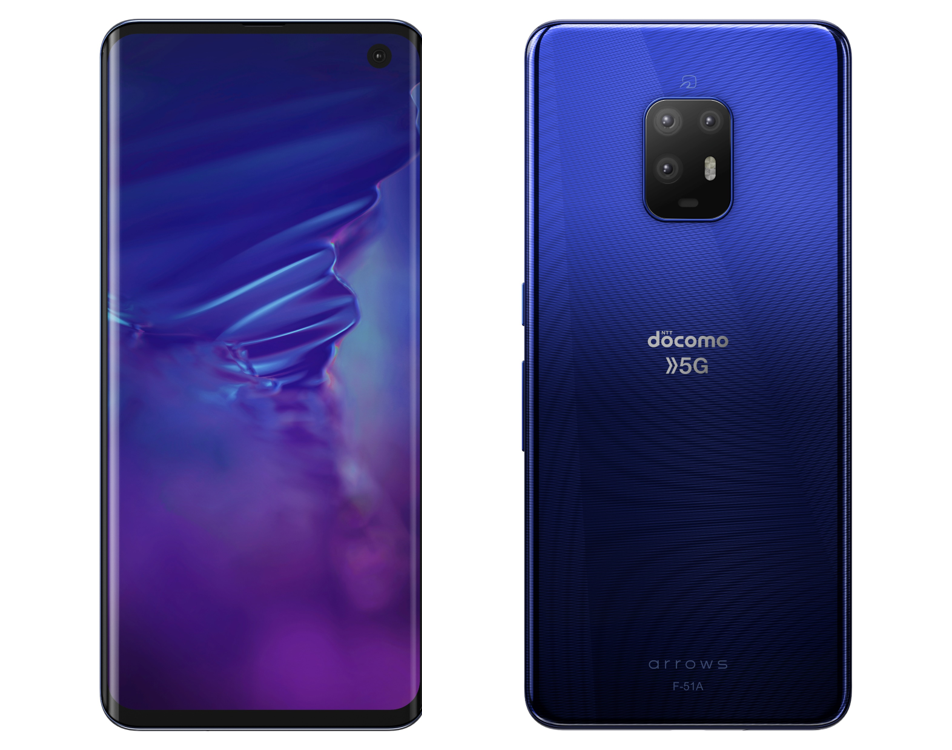 Learn how we helped to make the arrows 5G F-51A smartphone stay cool while working hard.
English (U.S.)
All Resources For GORE® Thermal Insulation for 5G Antennas
Overview
Reduce 5G Antenna Hot Spots with a Thermal Insulator that's Better than Air
Today's sophisticated 5G mmWave antenna modules incorporate power amplifiers that generate heat close to the edge of the device, causing hot spots on the antennas. 5G thermal management is exceedingly difficult because traditional thermal management techniques such as graphite spreaders cannot be used due to their high RF interference. With many components in such a small space, there is limited space available to utilize large air gaps to prevent surface hot spots resulting from 5G radio frequency heating.
The large 5G heat-load combined with limited thermal management options typically leads to 5G mmWave signal throttling within a minute of use. GORE Thermal Insulation for 5G mmWave antennas is designed to fit on top of 5G mmWave antenna modules to prevent surface hot spots with minimal RF interference.
GORE Thermal Insulation provides a uniquely adaptable 5G thermal solution: available in six different thicknesses, it can be provided in custom shapes or designed to fit the most commonly used Qualcomm® modules*. These parts feature insulation that blocks heat better than air, with extremely low RF signal transmission loss. GORE Thermal Insulation for 5G mmWave antennas helps maintain 5G signal duration by reducing surface temperatures, for a superior user experience.
*Qualcomm is a trademark or registered trademark of Qualcomm Incorporated.
WHY A TRANSPARENT RF THERMAL SOLUTION MATTERS
5G antenna thermal control can be challenging: device designers need heat dissipation for the 5G antenna without causing interference. Many designers have started to put graphite and other dissipators behind the antenna to draw heat away and increase the antenna's thermal stability.
GORE Thermal Insulation is a unique 5G dielectric material due to its low dielectric constant, resulting in minimal impact to the mmWave signal. This material can be placed in front of the antenna to prevent surface hot spots, providing an RF and thermal antenna solution. Gore's insulation enhances smartphone antenna heat dissipation by directing the heat back through the antenna to the spreading technologies behind it. This combination of insulation on the front and graphite on the back helps to manage the thermal radiation of the antenna, to keep it from building up and causing hot spots.
Why use GORE Thermal Insulation to Maximize 5G
mm

Wave Antenna Performance?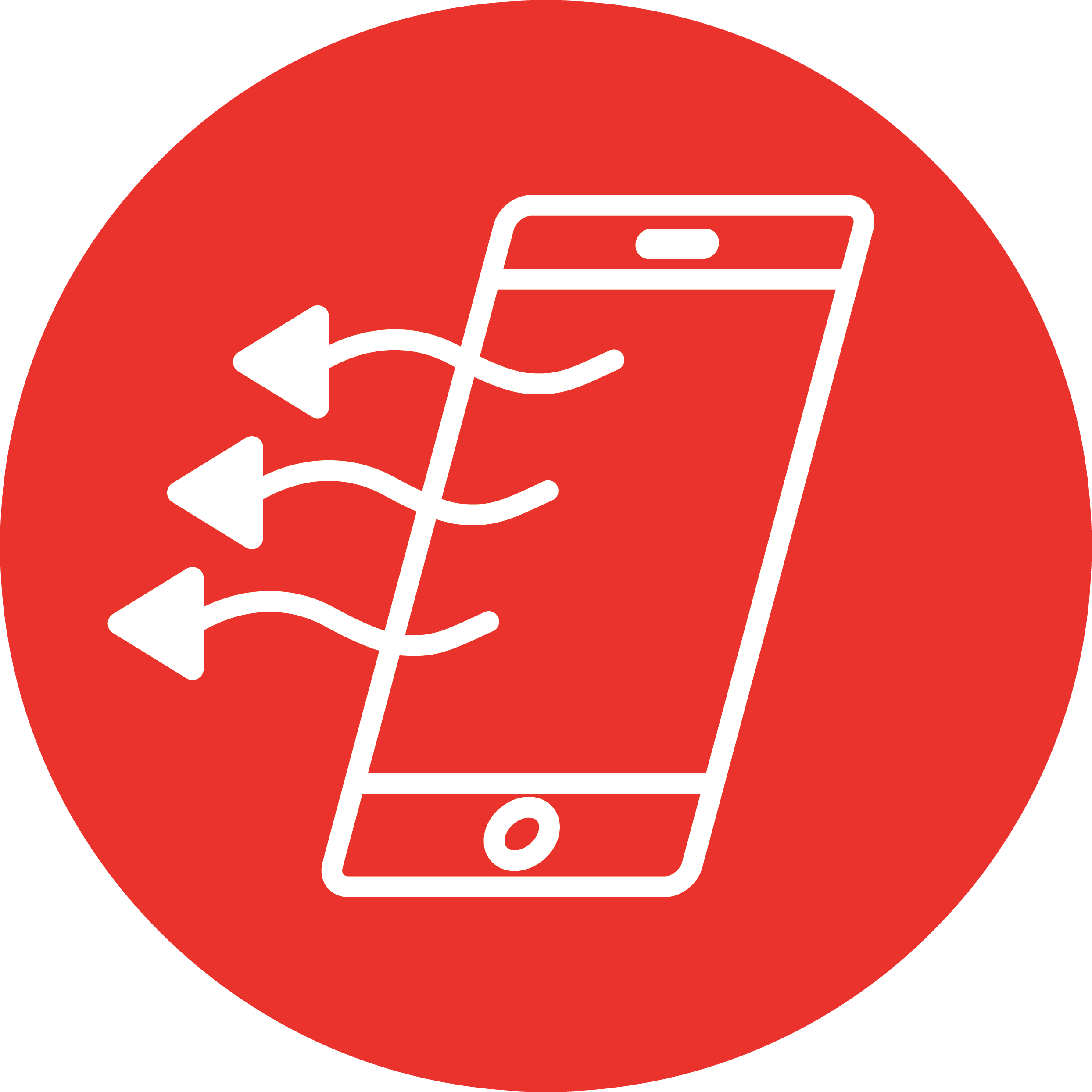 HOTSPOT REDUCTION
• Thermal conductivity at 0.020 W/mK reduces heat flow by 23% compared to an air gap at 25 °C (0.026 W/mK)
• Heat can be redirected to the back side of the module where graphite can be used to spread heat without interrupting the 5G signal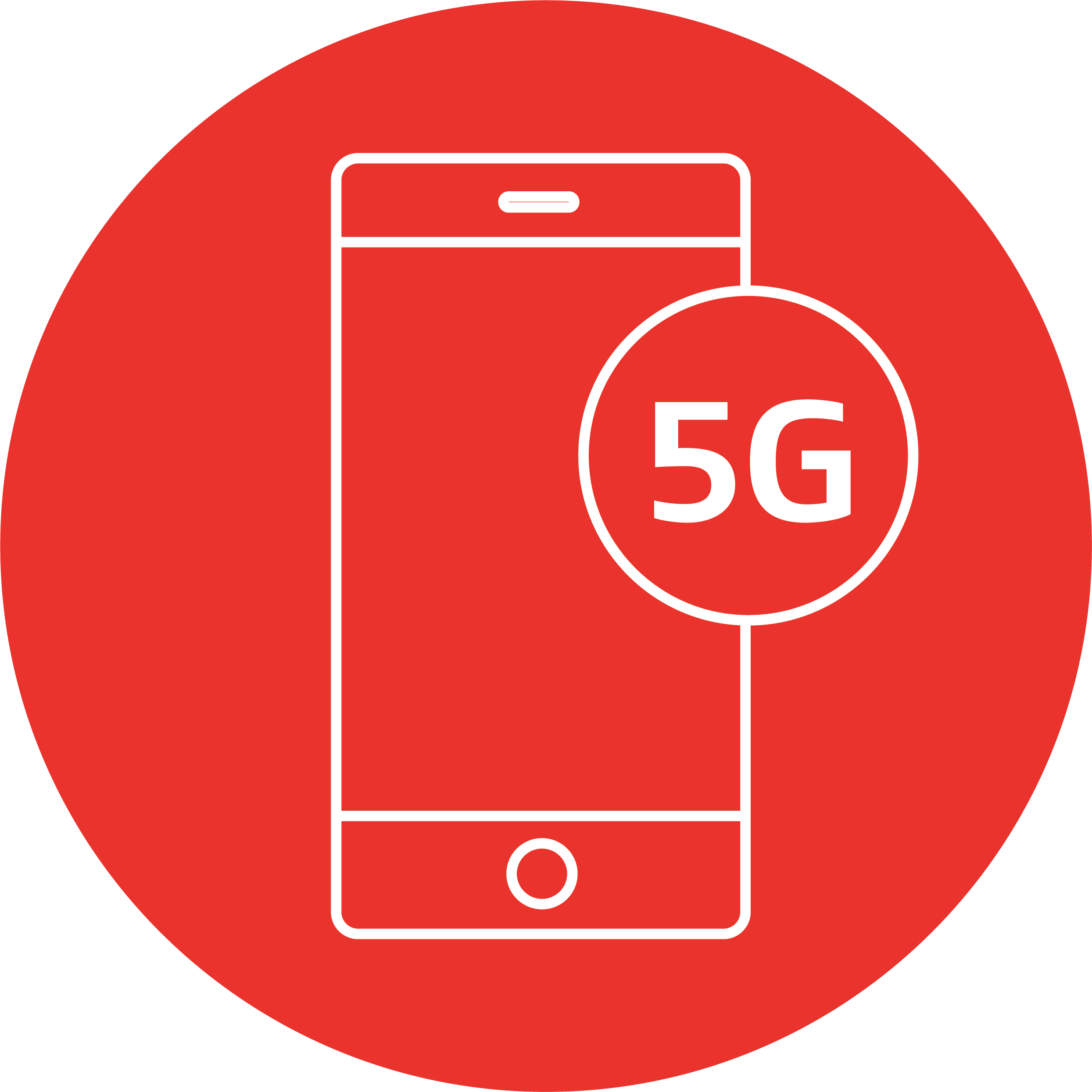 MAINTAIN INTEGRITY OF SIGNAL
• Longer duration of 5G mmWave signal before needing to throttle
• Minimal signal loss across mmWave frequencies ensured by low dielectric constant

FEWER DROPPED SIGNALS
• Electrically-insulative barrier prevents the antenna module from touching the case when there are small air gaps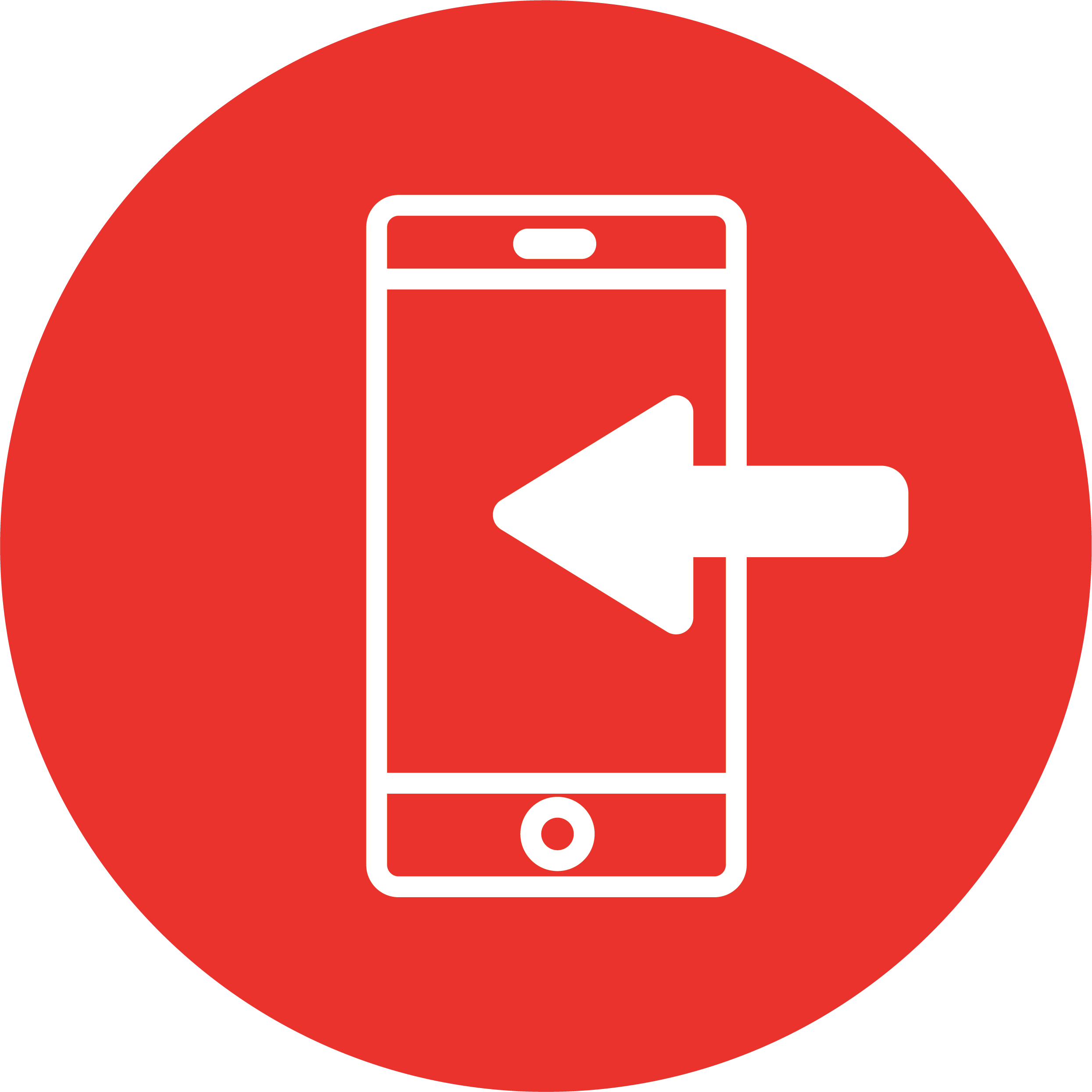 EASY TO FIT AND INSTALL
• Available in 6 different thicknesses, which can be provided in custom shapes, or designed to fit the most commonly-used Qualcomm® modules
• Replace a thicker air gap with a thinner insulation to save space
Closer Look at GORE Thermal Insulation for 5G
mm

Wave Antennas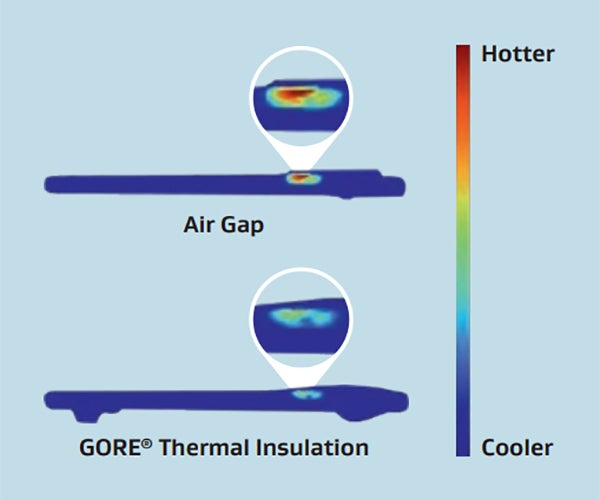 GORE Thermal Insulation significantly reduces smartphone 5G mmWave antenna hot spots, improving antenna thermal efficiency. Customer testing shows a surface temperature reduction of 1–4 °C is achievable.
Technology Expertise to Manage 5G and Radio Frequency Heating
High loading of aerogel to obtain low conductivity and low dielectric constant
Consistent distribution of aerogel enables consistent conductivity
Consistent thickness across a range of thicknesses from 100 – 530 μm
Application Example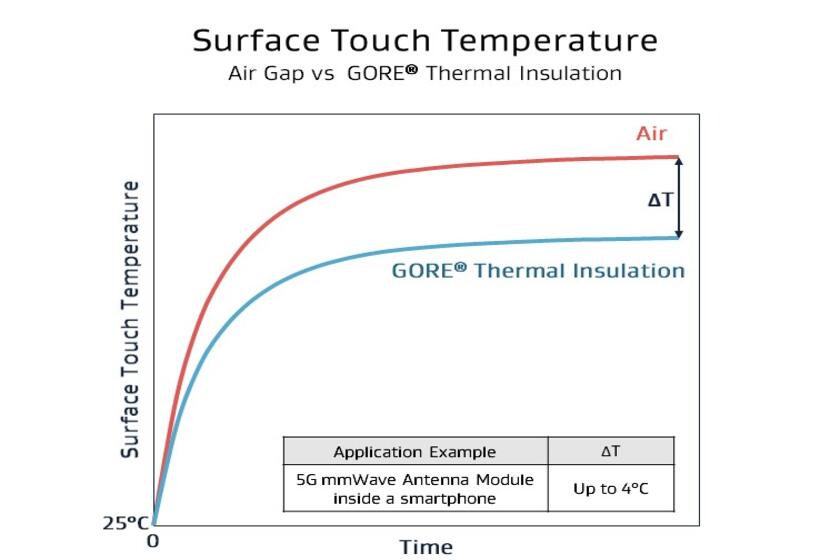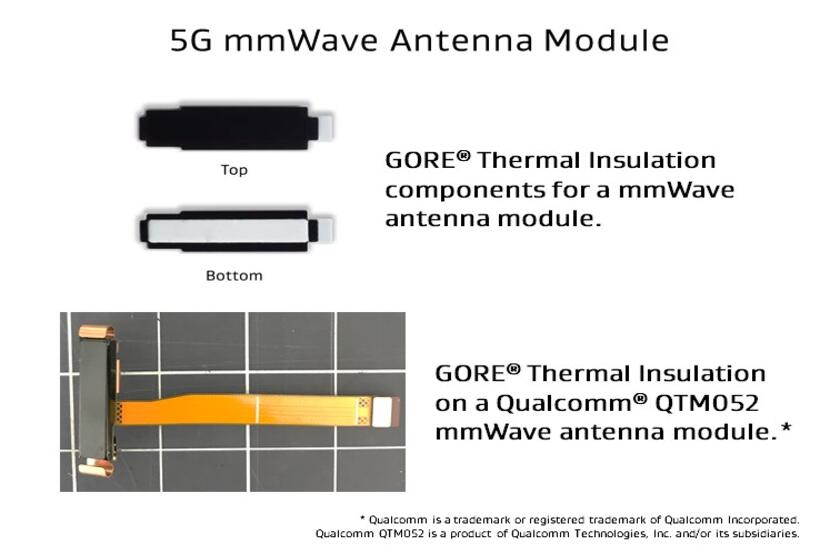 In a case study representing this 5G module antenna application with 1 W of power, GORE Thermal Insulation with 350 μm insulation thickness was installed in a 500 μm air gap, and reduced surface temperature by 4 °C compared to air after 20 minutes of run time.
See what GORE Thermal Insulation can do for laptops.
Product Information
Material Data*
Characteristic
Dielectric constanta
1.46
Loss tangenta
0.017
Typical signal loss with 350µm part
< 0.3 dB
Insulation thickness availableb
0.10 mm
0.12 mm
0.23 mm
0.28 mm
0.38 mm
0.53 mm
Adhesive encapsulation width (minimum)c
1 mm
1 mm
1 mm
1 mm
1 mm
1.5 mm
Thermal conductivity (k)d
0.021 W/m•K
0.020 W/m•K
Compression @ 100 kPa (14.5 psi)
13%
8%
Specific heat capacitye
1.8 J/g °C
Bulk density
0.37 g/cc
Operating temperaturef
-40 °C to 100 °C
Protective cover film
Black PET
Adhesive type
Acrylic
RoHSg
Meets threshold requirements
Max part size
100 mm × 200 mm
aNominal values representative of frequency range from 6 GHz to 70 GHz.
bNominal thickness based on reported values of thickness of each component of the stack-up.
cNominal minimum width.
dNominal conductivity value based on a modified version of ASTM C518.
eNominal heat capacity measured according to ASTM E2716 Method B at 75 °C.
fAlternate adhesives required to exceed 100 °C.

gTo the best of our knowledge, the product listed above does not have any restricted substances above the maximum concentration values listed in RoHS Directive 2011/65/EU and meets the substance restrictions of Article 4 of RoHS Recast including Commission Delegated Directive 2015/863.
*All values based on nominal characteristic and do not represent the specification and tolerance.
Reference design for 5G
mm

Wave antenna part**
| | |
| --- | --- |
| Nominal thicknessa | 0.28 mm |
| Adhesive encapsulation width (minimum)b | 1 mm |
| Dimensions | |
aNominal thickness based on reported values of thickness of each component of the stack-up.
bNominal minimum width.

**Could fit a Qualcomm QTM545 module, product of Qualcomm Technologies Inc. and/or its subsidiaries.
GORE Thermal Insulation Cross Section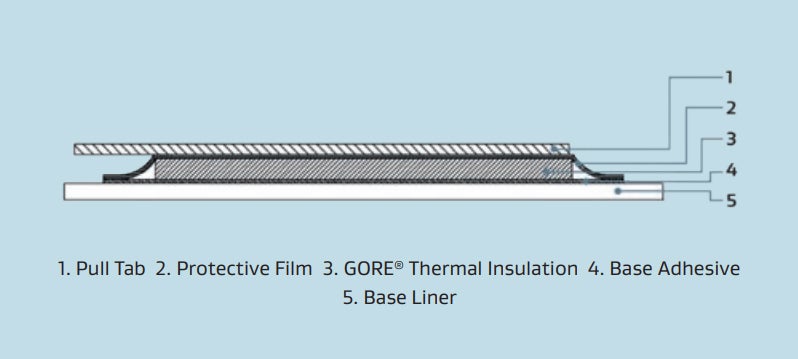 Working with Gore
By Your Side from Design to Manufacture
Leading OEMs select Gore because our products and services help develop differentiated and innovative products — with low development risk and a stable supply chain — in a fast-paced, highly competitive market.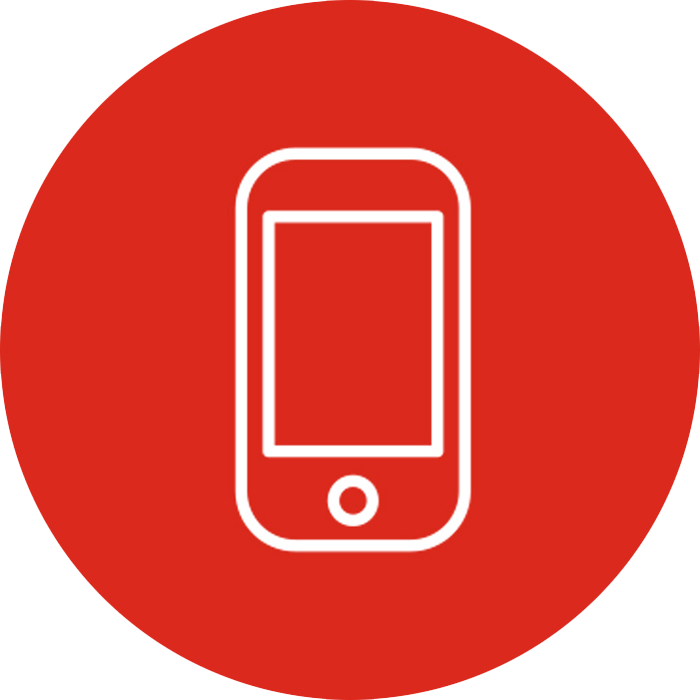 GLOBAL MOBILE SUPPLIERS
Decades as a preferred venting partner of global top OEMs in a wide range of applications — from smartphones and smart watches to tablets, earphones, Bluetooth speakers and cameras.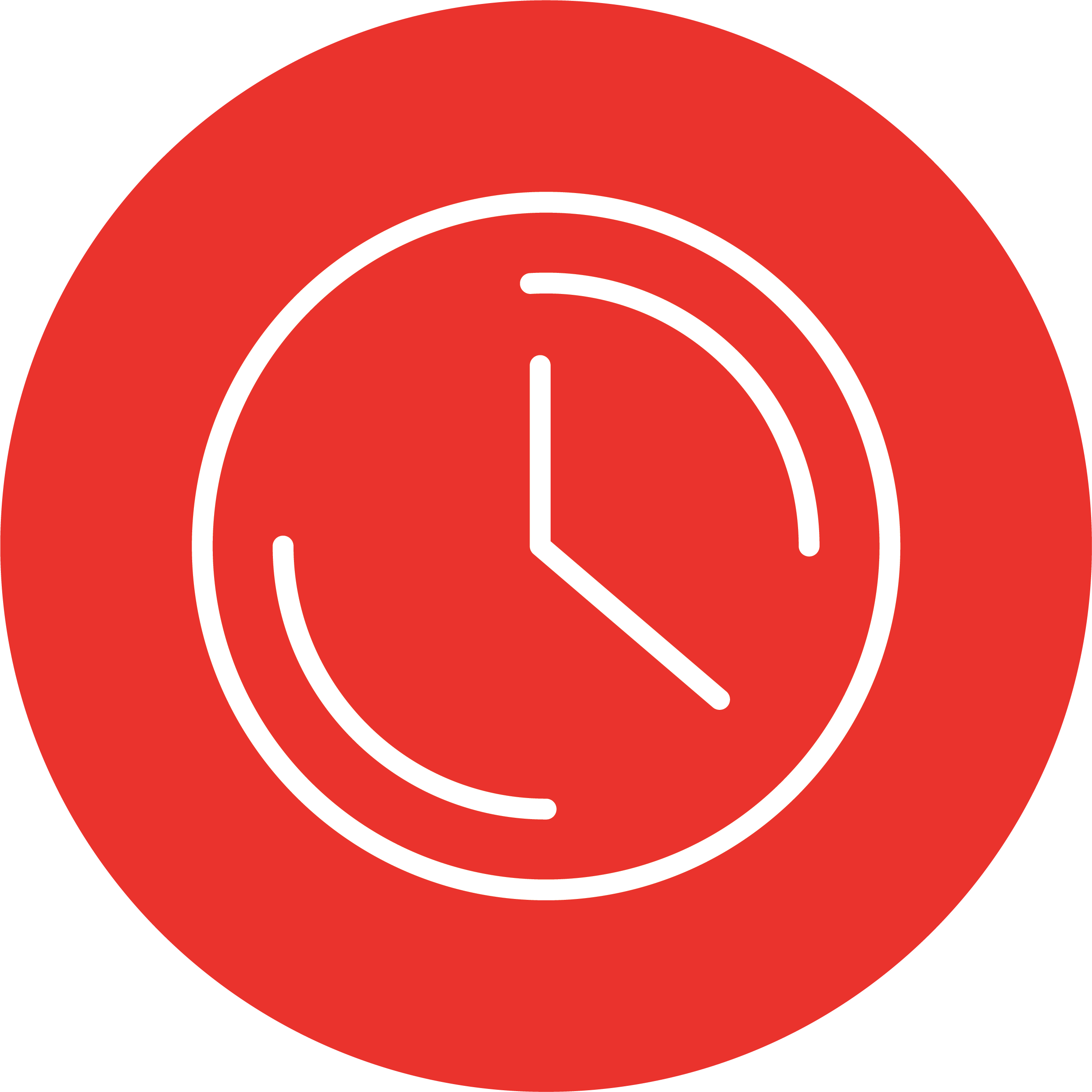 FAST RESPONSE DESIGNS
Gore supports the need of the mobile electronics industry with quick turnaround of designs and prototypes, to ensure that engineering teams can meet their project timelines.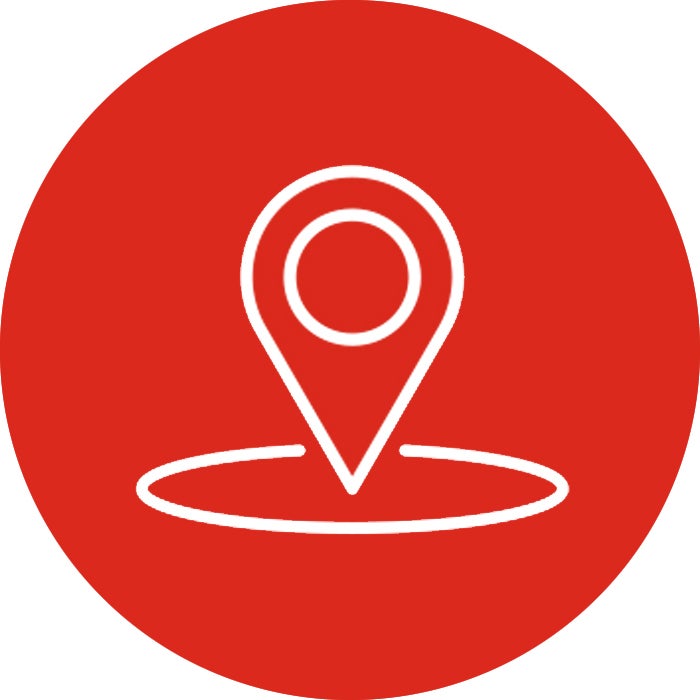 SUPPLY SECURITY
Years of experience in the challenging field of mobile electronics have made us experts at supplying high-volume, fast-ramp products with the timing and quality required for success.

RELIABLE PERFORMANCE
Every Gore product must meet the highest standards of quality, performance and reliability. Through a deep understanding of end-use applications and demands, our products deliver what we promise.
Resource Library
Get all the media and documentation available for GORE Thermal Insulation:
FOR INDUSTRIAL USE ONLY
Not for use in food, drug, cosmetic or medical device manufacturing, processing, or packaging operations.