Overview
Chemicals need to breathe. And containers of agricultural chemicals — like liquid fertilizer and pesticides, whose natural variations provoke varying rates of fermentation and gas release — need to be ventilated.
Without the appropriate vents, containers could collapse, bulge or leak when exposed to changes in altitude or temperature. Pallets could collapse. Labels could be ruined and as a result important safety information can be potentially illegible. Consumers could be exposed to leaked chemicals, while manufacturers could experience decreased profits due to lost productivity and unsatisfied customers.
Gore's packaging vents minimize these risks for even the most highly concentrated chemical formulations, and we provide vents that meet the stringent ADR and DOT standards.
Applications
We can create vents for a range of applications, including:
organic fertilizers
inorganic fertilizers
pesticides, including those requiring Moisture Vapor Transfer Rate (MVTR) control
We engineer each vent to meet the needs of both the liquid and its container. We do this by creating membrane structures using ePTFE, the exceptionally durable and versatile polymer discovered by Gore. Our vents offer superior performance by:
allowing air and gas molecules to pass through the membrane, continually equalizing pressure so containers won't bulge or collapse
maintaining airflow even after contact with high-viscous or low surface-tension liquids
preventing larger molecules like dust, dirt and liquids from getting in or out
improving product safety to protect users and the environment
​While other packaging vents may specialize in one of these features, our vents offer a high-performance, tailored, solution — and peace of mind.
Product Comparison
We offer two types of packaging vent solutions: molded components and liners.
Molded components are press-fit or snap-fit plastic components. Available for container sizes from 0.2 to 1,500 liters, they're custom-created to suit the container and material it contains. They can then be integrated into consumer containers as well as industrial drum, jerry can and IBC closures. Molded components are especially designed for harsh chemicals and rugged use.
Liners, including cap liners and induction liners, are available for HDPE, PP and PET containers. Liners can be installed into existing caps and closures to provide high airflow and leakage protection. Available in various widths and configurations, the liners simply replace existing liners and require little to no changes to cap design.
Learn which solution suits your application, or contact us with questions about which product is right for you.
Molded Components
Part Number D38

Typical Applications
Drum/IBC  60–1,500 liters
Part Diameter
38mm
Water Entry Pressure
> 0.5 bar
Typical Airflow
10–80 l/h at ∆p=12 mbar
Drop Test 
Optimized
 
Part Number D17

Typical Applications
Containers 5–120 liters 
Part Diameter
17mm
Water Entry Pressure
> 0.5 bar
Typical Airflow
1.3–3.6 l/h at ∆p=12 mbar
Drop Test 
Optimized
Part Number D15

Typical Applications
Containers 2–30 liters
Part Diameter
15mm
Water Entry Pressure
> 0.5 bar
Typical Airflow
1.1–2.6 l/h at ∆p=12 mbar
Drop Test 
Optimized 
Part Number D10

Typical Applications
Bottles 0.2–5 liters
Part Diameter
10mm
Water Entry Pressure
> 0.4 bar
Typical Airflow
0.22 l/h at ∆p=12 mbar
Drop Test 
Neutral
Part Number D3

Typical Applications
Bottles 0.02–0.2 Liters
Part Diameter
3mm
Water Entry Pressure
> 0.5 bar
Typical Airflow
20 ml/h at ∆p=50 mbar
Drop Test
Neutral
*Airflow after liquid exposure and resistance to liquid penetration varies by application.
Liner Products - Induction and Cap Liners
Typical Applications: Chemistries with high surfactant content, high concentration, high viscosity or aggressive formulation
Pulp Induction

ePTFE Membrane
Oleophobic
Liner Construction
2-piece
Venting Method
Cap thread (No hole required in cap)
Typical Airflow at 12 mbara
0.24 l/h
Minimum Water Entry Pressure
> 0.5 bar
Typical Thickness
1.0 mm
Part Number for HDPE Bottlesb
CM6CA017
Part Number for PET Bottlesb
CM6CA023
Optimized Pulp Induction

ePTFE Membrane
Oleophobic
Liner Construction
2-piece
Venting Method
Cap thread (No hole required in cap)
Typical Airflow at 12 mbara
0.12 l/h
Minimum Water Entry Pressure
> 0.5 bar
Typical Thickness
1.0 mm
Part Number for HDPE Bottlesb
CM6BA017
Part Number for PET Bottlesb
–
Cap Liner

3FL - Full Face Foam ePTFE Cap Liner
ePTFE Membrane
Oleophobic
Venting Method
Cap thread venting
Repeatable Sealing in Use
Reseals
Typical Airflow per cm2 at 12 mbar
0.50 l/h
Minimum Water Entry Pressure
> 1.5 bar
Typical Thickness
1.0 mm
Part Number
3FL-323 G
Why Vent?
Chemicals that contain active ingredients can release gases (or "off-gas") within their containers. If that gas isn't able to escape, the container will bloat, leak or even burst. Conversely, if active ingredients consume oxygen, or if liquid is dispensed from the container without the free exchange of airflow, the container can collapse.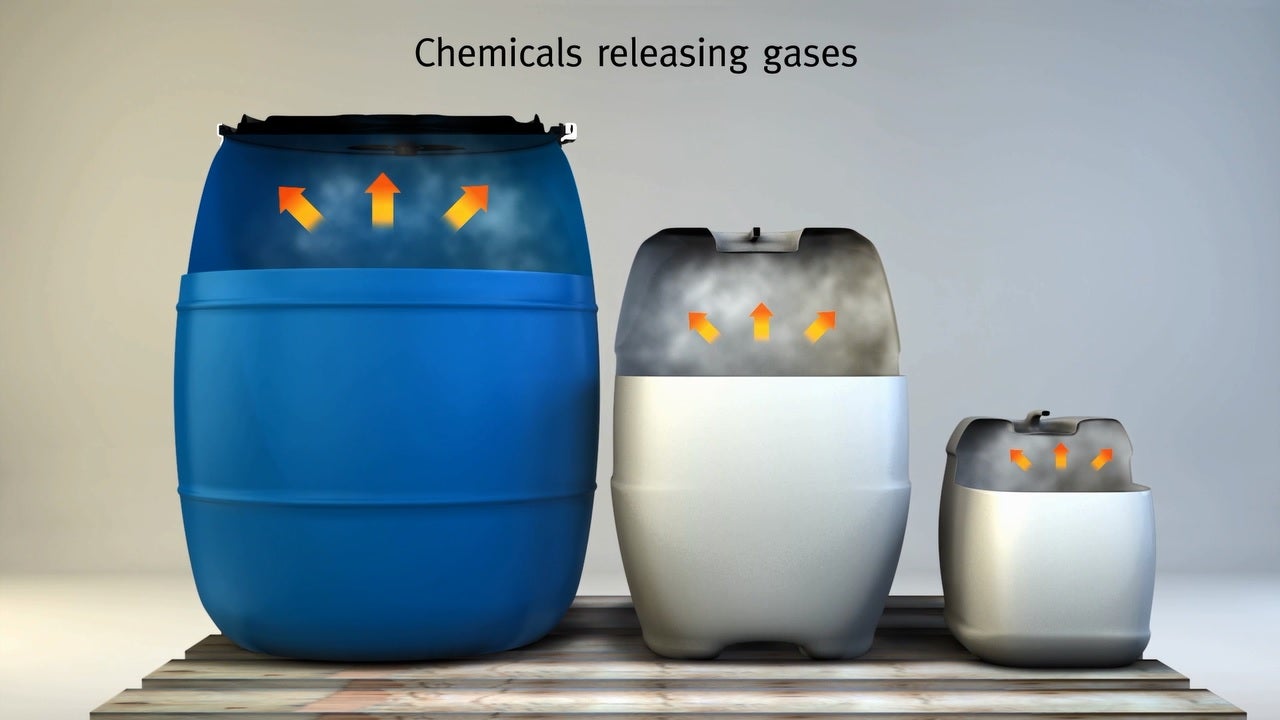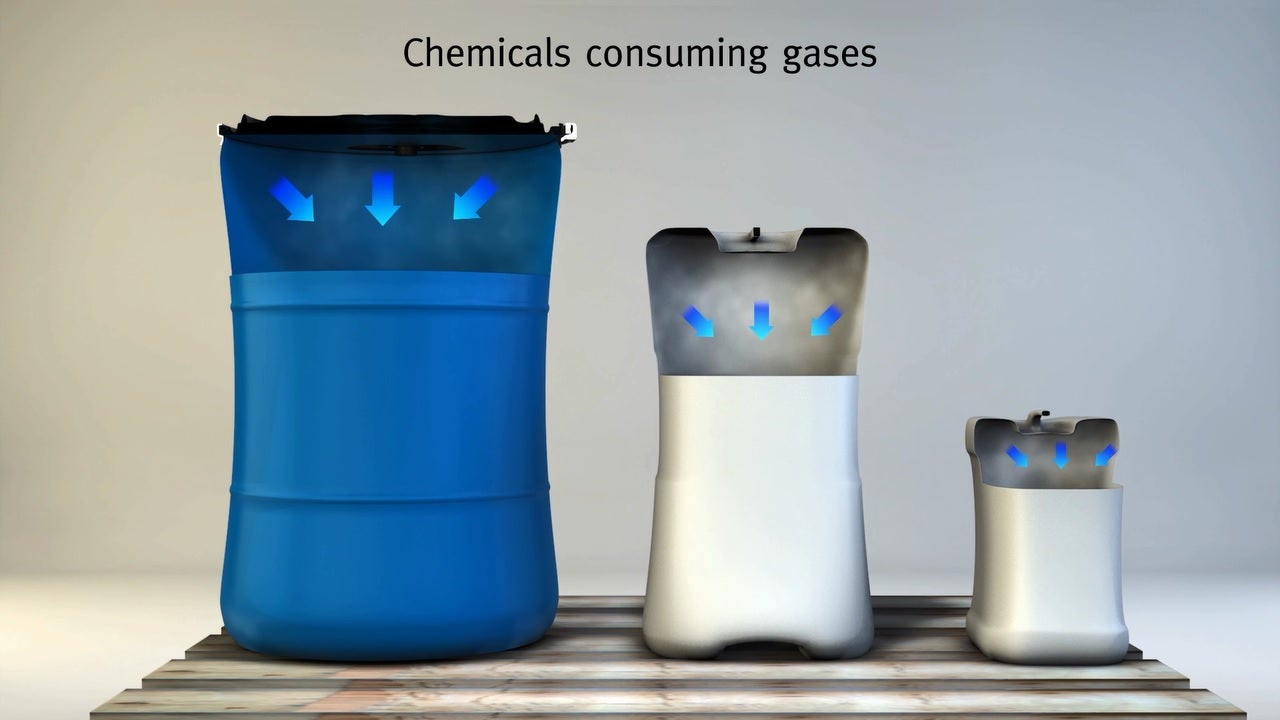 When exposed to a wide range of altitudes the pressure in the container can be destabilized. For instance, transporting a container from a mountainous region to one closer to sea level can lower pressure within the container, making it collapse.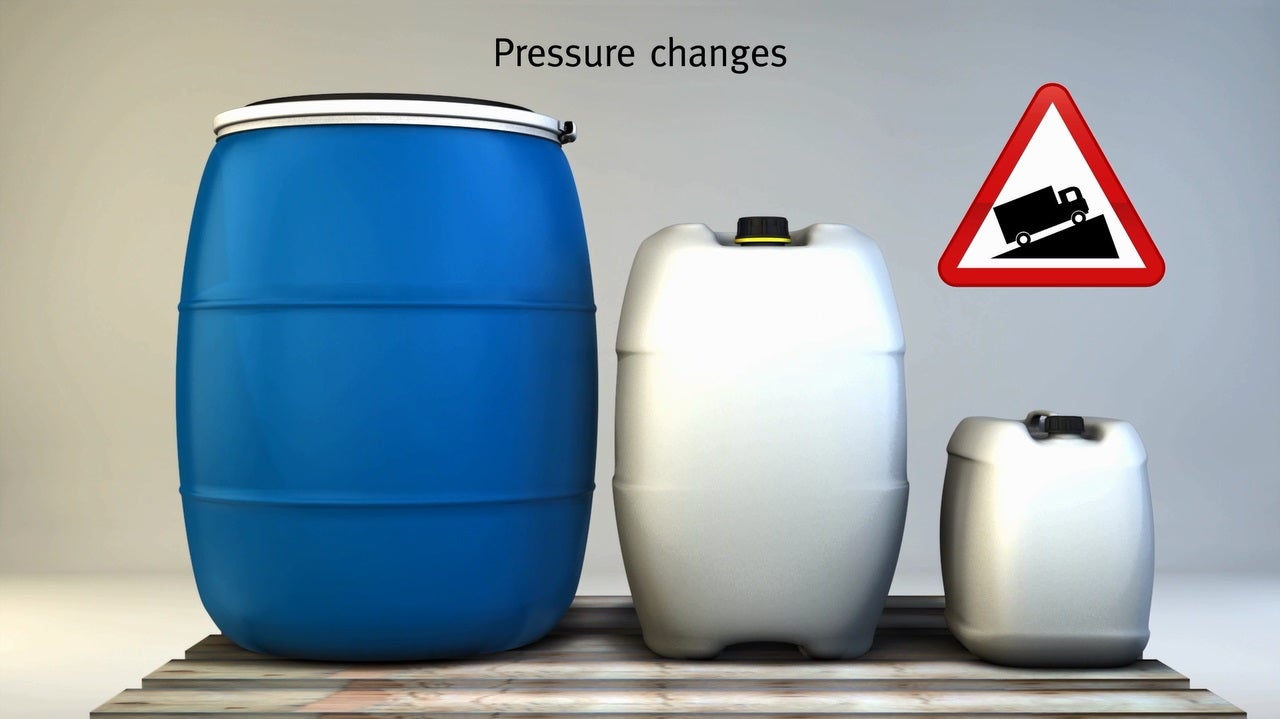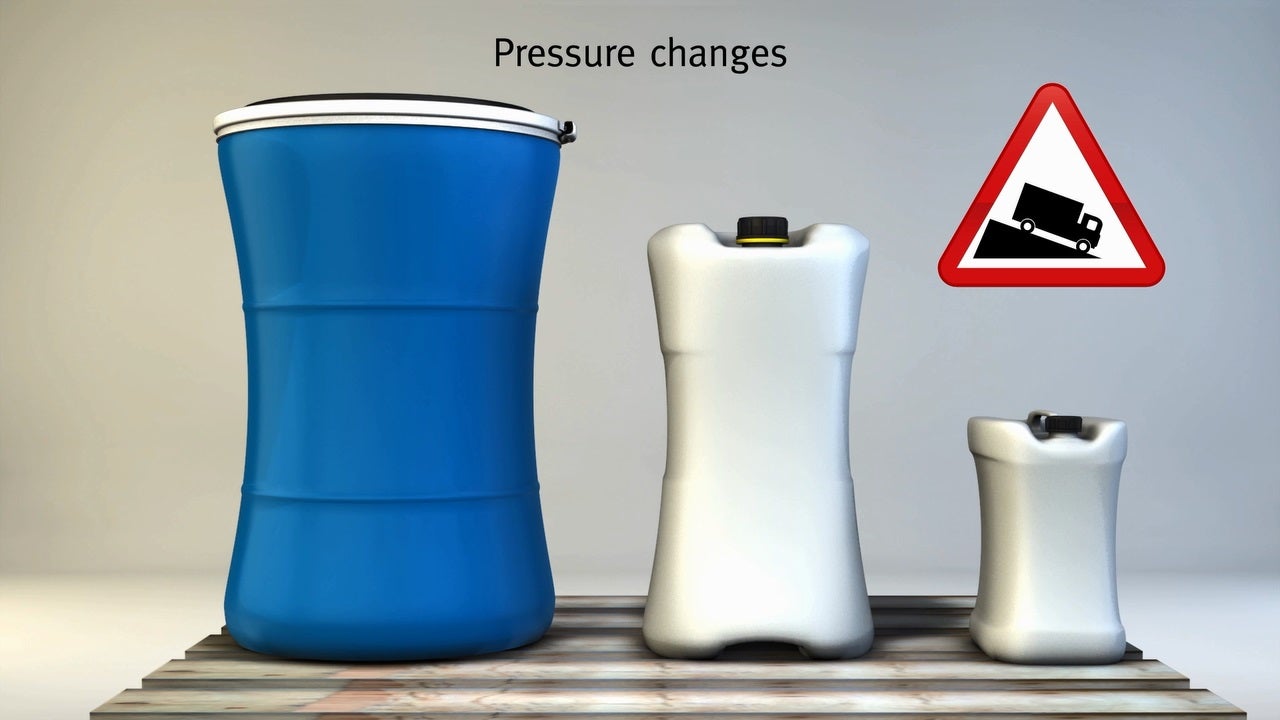 Changes in temperature are another risk factor. As products experience changes in seasons, or as they're transported to areas with different climates, decomposition of the chemicals can accelerate or simply the air inside the container can expand, which finally can result in bloating.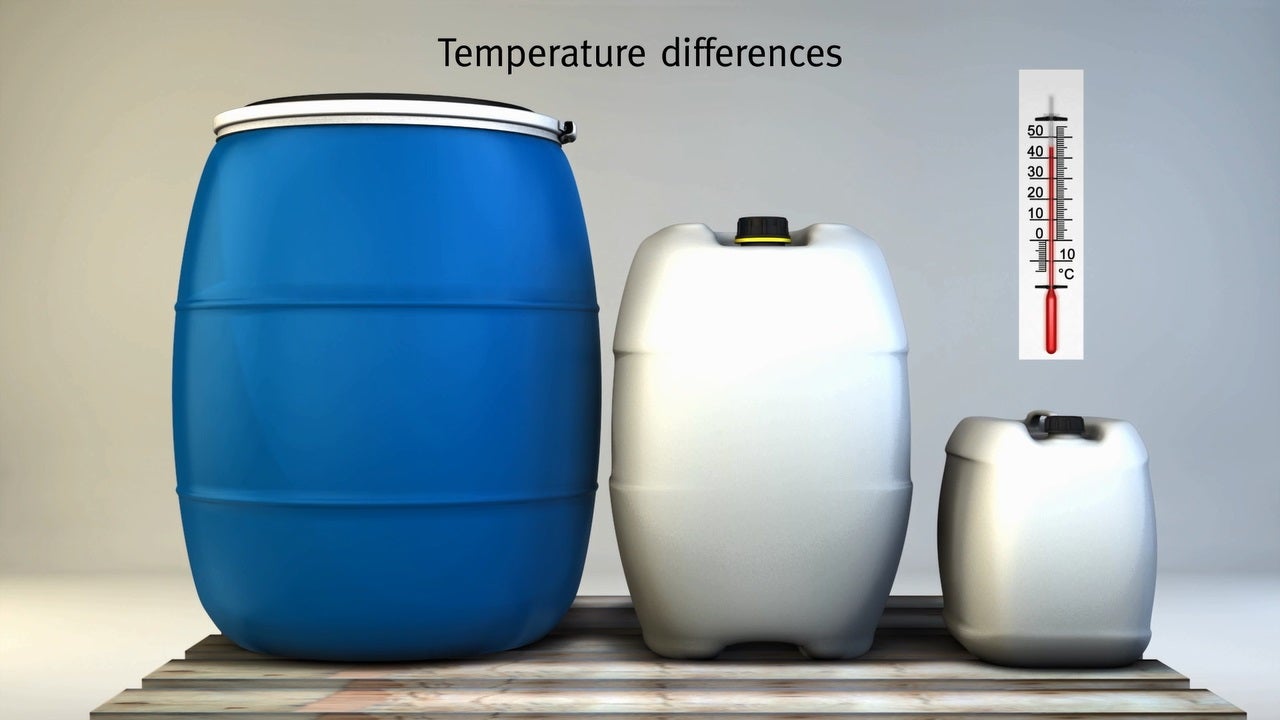 Still another factor: As products grow more highly concentrated, their chemical formulations release more gas, making containers even more vulnerable to deformations.
The risks of insufficient venting go beyond collapsing and bloating. When container is either bloated or collapsed, since it is not even allowed to be shipped at all, it complicates the logistics and warehousing issue ultimately affecting productivity and cost issue. Leaks and deformations could dissatisfy customers, leading to returns and a negative brand reputation. Customer relationships could be affected and valuable sales force time spent diagnosing and resolving problems. Profits could be affected. There could be costly cleanups. Worst yet, leaks or burst containers could create unsafe conditions for end users and even impact the environment.
The key to eliminating these risks is constant airflow even after liquid contact. The solution is a packaging vent that enables the safe release of gas while prohibiting liquid and other matter from getting through the vent.
Why Gore?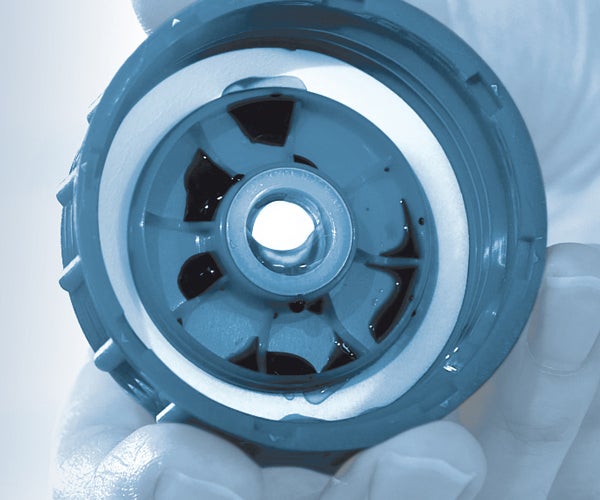 Gore is a technology-focused materials science company whose passion for performance drives real-world change. Since 1958, we've engineered solutions for a variety of mission-critical situations — including for NASA, the military and manufacturers across industries.
Over 20 years, we've applied our real-world-focused innovation to construct hundreds of millions packaging vents for our customers. During this time, we've provided packaging vents engineered with a variety of properties to suit customers' individual needs with reliable performance in diverse applications.
We use that custom approach to make sure each customer's solution — and each vent we produce — achieves peak performance. For each implementation, we:
identify and understand the manufacturer's packaging and safety requirements
implement the appropriate venting solution for the liquid and container
conduct extensive airflow, visual and leak tests before releasing each shipment
laser-inscribe (D15, D17 & D38) with an individual tracking number, allowing us to reference the actual production-run data at any time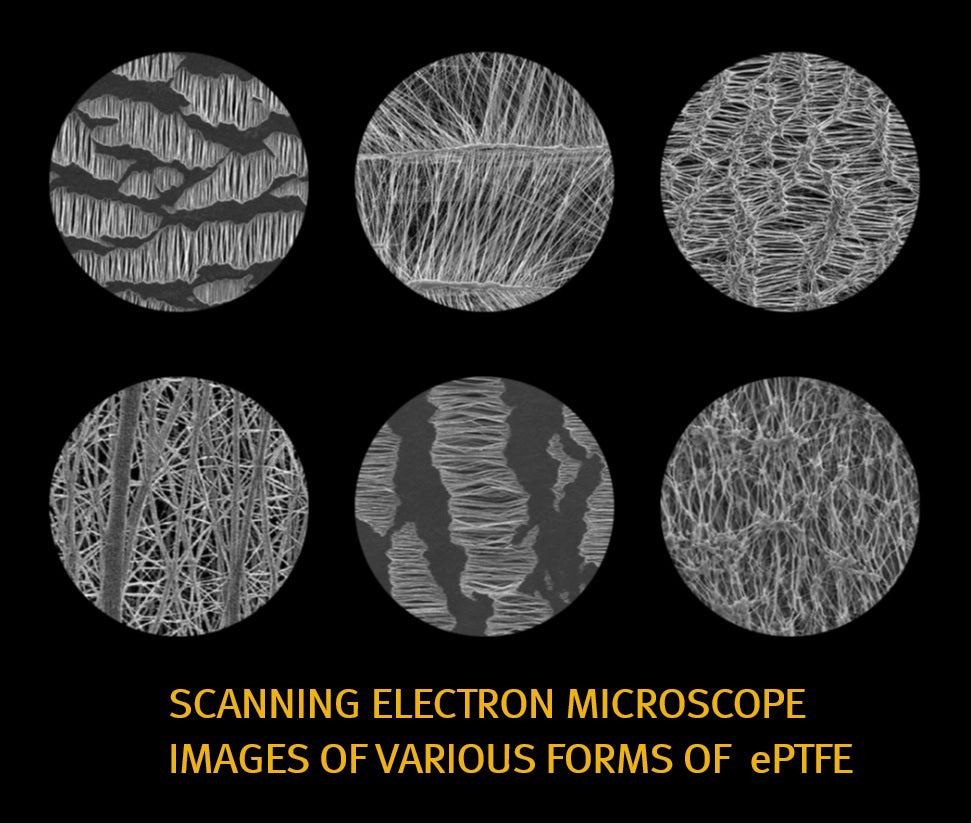 Along with our partnership all along the value chain and insistence on delivering failure-free performance, what sets Gore apart is our expertise in expanded polytetrafluoroethylene (ePTFE), the remarkably versatile polymer at the heart of our products.
For each implementation, we engineer an ePTFE membrane structure with a variety of different properties tailored for both the liquid and its container. While most of our competitors outsource their membranes, we only use Gore's own membranes, whose superior roll-off properties enable them to perform far better after liquid contact. Competitors' packaging vents may resemble ours externally, but because they lack the Gore membrane and its superior qualities, those vents don't perform as well as ours — especially over time.
Just as we're experts at ePTFE, we're experts at identifying and understanding each customer's unique packaging and safety requirements, recommending the appropriate venting solutions for them, and implementing those solutions with the strictest regulations and safety precautions in mind. We want our packaging vents to succeed because we want our customers to succeed — and for their customers to be safe from harm.
We don't just provide manufacturers with vents; we offer partnership and a complete venting solution, from product design to testing to support. The result: more functional and reliable container to protect the content for it's shipment and storage.
Resources
FOR INDUSTRIAL USE ONLY
Not for use in food, drug, cosmetic or medical device manufacturing, processing, or packaging operations