Overview
In general, small-scale drug discovery, as well as antibody producers, depend on repeatable and reliable processes to deliver high quality results. Traditional protein purification processes can be slow and often requires additional steps to achieve needed concentration. This can lead to screening pipeline backups or decreased yields due to the additional processing required to concentrate the product. The pre-packed GORE Protein Capture Device with Protein A utilizes a unique membrane solution for faster, more effective antibody purification
Common Applications
Affinity purification and screening of monoclonal antibodies (mAbs) in drug discovery operations
The production of antibodies for research and development
More rapid purification
GORE Protein Capture Devices with immobilized Protein A* can improve throughput and yields in monoclonal antibody purification. These columns can reduce overall process time, and may help increase yields by eliminating the need for additional downstream concentration steps. These columns offer: 
high dynamic binding capacity ( ≥ 30 mg/ml)
short residence time (20 seconds)
highly-concentrated elution pools in less time
compatibility with standard chromatography lab systems
durability to withstand repeated cleaning cycles**
*recombinant Protein A
**0.1 N NaOH for 15 minutes up to 20 cycles
The technology behind the benefits
The GORE Protein Capture Device can streamline antibody purification processes because it incorporates a proprietary membrane composite. This ePTFE- based membrane bed:
provides high binding capacity advantage at shorter residence time*
remains stable (not subject to collapse or channeling)
provides purity similar to traditional agarose separation technology
*20 seconds residence time for Gore versus 60 seconds residence time for agarose bead
Designed specifically for use in small-scale affinity purification of monoclonal antibodies, the GORE Protein Capture Device is intended for use in applications such as drug discovery markets, or production of antibodies for research and development purposes.
For complete product information, download the Data Sheet.
Product Performance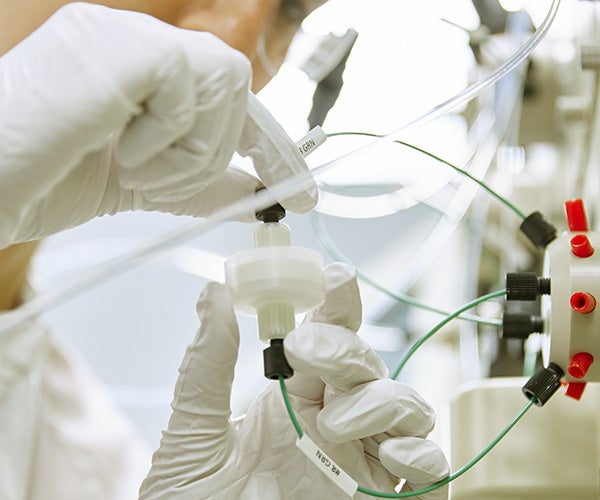 The purification performance of the GORE Protein Capture Devices is comparable to traditional resin technology yet it can be achieved at a shorter residence time. This could lead to improvements in processing speed and the possibility to eliminate downstream concentration steps which could mean higher yields. 
Dynamic Binding Capacity
GORE Protein Capture Devices use a proprietary ePTFE composite membrane bed, engineered for high permeability. This enables high binding capacity at a short residence time as shown in this comparison of the Gore 1.0 mL column to a 1.0mL agarose bead column.
Dynamic Binding Capacity Comparison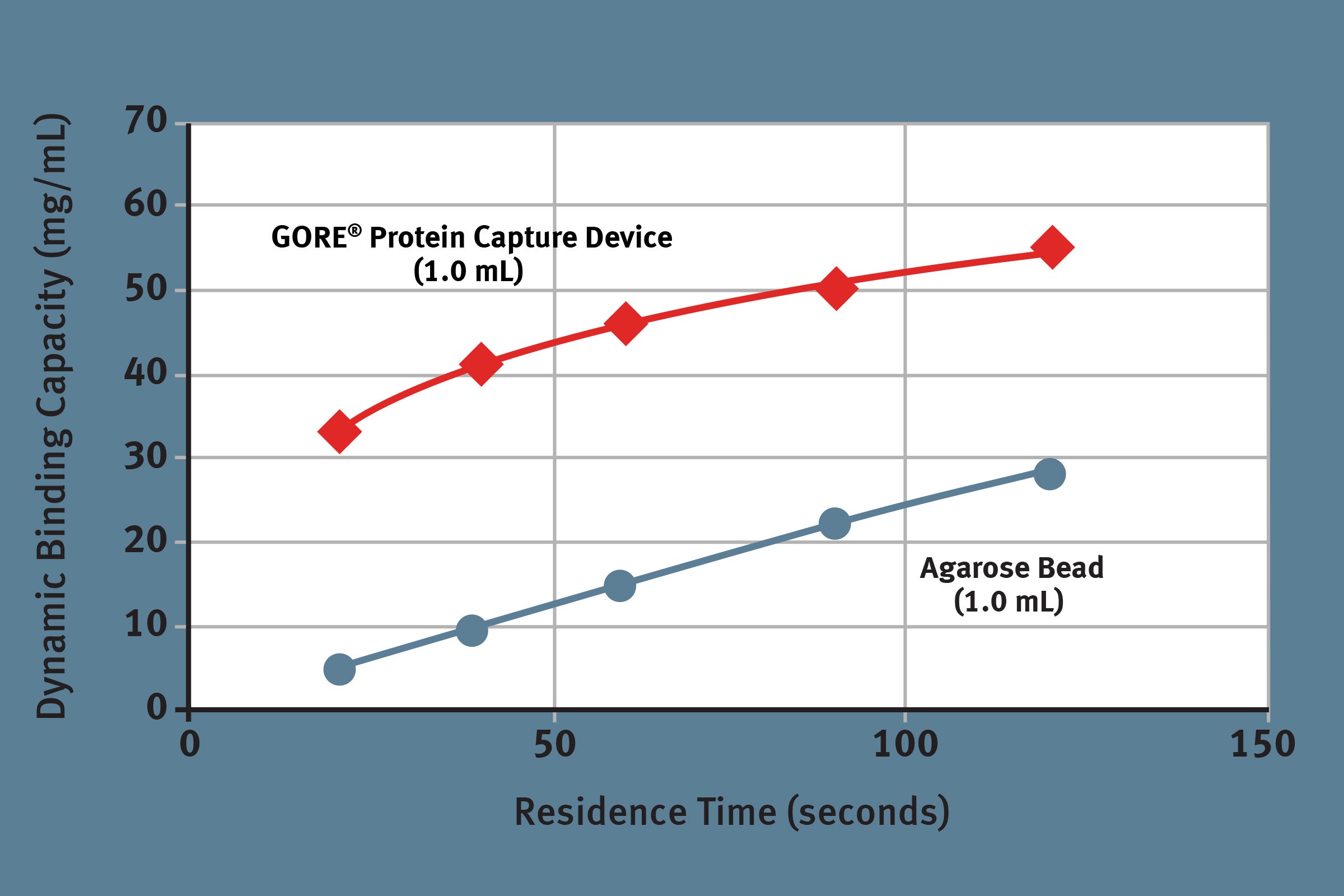 Performance Under Pressure
Unlike traditional support matrices, the membrane bed in the GORE Protein Capture Device provides a near-linear pressure drop at a wide range of flow rates.
Pressure Drop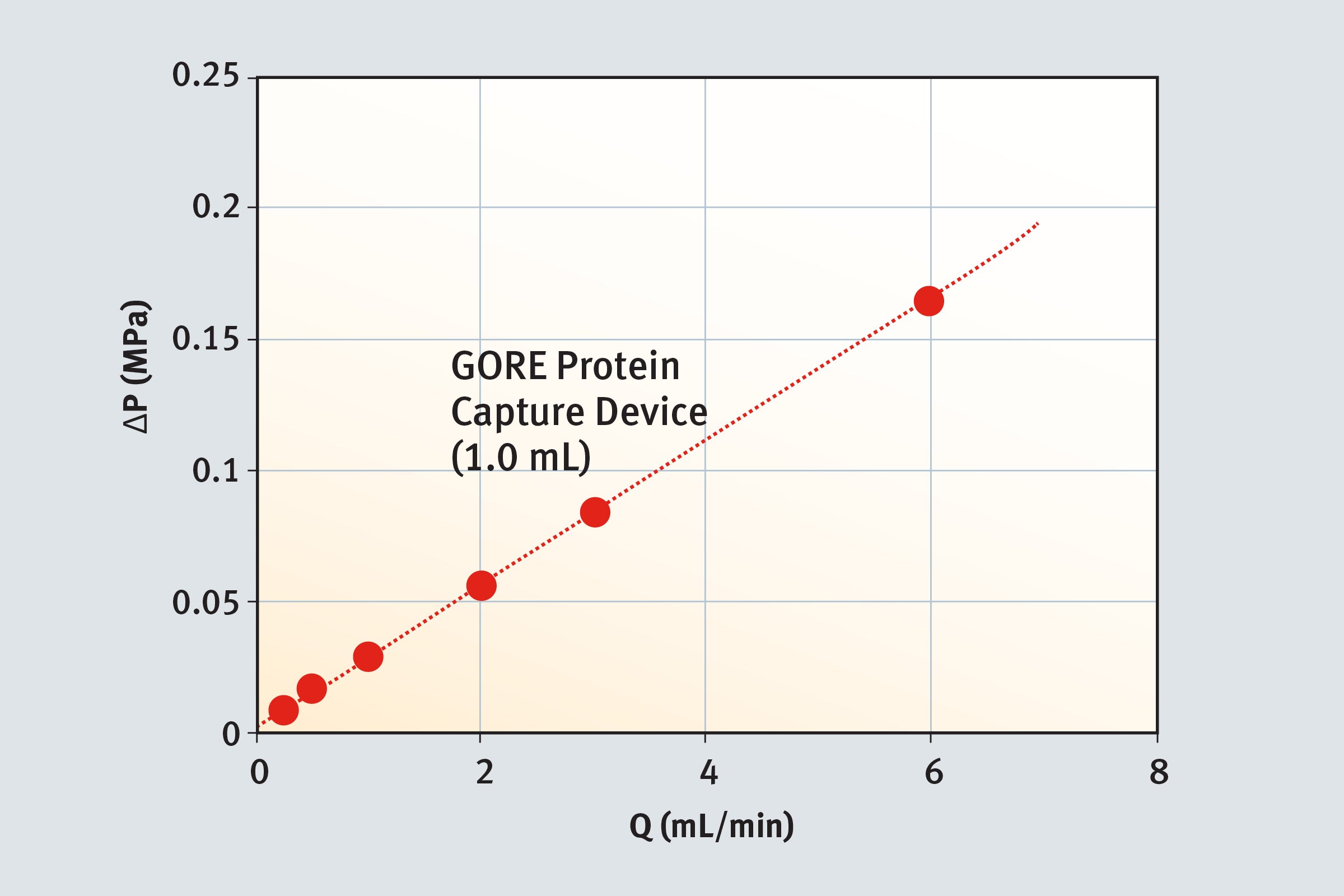 Representative Chromatogram
The GORE Protein Capture Device with Protein A quickly and effectively captures antibodies as shown in this typical bind-elute curve.
Bind-Elute Curve 1.0 mL Device
Average Performance Data
The table shows the average performance of the GORE Protein Capture Device at 20 seconds residence time, at start and following 20 cycles, compared to a 1.0 mL column using traditional agarose bead technology at 1 minute residence time. 
Antibody Purification Device
GORE Protein Capture Device (1.0 mL)*
Agarose bead 1.0 mL device
Initial
Post 20th cycle
Average DBC (mg/mL)**
39.4 ± 2.2
36.5 ± 1.7
21.3
20 seconds residence time
1 minute residence time
Protein A leaching (ppm)
5.96 ± 1.74
3.77 ±1.05
2.2 ±0.9
Yield %
101.4 ±4.2
101. ±3.4
96.9±3.6
HCP (ppm)***
1010 ±371
1155 ±281
765±306
Ligand stability
0.1 N NaOH (maximum)
0.1 N to 0.5 N NaOH†
Maximum operating pressure
5 bar
5 bar
Purification Profile
The purity of eluents recovered from the GORE Protein Capture Device at 20 seconds residence time was equivalent to the purity achieved with a standard agarose bead column at 60 seconds residence time.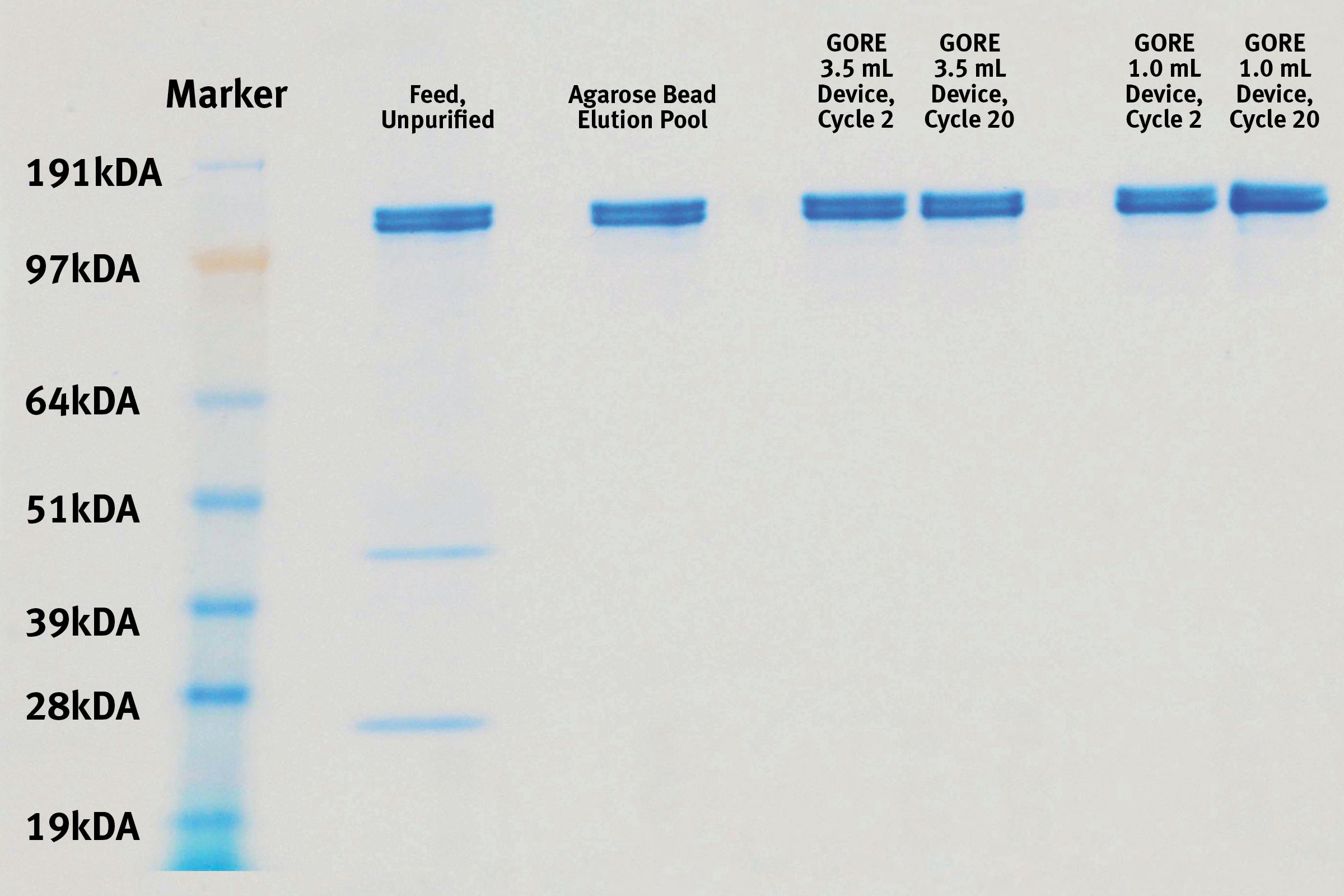 Product Availability
GORE Protein Capture Devices are compatible with standard pre-packed column chromatography systems, and are available in 1.0 ml (≥ 30 mg capacity) and 3.5 ml (≥105 mg capacity) sizes
Part Number/Ordering Information
| | | |
| --- | --- | --- |
| Part Number | Description | Quantity |
| PROA101 | 1.0 mL device | 1 each |
| PROA102 | 3.5 mL device | 1 each |
| Description | Materials/Characteristics |
| --- | --- |
| Column, flow distributors, frits and plugs | Polypropylene |
| Membrane bed | Proprietary polytetrafluoroethylene composite |
| Protein A | Recombinant Protein A |
| Connectors | 10/32" threaded fittings |
Regulatory Compliance and Quality
GORE Protein Capture Devices are manufactured in accordance with appropriate material and regulatory requirements, including relevant Good Manufacturing Processes as defined in the Gore PharmBIO quality system which is certified to ISO 13485. 
Contact Us for a copy of the most current compliance statements.
Resources
Recent News