Microwave/RF Cable Assemblies
---
The Paradox of coaxial cable performance and its impact on Operational Readiness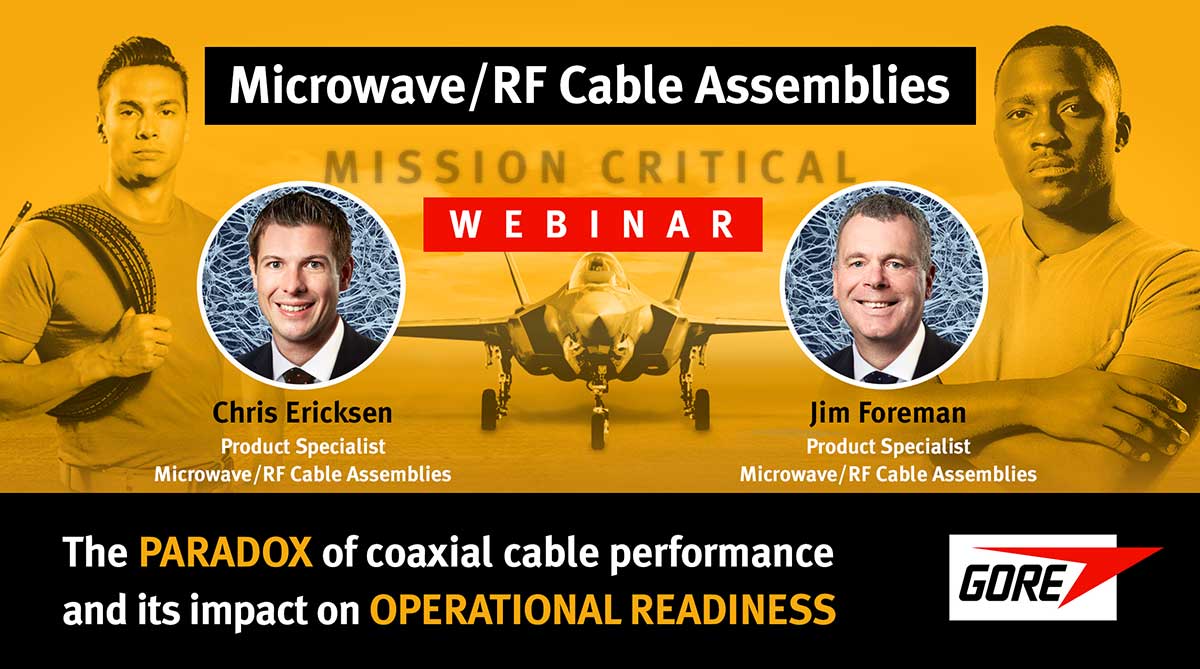 If you missed our MISSION-CRITICAL Webinar on Microwave/RF Cable Assemblies presented by Chris Ericksen and Jim Foreman, an OnDemand version is now available!
In this FREE Webinar you'll learn about:
The evolution of Microwave/RF Signal Transmission and future for multifunction avionics.
The impact of cable assemblies installed performance when compared to system requirements.
The hidden costs when providing Full Mission Capable (FMC) systems before/after.
Identifying the decision makers along with roles and responsibilities for mission success.
What conversations are motivated by future performance and overall aircraft availability.
How to choose a partner who will provide proven expertise and technology for lifelong product performance.
Gore combines proven heritage in military applications and qualified platforms along with a material pedigree in aerospace. Gore can address common challenges and problems associated with the subject of reliable RF/Microwave Signal Transmission. Gore also brings perspective on the decision-making process and the fallout of choosing the wrong solution.
Gore has worked within the aerospace and defense industry for more than 60 years, and their products are proven on many platforms. Chris and Jim are eager to share their knowledge and key learnings to help you improve product performance, decrease maintenance and downtime, reduce total costs and ultimately, MISSION SUCCESS!
Below are the Questions and Answers from the live session
Any damage caused to the outer conductor can create issues with RF leakage from the microwave cable assembly. Unfortunately, shielding effectiveness is an often ignored subject, an attribute that is frequently assumed and rarely verified. Issues are often found later on during platform testing, causing last minute and costly re-designs.
When personnel from the Benefield Anechoic Facility at Edwards Air Force Base were asked "What EW system performance problems consistently surface during testing?" The answer given was "Shielding issues with coaxial cables and instrumentation enclosures." It's interesting to note that Benefield's observations around microwave airframe cable damage were that it resulted from installation and not necessarily from damage due to use or maintenance. In other words, the cable assembly was likely compromised due to the act of installation or was damaged by other components around it when they were installed. It's not enough that an airframe cable has a good shield design; the cable must withstand the rigors of installation and potential damage resulting from adjacent component installation, as well as maintenance and use.
For more details, Gore has published an industry article through Microwave Journal on this complex subject titled Shielding Effectiveness of Microwave Cable Assemblies.
When we were designing GORE-FLIGHT Microwave Assemblies we were always confident that it would meet all the military standard requirements but were skeptical that this series of tests alone would demonstrate that, in the words of Bob Gore, that they "will do what we say they will do." We decided to engage with various customers to get their feedback to allow us to develop a simulator that fairly represented a typical install in an airframe. The result was a portable frame, with the various features explained in the webinar. This enabled us to carry out testing in our own laboratories and also live demonstrations at military exhibitions and customers' facilities in front of an audience of engineers and program managers. On every occasion, we received extremely positive response on the authenticity of the test and recognition of the superior performance of Gore's product when demonstrated side by side with the leading competitor.
Further details about the Installation Simulator can be found here.
Please look for any dents, twists, flattening, abraded jacket or other signs of abuse. Flats can often be detected by running your finger along the cable jacket, it is easier to feel the damage rather than by visual identification, especially in low light conditions. Particular attention should also be made at the junction between the cable and connector, usually covered by strain relief heat shrink tubing. If you see any creasing or wrinkling in the strain relief material this may indicate the connector has been bent sharply, taking the cable past its minimum bend radius. Any tears in the material may have been caused by pulling the connector through a confined or sharp-edged area. Equally important, before mating to any equipment, the connector interfaces should be inspected to ensure there are no bent or missing pins (male) or tines (female), recessed or protruding pins, worn or chipped plating, coupling thread damage and dust, dirt, oil, plating chips or metal particles.
All Gore connectors available for GORE-FLIGHT Microwave Assemblies are specifically engineered to optimize performance of the assembly. They are available in all the standard types used on airborne systems, including SMA, TNCA, Precision Type N, as well as Size 8 and M8 contacts for use in multipin connectors. Gore also offers a replaceable connector interface solution. It employs an intermediate interface that allows for quick and easy on-aircraft connector replacement if an interface is damaged or if an alternative connector interface type is required, e.g. switching from a TNCA to Type N.
Gore can also provide a variety of angular connector styles with a selection of different profile heights. Wire lock holes or self-locking features are also available to ensure the connection.
Please contact a Gore application engineer to discuss your specific application requirements and find a solution that meets your needs.
Gore's Microwave Airframe cables are engineered to improve and enhance overall system performance and reliability, not just to simply meet the minimum requirements. Gore accomplishes this thru a high degree of material content control in its products. Gore produces its own dielectric material, made specifically for use in its microwave cables. Unlike our competitors, we don't purchase this material from outside vendors who offer "dielectric tapes" intended for a multitude of uses. Our helically-wrapped outer conductor is produced in-house on our own specialized equipment, made to our specifications. Gore does this because we understand how important this component is to RF performance and reliability. Gore designs and produces its own connectors - we are experts in microwave connector design. We do this because we understand the impact that connectors and connector termination have on a cable assembly's RF performance and reliability. Because of the measures we take to control material content and our RF expertise resulting from over 40 years in the microwave cable industry, Gore is able to offer a high-performance product that delivers consistent performance over time and under extreme use conditions.
Polytetrafluoroethylene (PTFE) has long been used as the preferred insulation material for military interconnects due to its significant properties such as thermal resistance, low flammability and low-dielectric constant.
Gore has developed proprietary technologies that allow PTFE to be engineered to withstand a wide variety of environmental and mechanical challenges. Expanded PTFE is the core material in many of Gore's solutions because of its unique characteristics, including a high strength-to-weight ratio, biocompatibility, high thermal resistance and many others. Our cables and cable assemblies have been used in the military for more than 30 years and have been proven on many platforms.
Yes, Gore can meet your system matching needs. Gore is the only supplier of microwave cable assemblies that manufactures its own expanded Polytetrafluoroethylene, the material used in tape form to create the cable dielectric. This vertical integration allows accurate control of the critical processes and enables precision batch selection. Cable assemblies routed within an aircraft can often be over 20' in length, which significantly increases the difficulty in creating these assemblies, but Gore has developed this capability to meet your system needs. In addition, Gore is able to offer "absolute" phase matching, meaning if a set is bought today and matched to a nominal target, Gore is able to build to that target repeatedly over time without needing to replace the whole set. Please contact a Gore application engineer for assistance with these activities.
The development of vector network analyzers in the last 10 years has rendered scalar analyzer cable testing obsolete. Today, accurate vector measurements can be carried out on a hand held analyzer, available from a number of test equipment manufacturers. With the capability to make precision measurements up to 50GHz in a rugged lightweight package, these analyzers are portable and battery powered, negating the need for an electrical power source. These attributes make them perfect for the aircraft hangar environment. The modern analyzer provides all the information you will need including Cable Assembly insertion loss, VSWR, distance-to-fault, and time-domain reflectometry. 
In addition, it's imperative that you utilize high quality, reliable, and durable test cables and adapters and take good care of them. Poor selection and maintenance of test cable and accessories can directly impact the accuracy and reliability of the electrical results.  Gore offers a wide variety of ruggedized, precision test cable assemblies through their GORE PHASEFLEX Microwave/RF Test Assemblies. Remember, you can't trust the performance if you can't trust the test.
The product we have described in today's webinar is our GORE-FLIGHT Microwave Assemblies, 6 series. It is available in two cable sizes, one based on a 0.190" core size and a larger version, based on a 0.320" core which is optimized for lowest loss at 18GHz. We chose these two cable sizes after analysis of our own sales data and numerous customer interviews. If your system has a need for smaller diameter cables or lower loss in the L, S or C bands then we have alternative products that offer these attributes. You can learn more by visiting gore.com/gore-flight.
Please contact a Gore application engineer to discuss your specific application requirements and find a solution that meets your needs
Gore associates have had the privilege to witness and assist numerous global customers and military end users when they are installing microwave cable assemblies on their aircraft. It should be noted that microwave cable assemblies are a precision component and they need to be treated with as such. 
Some simple rules will help to reduce the risk of any damage. GORE-FLIGHT Microwave Assemblies were designed to greatly reduce these risks and be capable of enduring the stresses and forces used to install it, but we would always advocate good practices should be observed whenever handling any type of microwave cable assembly.
Always stay within the minimum bend radius of the cable, especially directly behind the connector's strain relief.
Store assemblies in a coiled configuration.
Avoid pinching, crushing, or dropping objects on assemblies.
Use correctly sized, rubber lined 'P'-clamps and use tie-wrap guns at the lowest possible setting.
Please do not attempt to pull loops out when unrolling cable (you know what happens to a garden hose)!
Don't drag or lay cable over sharp edges or expect the assemblies to support equipment or devices.
Lastly, don't pull excessively on connectors when routing assembly in tight spaces.
In recent years we have seen a growing demand for cable assemblies that will operate at KA-band, primarily driven by the commercial and business aircraft market as it provides in-flight connectivity to their passengers. In response, Gore developed a cable that was specifically designed to provide the lowest loss at SATCOM frequencies (up to 32GHz) and we have been very successful in providing cable assemblies to these applications. These are typically short length assemblies (2-5'), connecting the SATCOM antenna to the Transceiver, and therefore do not face the same extreme routing challenges.  For defense applications, which may need to operate up to 40 GHz, we have a vapor-sealed cable, for use in exposed environments, with 2.92mm connectors that has been integrated onto several platforms already with great success.