Catalog: GORE® Space Cables for Traditional Space Applications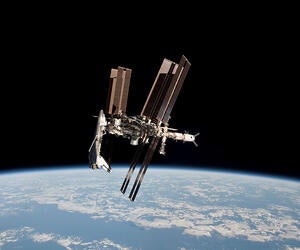 Product Selection Guides, English
Due to operating conditions in space that are the harshest imaginable, space programs must have complete confidence that the cables connected to critical systems will continue to perform under that stress. And because repairs are not easy to make outside of planet Earth, these cables must not only be rugged but also boast decades of proven success. That's where GORE® Space Cables for Traditional Space Applications from W. L. Gore & Associates come into play. Withstanding conditions such as extreme temperatures and atomic oxygen (ATOX), they have shown to supply power and transfer data continuously without fail, avoiding serious consequences to the mission and safety of astronauts.
---
Complete Line of Space Cables for Traditional Applications
Gore's space cables are manufactured in our ESA-qualified, ISO 9001:2000-certified manufacturing facility with our proprietary material, expanded polytetrafluoroethylene (ePTFE). This specialized fluoropolymer technology is featured in the insulation of our cables and is the key to outstanding performance. The entire line of qualified, tested GORE Space Cables line includes:
Type SPC (ESCC 3901/009)
Gore's Type SPC is engineered for geostationary earth orbit (GEO) applications such as DC power distribution, high-quality signals and optical instruments. It provides reliable signals for improved performance and has been used successfully on Alphabus satellites.
Type SPP (ESCC 3901/017)
With superior ATOX resistance and reliable performance in extremely low and high temperatures, Gore's Type SSP is on the European Space Agency (ESA)'s qualified parts list (QPL) for use in high-current applications.
Type SPM (ESCC 3901/018)
On the ESA's QPL, Gore's Type SPM is chemically inert, thermally resistant, and withstands ATOX in low earth orbit (LEO) applications. It's ideal for manned missions and transfer vehicles, as it helps teams to avoid unnecessary downtime.
Type SPL (ESCC 3901/019)
Designed for GEO applications, Gore's Type SPL provides easy installations in tight configurations and decreases the spacecraft's total mass thanks to its small, flexible, lightweight footprint.
Type SPLD (ESCC 3901/021)
Gore's Type SPLD features an additional drain wire and simplifies shield termination of wires into contacts for GEO applications. It also has a small, low-weight construction that's flexible for easier routing and decreased spacecraft mass.
Type CSWL (ESCC 3901/024)
Reducing cut-through and material creep risks, Gore's Type CSWL outperforms standard materials in the most challenging conditions in all areas of a spacecraft, from optical systems to propulsion.
Type CSC (ESCC 3901/025)
Gore's Type CSC distributes power and delivers signals continuously while providing reliable protection throughout the entire mission. Plus, it features greater flexibility, tighter bend radius and enhanced color coding for easier identification and installation.
Types GCX/GTX/GBL (ESCC 3902/002)
These cables are specifically engineered for dataline applications like high-resolution cameras, sensors and detectors, as well as digital sign processors and high-speed subsystem interconnects. They're preferred by many space programs because of their low capacitance, low insertion loss and minimal time delay for up to 1 GHz of high data rate transmission.
Type SpaceWire (ESCC 3902/003)
Gore's Type SpaceWire uses serial, point-to-point dataline with low-voltage differential signals (LVDS), allowing it to be integrated into various satellite programs without the need for custom designs. It also provides bi-directional, high-speed data transmission up to 400 Mb/s with low skew, low insertion loss and minimal crosstalk.
Anti-Static Wire (ASW)
Ideal for systems with constant cable movement, Gore's ASW defends against static built up over time, eliminating short circuits and effectively draining static electricity in GEO and LEO applications.
High-Voltage Cables
For a minimum of 10,000 hours, Gore's cables provide superior performance at maximum voltage ratings thanks to their chemically inert, thermally resistant design. They are available as hookup wires or round cables.
Protective Braids
Installable over cable bundles, Gore's protective braids add another layer of protection in extreme temperatures and provide enhanced EMI suppression for reliable, continuous signals.
Stripping Blades (Finished Wires)
To fit the Custom Stripmaster® or Custom Stripmaster® Lite Wire Strippers from Ideal Industries, Inc., Gore offers cutting blades designed specifically for a variety of our cables, ensuring repeatable and dependable outcomes.
Benefits of GORE Space Cables
With decades of proven performance and a 100% failure-free flight record, GORE Space Cables have been trusted by hundreds of global spaceflight programs, including the National Aeronautics and Space Administration (NASA) and European Space Agency (ESA). In addition to unwavering reliability, our products also deliver the following advantages when compared to alternatives:
Specialized Materials with Long Lifespan
Gore's proprietary ePTFE used in every space cable offers reliable performance over the lifespan of the spacecraft thanks to its resistance to the following:
Low-to-high temperatures
Harsh chemicals
Abrasion
Cut-through
Material creep
ATOX
Reliable Power and Signals throughout Mission
Due to their robust construction, GORE Space Cables maintain their impeccable performance in the harshest environments and are proven to deliver constant communications from space to Earth.
Simplified Routing and Mass Savings
GORE Space Cables feature a smaller, lighter weight design over standard products, helping to reduce the spacecraft's total mass and make room for other critical subsystems. What's more, our cables are highly flexible with a tight bend radius for quicker, easier installation in confined systems.
How to Order GORE Space Cables for Traditional Space Applications
GORE Space Cables are ESA-qualified and adhere to ESCC specifications, making them appropriate for use in a wide variety of traditional space applications. For more information about our part numbers, contact a Gore representative today. If you're ready to order, contact one of our distributors directly.