Data Sheet: GORE® High Performance Aerospace Wires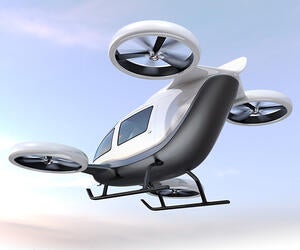 Data Sheets, English
Current electrical wire interconnection systems (EWIS) may not fulfill next-gen aviation requirements or address future aircraft electrification to help reduce air transport's toll on the environment. Voltages are increasing to avoid weight gain, but they also put more electrical stress and risk damage to wiring. Thankfully, W. L. Gore & Associates stands by with an optimal solution. GORE High Performance Aerospace Wires feature proven electrical and mechanical durability to ensure EWIS reliability over time.
---
Wire Performance and Specifications
Wire insulation must be rugged enough to ensure system reliability, functionality and safety at higher voltages. But, alternative materials are often limited in electrical or mechanical durability,
degrading over time after exposure to extreme conditions, like abrasion and high temperatures. These limitations can compromise EWIS integrity and reliability, but the typical solution involves more wire insulation, making the wire bundle bigger and heavier.
We developed GORE High Performance Aerospace Wires to provide a more durable solution that won't add size or weight. Not only is Gore's proprietary engineered fluoropolymer insulation material fundamentally lighter, but it also offers other advantages, including:
Less Risk of Wire Damage
Gore's chemically inert, non-flammable wires don't degrade when exposed to harsh chemicals or humidity, offering proven insulation strength that also resists chafing, abrasion and cut-through over a wide range of temperatures. As a result, they enhance aircraft safety and improve system performance, as well as ensure longer service life due to our hydrophobic, non-hydrolyzing material that prevents degradation over time.
Higher PDIV/PDEV
Because our aircraft electrical wires are made with low-permittivity material, they ensure higher PDIV/PDEV for improved electrical durability. This reduces the risk of voltage breakdown over time, increases EWIS reliability, improves safety and makes more aircraft available thanks to decreased maintenance needs.
Reduced Total Costs and Weight
Providing aerospace systems with a higher level of mechanical and electrical performance, the superior strength of Gore's wires offers outstanding reliability over time, meaning less expensive repairs and replacements for aircraft engineers. What's more, the lightweight, flexible design not only eases routing in tight areas but also won't increase wire bundle size or add to the total weight of the aircraft.
Meeting Rigorous Standards across Various Applications
Unlike current insulation materials, GORE High Performance Aerospace Wires meet mechanical, electrical and material stability needs — in one solution — for current and next-generation aircraft. These materials make our wires ideal for use in military and commercial aircraft, especially in demanding MEA applications like electric vertical take-off and landing (eVTOL) aircraft. In fact, Gore's wires are rigorously tested and pre-qualified to ensure that they meet higher levels of electrical and mechanical durability for aircraft wire bundles operating in severe conditions.
How to Order GORE High Performance Aerospace Wires
GORE High Performance Aerospace Wires are identified by an 11-character part number that designates the construction type, wire size, color-coding and conductor and screen types. And we're proud to offer complimentary samples for prototyping and evaluation with short lead times based on in-stock availability.
For more information about this product and solutions for aerospace and defense, contact a Gore representative for defense aircraft or civil aircraft today. When you're ready to order, contact one of our trusted distributors.