Performance Data: GORE® Ethernet Cables & LEMO® 2B Series Connector System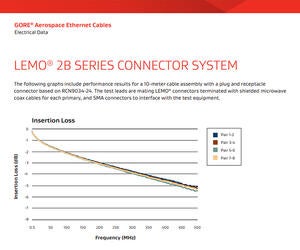 Technical Information, English
The data graphs provided by W. L. Gore & Associates tests the electrical performance of Gore's 4-pair Cat6A Ethernet cables terminated with LEMO® 2B Series Connector System. Results include insertion loss, return loss and near-end crosstalk (NEXT) of the connector with our cable assembly (part number RCN9034-24).
Request a complimentary sample of this part number for prototyping and evaluation in your avionics or vectronics. If you're ready to purchase now, contact a distributor for in-stock availability.
For more information or to discuss your specific application needs and requirements, contact a Gore representative today.
---
LEMO is a registered trademark of LEMO SA.
FOR INDUSTRIAL USE ONLY
Not for use in food, drug, cosmetic or medical device manufacturing, processing, or packaging operations.