Data Sheet: GORE® LOW DRAG FILTER BAG 8378 PTFE Felt 830 g/m² (24.5 oz/yd2)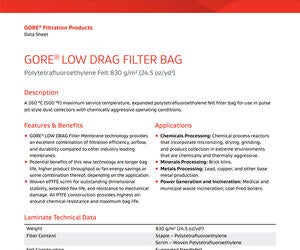 Data Sheets, English
A 260 °C (500 °F) maximum service temperature, expanded polytetrafluoroethylene felt filter bag for use in pulse jet style dust collectors with chemically aggressive operating conditions.
---
Features and Benefits
GORE® LOW DRAG Filter Membrane technology provides an excellent combination of filtration efficiency, airflow, and durability compared to other industry leading membranes.
Potential benefits of this new technology are longer bag life, higher product throughput or fan energy savings or some combination thereof, depending on the application.
Woven ePTFE scrim for outstanding dimensional stability, extended flex life, and resistance to mechanical damage. All PTFE construction provides highest allaround chemical resistance and maximum bag life.
Applications
Chemicals Processing: Chemical process reactors that incorporate micronizing, drying, grinding, and product collection in extreme environments that are chemically and thermally aggressive.
Minerals Processing: Brick kilns.
Metals Industry: Lead, copper, and other base metal production.
Power Generation and Incineration: Medical and municipal waste incineration, as well as coal-fired boilers.
Laminate Technical Data
Weight
830 g/m2 (24.5 oz/yd2)
Fiber Content
Staple: Polytetrafluoroethylene
Scrim: Woven Polytetrafluoroethylene
Fabric Construction
Supported Needle felt
Continuous Operating Temperature
260 °C (500 °F), unless limited by other cartridge components, such as potting.
Maximum Surge Temperature
274 °C (525°F), unless limited by other cartridge components, such as potting.
Acid Resistance
Excellent
Alkali Resistance
Excellent
Breaking Strength

• Warp
• Fill


890 N/5 cm (200 lb/2 in) wide sample
824 N/5 cm (185 lb/2 in) wide sample
Mullen Burst
4136 kPa (600 psi)
Thickness
1.07 mm (0.042 in)
Thermal Stability
<2 % shrinkage at 260 °C (500 °F) after 2 hours (unrestrained)
Durability
Very good
Note: All data expressed as typical values. This technical data is subject to change. Please contact W. L. Gore & Associates, Inc., directly to confirm current information.
---
FOR INDUSTRIAL USE ONLY
Not for use in food, drug, cosmetic or medical device manufacturing, processing, or packaging operations.