Data Sheet: Polyester Spunbonded GORE® Filter Cartridge 271 g/m2 (8 oz/yd2)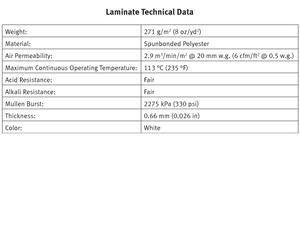 Data Sheets, English
A 113°C (235°F) maximum service temperature, lightweight, spunbonded polyester filter cartridge for use in pulse-jet style dust collectors.
---
Features and Benefits
Patented GORE™ High Durability membrane technology provides an excellent combination of filtration efficiency, airflow, and durability.
Superior alternative to paper and felt cartridges
Unrestrained pleat flexing during cleaning results in excellent cake release with minimal pulse energy
Up to three times more filter media area than felt bags and cartridges, offering higher airflow through collector
Available in a retrofit design to replace filter bags
Available in top, bottom, and horizontal loading configurations
Stainless steel components readily available
Applications
Chemicals processing: bin vents and nuisance dust collectors in the pigment, powder coat, plastic, and catalyst industries
Minerals processing: finish mill, nuisance, and bin-vent dust collectors
Metals processing: process venting dust collector
Technical Specifications
Material
Spunbonded polyester
Air permeability
2.9 m3/min/m2 @ 20 mm w.g
(6 cfm/ft2 @ 0.5 w.g.)
Maximum continuous operating temperature
113°C (235°F)
Acid resistance
Fair
Alkali resistance
Fair
Weight
271 g/m2 (8 oz/yd2)
Mullen burst
2275 kPa (330 psi)
Thickness
0.66 mm (0.026 in)
Color
White
---
FOR INDUSTRIAL USE ONLY
Not for use in food, drug, cosmetic or medical device manufacturing, processing, or packaging operations.