Sound Quality. Sound Protection. Sound Decision: GORE® Acoustic Vents For Automotive Applications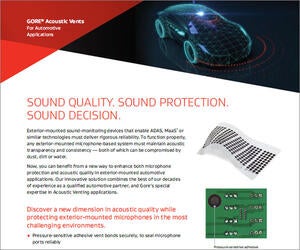 Data Sheets, English
Find out how GORE® Acoustic Vents AVS 700 and AVS 701 can deliver a new level of acoustic quality, along with life-of-vehicle durability, to exterior microphones in automotive noise-canceling or traffic-sensing systems. Includes product performance characteristics and specifications.
---
FOR INDUSTRIAL USE ONLY
Not for use in food, drug, cosmetic or medical device manufacturing, processing, or packaging operations.