Data Sheet: GORE® Abrasion Resistant Cable Jacket for Aerospace & Defense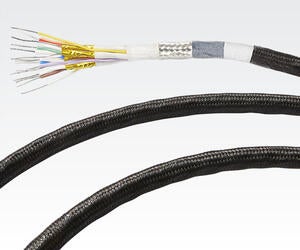 Data Sheets, English
For all-around, lifetime mechanical protection, W. L. Gore & Associates offers GORE Abrasion Resistant Cable Jacket, a true one-of-a-kind in its class. Featuring state-of-the-art cable technology, Gore's pioneering cable jacket is lighter, thinner and more flexible with tighter bendability. It provides straightforward routing and expedited installation in aircraft and military vehicles. It also ensures that high-speed copper wires transmit data reliably in the intended application without becoming damaged.
---
Cable Performance & Specifications
GORE Abrasion Resistant Cable Jacket for Aerospace & Defense is engineered with Gore's revolutionary fluoropolymers, providing extremely rugged construction and tolerance against abrasion and other extreme conditions. In fact, testing proved that it could easily handle the demands of avionics and vectronics without cracking or splitting, ensuring copper cables perform successfully throughout the system's lifespan.
Our pioneering cable jacket eliminates the need for additional protective sleeving for copper cables installed in seats. Using SAE AS4373™ Method 703, we compared 100-ohm quadrax cables packaged with four different jacket types. According to the results, our engineered fluoropolymer fiber braid jacket drastically outperformed PFA and FEP materials for superior cut-through resistance at high temperatures. Without additional sleeving needed, weight savings and easier installation are achievable.
Standards Compliance across Aircraft & Military Land Applications
GORE Abrasion Resistant Cable Jacket complies with new and current industry standards for durability without jeopardizing size, weight or electrical performance. Besides meeting EN3475-503 Test Methods for Scrape Abrasion, it also meets the following:
SAE AS4373™: Test Methods for Insulated Electric Wire (Contact Gore for available data)
ABD0031 (AITM 2.0005); BSS7230; FAR Part 25, Appendix F, Part I: Flammability
ABD0031 (AITM 3.0008B); BSS7238; FAR Part 25, Appendix F, Part V: Smoke Density
ABD0031 (AITM 3.0005); BSS7239: Toxicity
Its durability and compliancy make our jacket system ideal for narrow seat configurations, as well as copper cables supporting the latest standardized high data rate protocols, like HDMI and more.
How to Order GORE Abrasion Resistant Cable Jacket for Air & Defense
Our HDMI 2.0 version packaged with this revolutionary cable jacket (part no. RCN9195) available in a standard size can be purchased from our wire and cable distributors. To learn more about our full line of high-speed data cables packaged with GORE Abrasion Resistant Cable Jacket, as well as our other air and defense solutions, contact a Gore representative today.
For prototyping and evaluation in your application, we offer complimentary samples of selected high-speed data cables with short lead times based on in-stock availability.
---
FOR INDUSTRIAL USE ONLY
Not for use in food, drug, cosmetic or medical device manufacturing, processing, or packaging operations.