Overview
For seams that last a fabric's lifetime. Guaranteed*.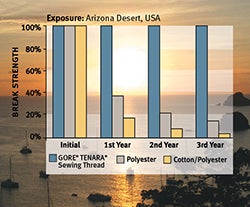 Guaranteed to Last
Unaffected by Sunlight
GORE TENARA Sewing Thread maintains its strength even after regular exposure to UV sunlight. UV resistance is built into the thread, and is not a coating or additive that can wear off.
Weather-Proof
GORE TENARA Sewing Thread remains flexible and strong in extremes of hot and cold. It won't absorb water and it resists acid rain, salt water, pollution, snow and freezing.
GORE TENARA Sewing Thread will outlast the fabric into which it is sewn. Gore guarantees it!*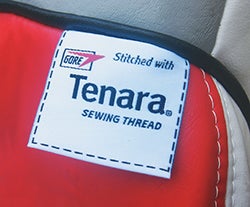 Premium Quality Brand
Enhance Your Reputation
Using GORE TENARA Sewing Thread tells your customers that they are buying a premium product built to last with durable seams and a brand that's backed by more than 25 years of experience from the company that invented it.
To help you promote the benefits of GORE TENARA Sewing Thread, Gore has industry-leading marketing support and materials.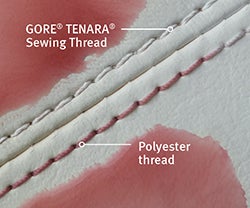 Beauty That Endures
Easy to Clean
GORE TENARA Sewing Thread is unaffected by acids, alkaline solutions, bleach and cleaning chemicals and it will not stain.
Colors Will Not Fade
Made with non-fading pigments that are highly resistant to light, the colored thread retains its bold appearance over time. GORE TENARA Sewing Thread is pigmented–not dyed. Due to its exceptional material properties, TENARA thread is extremely color-fast.**
---
Applications
World-renowned manufacturers and fabricators have discovered how GORE TENARA Sewing Thread enhances the quality, beauty and durability of their products. In outdoor and marine applications, look for GORE TENARA Sewing Thread as the sign of a premium product that is backed by Gore's lifetime warranty.*
Awnings
Garden structures
Outdoor upholstery
Patio furniture
Sun protection and shade sails
Swimming pool covers
Umbrellas
Bimini tops
Boat covers
Boat enclosures
Dodgers
Sails
Sail covers
Seat cushions
Side curtains
Upholstery
Artificial Turf installation
Camping equipment
Convertible tops
Equestrian equipment
Flag manufacturing
Hunting blinds
Kayak Covers
Moon Bounces
Inflatable Aircraft Hangers
Recreational Vehicle (RV) Awnings
Tarps and tents
Tennis and soccer nets
**According to DIN EN ISO 105-B06A:2004-07 tests conducted by Hohenstein Laboratories in 2012, all colors of GORE TENARA Sewing Thread received a lightfastness rating of 8, the highest possible.
---
Resources
FOR INDUSTRIAL USE ONLY
Not for use in food, drug, cosmetic or medical device manufacturing, processing, or packaging operations
Recent News
News
Posted July 14, 2017
Give your projects a custom, polished look with the premium outdoor sewing thread that's guaranteed to last a fabric's lifetime. The new Navy Blue GORE TENARA Sewing Thread is a perfect match for popular navy blue marine fabrics.
News
Posted April 26, 2014
FOR INDUSTRIAL USE ONLY
Not for use in food, drug, cosmetic or medical device manufacturing, processing, or packaging operations