GORE® TENARA® Sewing Thread Featured in MFA 2022 Fabrication Excellence Awards
Gore customer Bootssattlerei Hallier achieves special distinction
---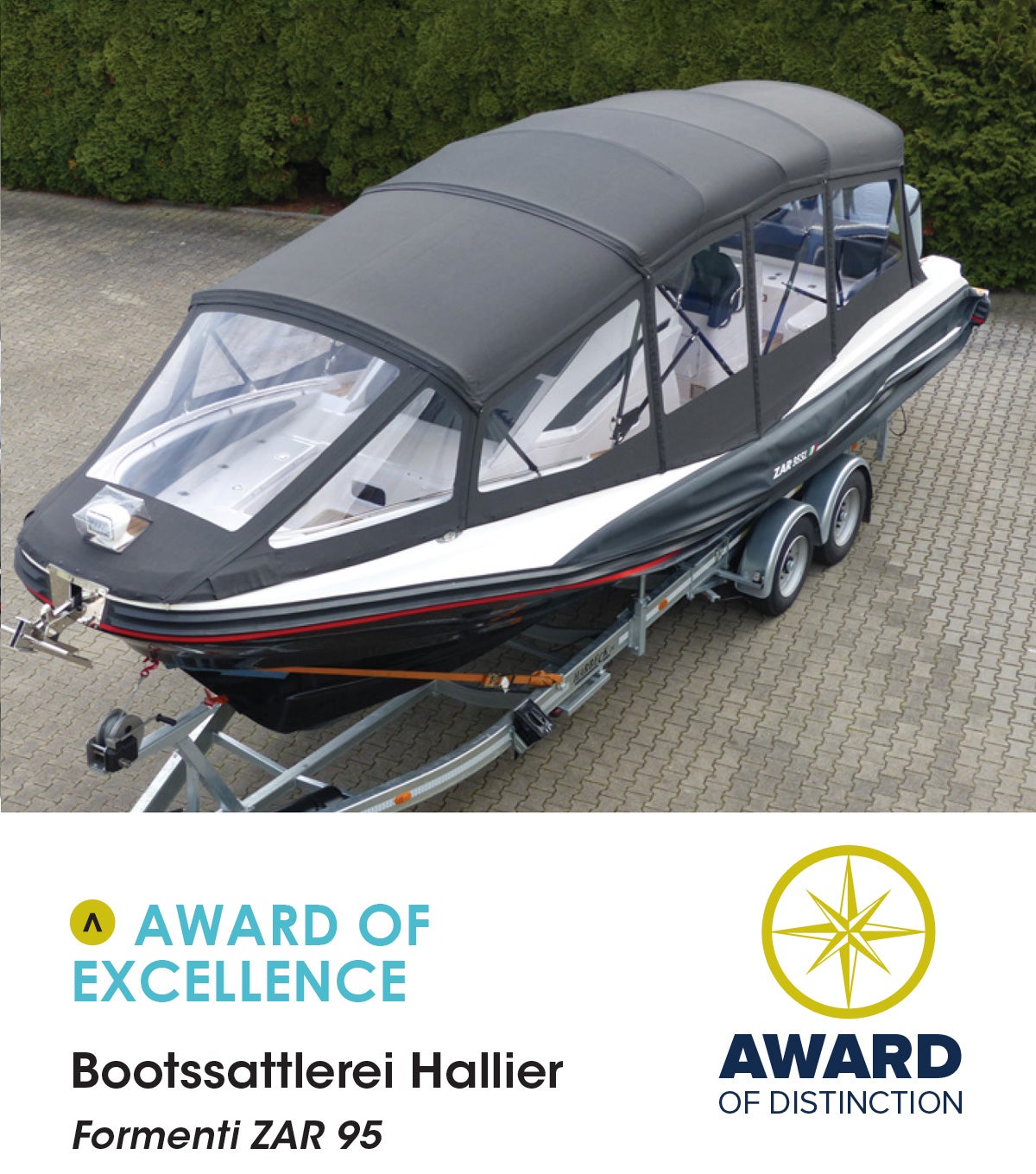 Top honors — an Award of Distinction — in 2022's prestigious marine industry competition went to GORE® TENARA® Sewing Thread customer Bootssattlerei Hallier of Bad Abbach, Germany. Sponsored by the Marine Fabricators Association (MFA), the annual contest recognizes excellence in fabrication in a variety of categories. Only two Awards of Distinction are issued, recognizing "the best" of the Award of Excellence winners.
In the "Powerboat — Soft Enclosures" category: Bootssattlerei Hallier received both an Award of Excellence and the coveted Award of Distinction for their one-of-a-kind full enclosure for a Formenti ZAR 95. Stitched with GORE® TENARA® Sewing Thread, this enclosure was tested at 90 km/hr. (55 mph) with no problems.
In the same category: the company won an Outstanding Achievement award for their enclosure for a Regal 2565, featuring easy-to-store frames, a full cover and a travel cover, all sewn with GORE® TENARA®.
Two other projects from Bootssattlerei Hallier, also incorporating durable GORE® TENARA® thread, were recognized:
In the "Travel/Full Covers" category: An Outstanding Achievement Award was presented for a cover designed and fabricated for an Activ 805 Sundeck Quicksilver. It provides UV protection down to the waterline and has a separate outboard motor cover that zips onto the main cover.
In the "Wild & Innovative" category: An Award of Excellence for a Sea Ray 260 Sundeck enclosure. Its unique design covers the entire bow area and extends the binimi more than 3 m (10 ft.). The boat can drive at full speed with either the bimini or the full enclosure in place.
Congratulations to Bootssattlerei Hallier for achieving one of the industry's top honors and well-deserved recognition for their excellence in fabrication. We are proud to say that the quality and durability of GORE® TENARA® Sewing Thread for outdoor applications helped to contribute to these excellent fabrications.
View photos of all the 2022 winners: www.marinefabricatormag.com.
Learn more: www.bootssattlerei-hallier.de
Learn more: GORE® TENARA® Sewing Thread