Overview
GORE GR Sheet Gasketing is designed to outperform both conventional (filled and skived) PTFE and other ePTFE gasketing in steel piping and equipment.
GORE GR Sheet Gasketing has the chemical resistance of conventional PTFE sheet gasketing without the creep and cold flow commonly associated with that material. GORE GR Sheet Gasketing is stronger and more dimensionally stable than other ePTFE gaskets. It is highly conformable to rough or irregular sealing surfaces, and compresses into an extremely tough gasket that creates a tight, long-lasting seal.
GORE GR Sheet Gasketing is a versatile, single-solution material for both standard and custom gasketing shapes and sizes.
What makes the GORE GR Sheet Gasketing Unique?
Proprietary, patented technology
Made of specially-engineered 100% expanded PTFE (ePTFE), Gore's patented manufacturing technology creates an ePTFE sheet with the highest degree of expansion available. Other ePTFE material has many un-expanded nodes. The increased expansion of GORE GR Sheet Gasketing gives it superior tensile strength and dimensional stability, creating significant performance advantages in demanding applications.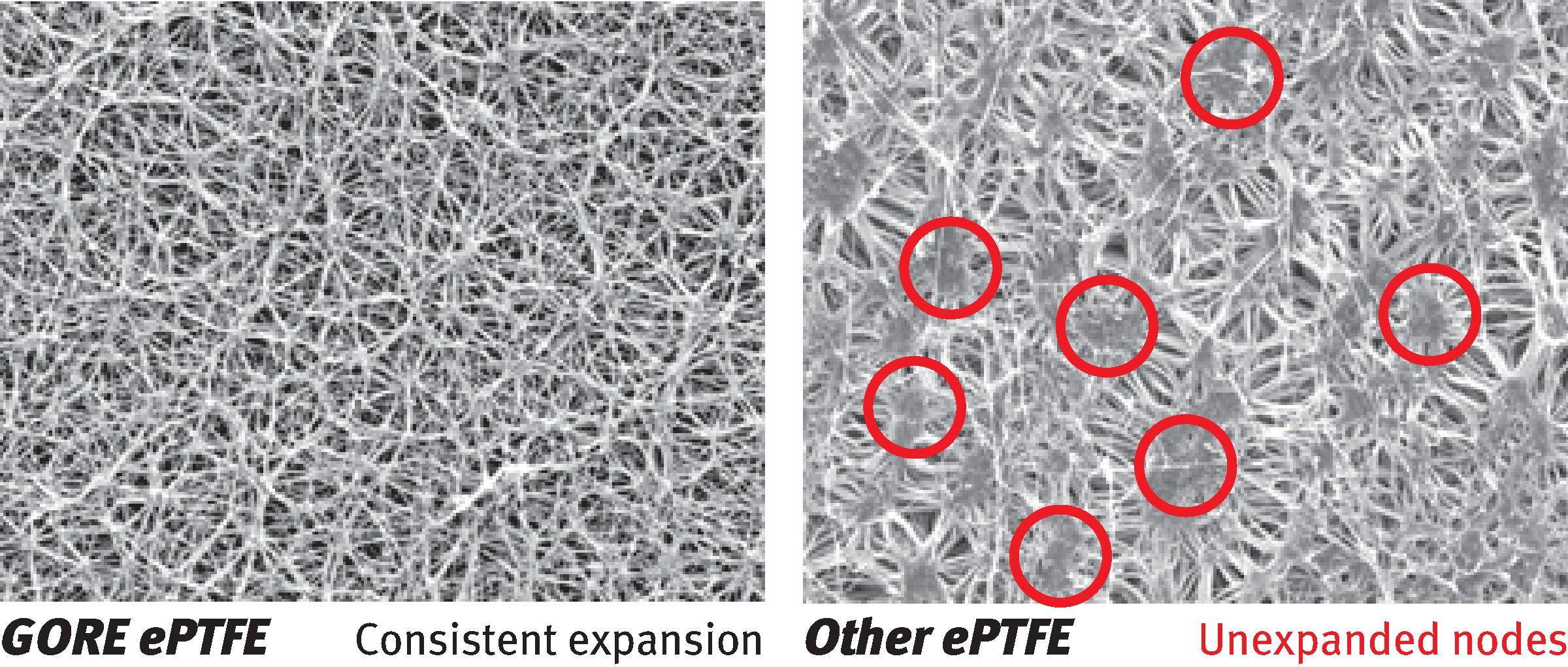 Superior resistance to creep and cold flow
GORE GR Sheet Gasketing has greater tensile strength, so it retains greater dimensional stability in-use — in both thickness and width — than any other PTFE-based gasket, including any other ePTFE.
Because its thickness remains more dimensionally stable than that of any other PTFE-based gasket, GORE GR Sheet Gasketing maintains a greater percentage of bolt load in operation, providing a more reliable seal especially in thermal cycling and higher temperature conditions.
The width of GORE GR Sheet Gasketing also remains more dimensionally stable, avoiding gasket intrusion into the pipe bore which can negatively affect process performance.
Along with providing a larger window for blowout safety, the dimensionally stable seal can also increase process uptime and reduce maintenance costs associated with gasket re-torque and replacement.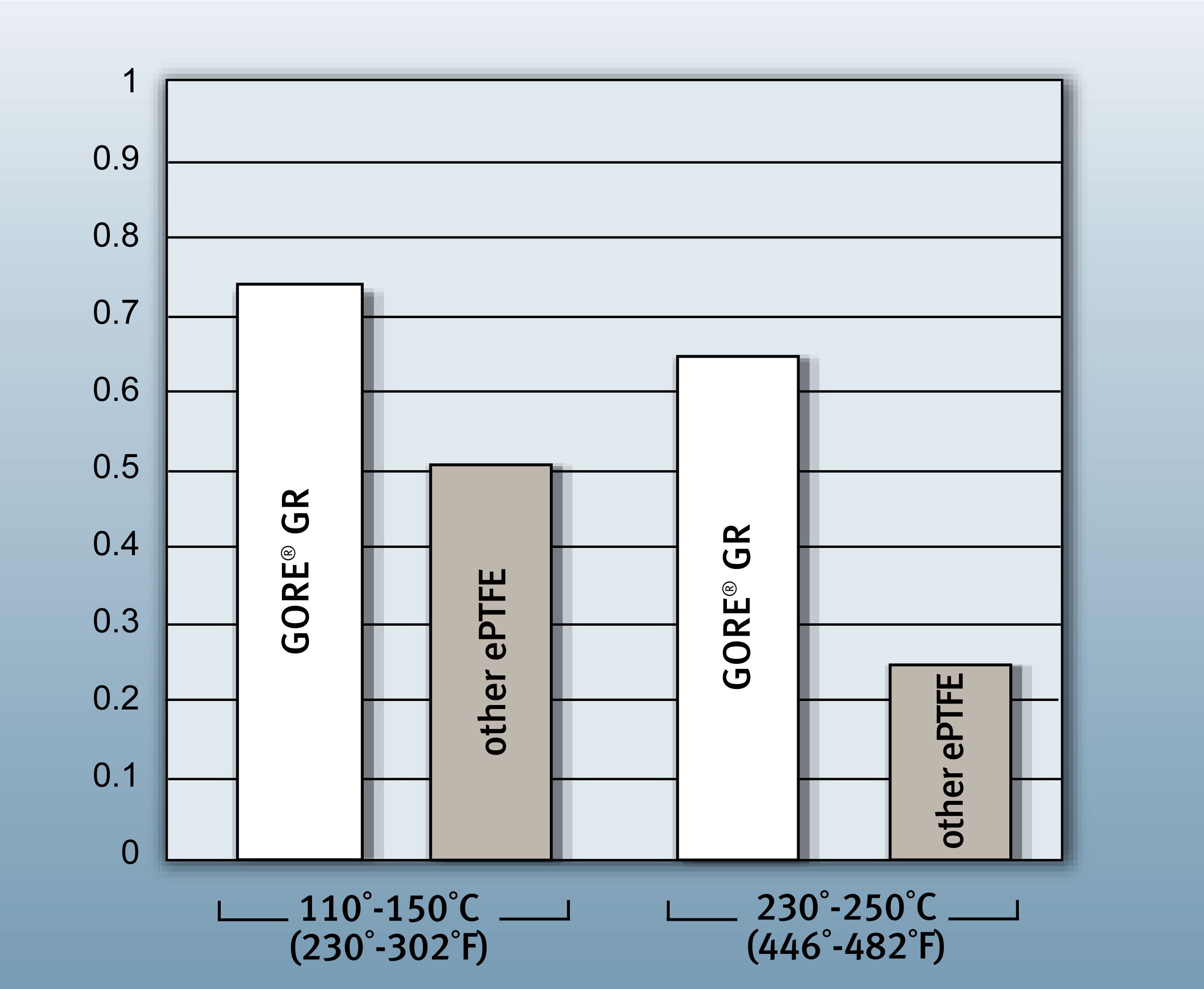 Exceptionally reliable sealing performance
Crush-resistance tests show GORE GR Sheet Gasketing excels at withstanding the extreme conditions of industrial flange sealing. It delivers a wider safety margin of seal reliability, both at installation and in operation at elevated temperatures.
Chemically inert GORE GR Sheet Gasketing seals durably, whether in strong alkali-, acid- or solvent-based process systems. It resists all media (pH 0-14) except for molten/dissolved alkali metals and elemental fluorine.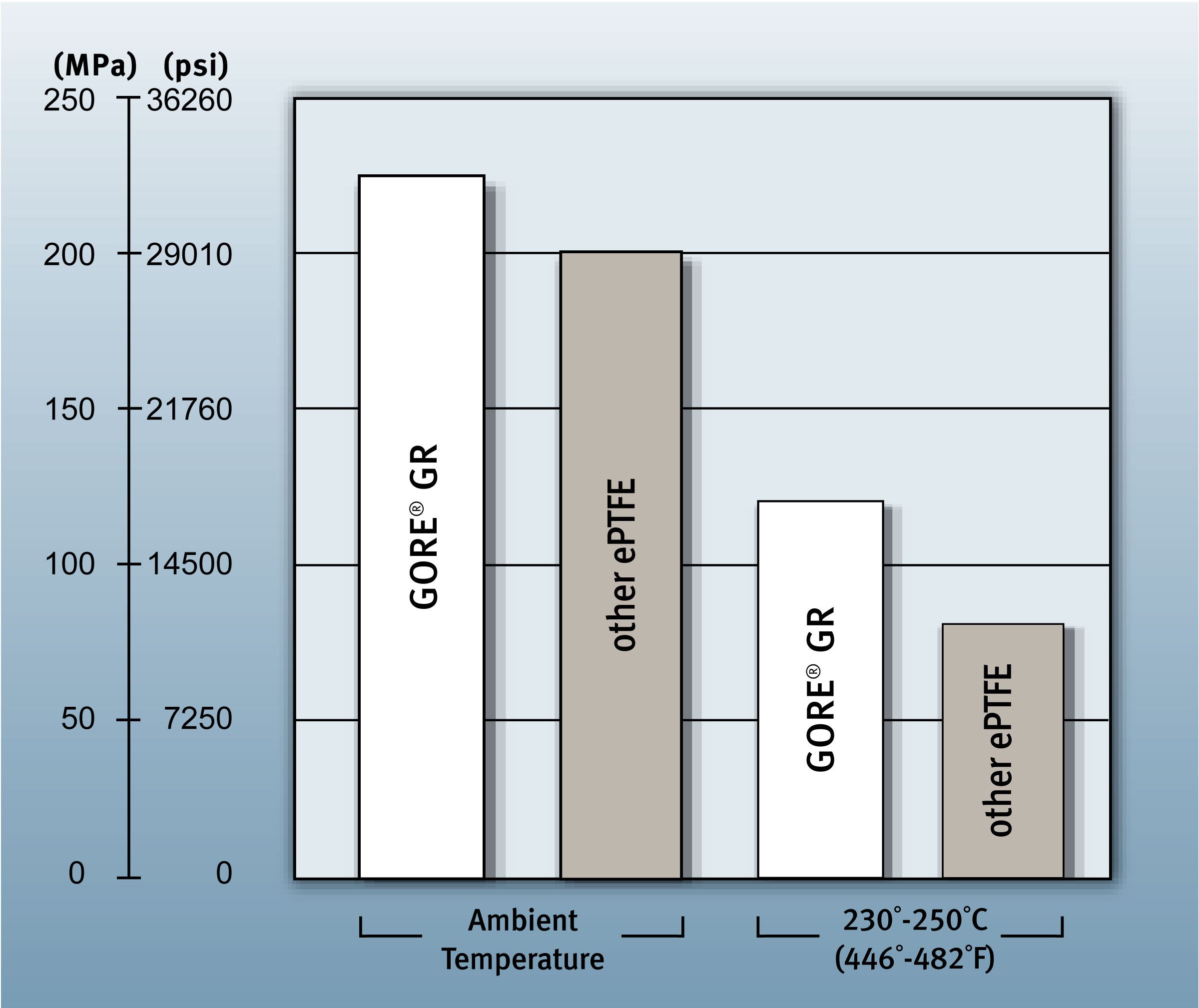 Greater consistency, for fewer problems
The consistency and precision of Gore manufacturing processes give GORE GR Sheet Gasketing a much more uniform distribution of mass than other ePTFE sheets. This promotes a more uniform and reliable seal.
Unlike skived or filled PTFE, GORE GR Sheet Gasketing readily conforms to common flange imperfections. This can eliminate the need for flange resurfacing, expand the window of applicability and create a highly reliable initial seal, so start-ups can be more trouble free.
Technical Specifications
Material
100% expanded PTFE (polytetrafluoroethylene), with multidirectional strength
Chemical Resistance
Chemical resistance to all media pH 0-14, except molten alkali metals and elemental fluorine.
Operating Range

The maximum applicable pressure and temperature depend mainly on the equipment and installation.

Typical use: -60°C to 230°C (-76°F to 445°F); industrial full vacuum(1) to 40 bar (580 psi)
Maximum use: -269°C to 315°C (-452°F to 600°F); full vacuum to 210 bar (3000 psi)

For applications outside the typical use range, Gore recommends an application specific engineering design calculation and extra care during installation. Also, consider retorquing after a thermal cycle when the equipment has returned to an ambient temperature condition. Please contact Gore if further guidance is required.

Shelf Life
ePTFE is not subject to aging and can be stored indefinitely.
(1) absolute pressure of 1 mmHg(Torr) = 133 Pa = 1.33 mbar = 0.019 psi
Available Sizes
GORE GR Sheet Gasketing is available in 1524 mm x 1524 mm (60" x 60") sheet. Standard thicknesses range from 1 mm (1/32") up to 6.0 mm (1/4"). For applications where ink is not acceptable, embossed sheet is available.
Standard Product Offering
| Product Offering | Thickness (mm) | Printed Sheet | Embossed Sheet |
| --- | --- | --- | --- |
| 1 mm (1/32") | 1.0 | X |   |
| 1.5 mm (1/16") | 1.5 | X | X |
| 3.0 mm (1/8") | 3.0 | X | X |
| 6.0 mm (1/4") | 6.0 | X | X |
Other sheet thicknesses may be available upon request.  
Resources
FOR INDUSTRIAL USE ONLY
Not for use in food, drug, cosmetic or medical device manufacturing, processing, or packaging operations