GORE® GR Sheet Gasketing: Marine and Offshore Applications Certificate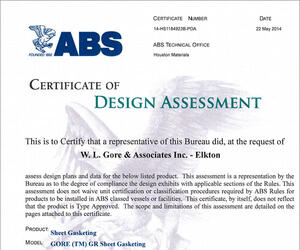 Certifications, United States
GORE® GR Sheet Gasketing has received a PDA (Product Design Assessment) certificate under the ABS Approval Program. The scope and limitations of this assessment are detailed on the pages attached to this certificate.
---
FOR INDUSTRIAL USE ONLY
Not for use in food, drug, cosmetic or medical device manufacturing, processing, or packaging operations.