Related Products
Sheet gasket for steel piping/equipment
GORE® GR Sheet Gasketing
This assessment is a representation by the Bureau as to the degree of compliance the design exhibits with applicable sections of the Rules. This assessment does not waive unit certification or classification procedures required by ABS Rules for products to be installed in ABS classed vessels or facilities. This certificate, by itself, does not reflect that the product is Type Approved. The scope and limitations of this assessment are detailed on the pages attached to this certificate.
Content Type
Certifications
Technical Information
Heading
Marine and Offshore Applications Certificate for GORE® GR Sheet Gasketing
Paragraphs
Column Item
Paragraphs
FOR INDUSTRIAL USE ONLY
Not for use in food, drug, cosmetic or medical device manufacturing, processing, or packaging operations.
Resource Image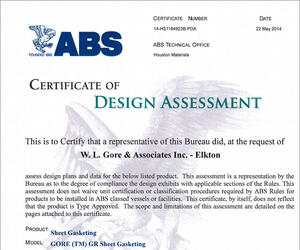 Contact Forms
Gore has built a worldwide reputation for ethics and integrity in its dealings with customers, suppliers and employees.