Data Sheet: GORE® Shielded Twisted Pair Cables for Aircraft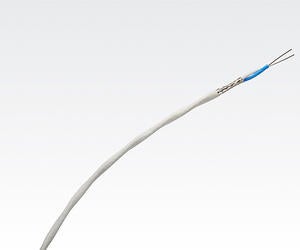 Data Sheets, English
Aerospace cables must balance rugged design with light, slim construction to deliver optimal performance and easy installation in space-restricted airframes. GORE Shielded Twisted Pair Cables for Aircraft from W. L. Gore & Associates are ideal for most aerospace harness applications thanks to durable construction that withstands rapidly changing environmental factors. Inside these aerospace cables, low voltage differential signals (LVDS) maintain signal integrity with controlled impedance, providing data transmission speeds up to 1 GHz.
---
Cable Specifications and Connecter Compatibility
Our shielded twisted pair aerospace cables utilize a low-profile design that's 30% smaller and 50% lighter than standard round cables. This ensures ease of installation without compromising strength due to an engineered fluoropolymer jacket, braided shield, and color-coded composite dielectric surrounding the silver-plated copper alloy conductor.
GORE Shielded Twisted Pair Cables for Aircraft fit a wide variety of high-speed aerospace connector systems and backshells, such as ARINC and MIL STD 389999 with differential Twinax sizes 8 and 22D contacts. For exact part numbers, tooling information, or termination instructions, please visit the manufacturer, including Amphenol®, Glenair, and more.
Compliant with Rigorous Standards
Typical aircraft conditions are often harsh and can change rapidly when at high altitudes. To meet the demands of challenging aerospace environments, our shielded twisted pair cables are tested to meet standard SAE AS4373™ for Test Methods for Insulated Electric Wire, as well as the following:
Flammability: ABD0031 (AITM 2.0005); BSS7230; FAR Part 25, Appendix F, Part I
Toxicity: ABD0031 (AITM 3.0005); BSS7239
Smoke Density: ABD0031 (AITM 3.0008B); BSS7238; FAR Part 25, Appendix F, Part V
Environmental Testing, Jacket and Marking: ANSI/NEMA WC 27500
Appropriate Applications and Cable Preparation
GORE Shielded Twisted Pair Cables for Aircraft support a variety of aerospace harness operations and offer the speed, signal clarity, and strength required to accommodate a wide range of aerospace data needs. Common applications include:
Avionics networks
Cabin management systems
Digital video systems
Ethernet backbone
LVDS devices
Serial busses
Laser stripping is the preferred method to prepare our shielded twisted pair cables for your application. Thermal stripping and sharp mechanical strippers are suitable as well. Whichever method you choose, GORE Shielded Twisted Pair Cables for Aircraft offer a host of benefits, such as:
Low-voltage differential signals
Delivering excellent signal integrity, Gore's cables utilize low-voltage differential signals with controlled impedance for data transmission lines at speeds up to 1 GHz. The durability of these materials provides a higher tolerance against typical aircraft conditions.
Low-profile configuration
These cables are 30% smaller and 50% lighter than standard oval cables and drastically smaller in size than alternative round cables. Our low-profile configuration has a direct impact on saving weight in aircraft, and it allows for more flexibility and easier routing in hard-to-reach places for improved installation.
How to Order Gore Shielded Twisted Pair Aerospace Cables
Designed for the most challenging aerospace conditions and tight installation spaces, GORE Shielded Twisted Pair Cables for Aircraft deliver high-speed data transfer with a compact yet rugged design for dependable service throughout the life of the aircraft. They're available in the following part numbers:
DXN2600
DXN2601
DXN2602
DXN2603
DXN2604
DXN2605
DXN2606