Data Sheet: GORE® Coiled Cables (Radio Communications) for Defense Land Systems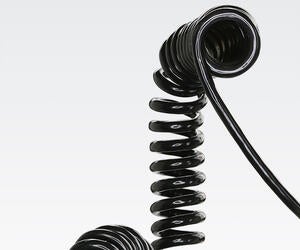 Data Sheets, English
Soldiers rely on radios to communicate real-time situational awareness for a competitive edge in the field. Coiled cables attached to these radios must be strong enough for battle, plus light and comfortable enough to avoid weighing soldiers down. Backed by decades of proven reliability, ground forces have relied on custom coiled cables from W. L. Gore & Associates in thousands of radio systems. Our defense cables deliver secure on-the-move communication among military units in a rugged, weight-saving design.
---
Cable Performance and Specifications
Backed by decades of proven reliability, the armed forces have trusted GORE Coiled Cables for Defense Land Systems in more than 35,000 radio systems. Customized to meet your precise application needs, our combat-ready cables keep the lines of communication open, secure and audible while protecting sensitive wires from any RF interference from other radio systems.
Their unique construction holds other advantages over traditional substitutes, including:
LONG-TERM DURABILITY
To withstand challenging conditions typically experienced during land and ground defense operations, GORE Coiled Cables (Radio Communications) for Defense Land Systems offer higher strength for long-term service life. The multi-layer construction allows our rugged coiled cable to tolerate torrential rain, dangerous landscape, wide temperatures, repeated vibration, and more.
LIGHT & FLEXIBLE
Featuring a compact design that is 24% smaller and 25% lighter, our defense coiled cable helps to lighten the load of soldier carry-on equipment and save weight in defense land vehicles. Our flexible coiled cable expands to desired lengths and retracts to their original form without any effort, minimizing stress on wires. They can even be woven into soldier uniforms. These features make our coiled cables more comfortable to wear than traditional substitutes.
Meeting Rigorous Standards across Many Applications
GORE Coiled Cables (Radio Communications) for Defense Land Systems have undergone substantial qualification testing to meet the most current industry standards, like VG95218-11. Our military-grade coiled cable ensures long-term durability and proven reliability in the following applications:
Manpack radio systems
Soldier-worn systems
Tactical handsets/headsets
Vehicular radio systems
Ordering GORE Coiled Cables (Radio Communications) for Defense Land Systems
With decades of proven reliability on the battlefield, our light, highly flexible coiled cable is a trusted replacement over traditional substitutes for secure, on-the-move radio communication. If you have any questions or you're ready to purchase our product, contact a Gore representative today, who will help you customize a solution based on your exact application requirements and place your order.
FOR INDUSTRIAL USE ONLY
Not for use in food, drug, cosmetic or medical device manufacturing, processing, or packaging operations.