The Cable Selection Checklist will assist you in identifying the issues you need to discuss with your cable manufacturer when selecting the right cable for your specific application and environment. Although you may not be able to complete all of the sections, it will be helpful if you are as specific as possible in the data you can provide.
Heading
Product Selection Guides: Cable Selection Checklist
Resource Image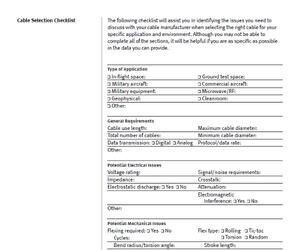 Contact Forms
Gore has built a worldwide reputation for ethics and integrity in its dealings with customers, suppliers and employees.