Data Sheet: GORE® MIL-STD-1760 Assemblies for Defense Aircraft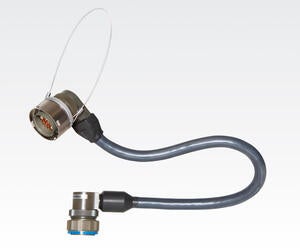 Data Sheets, English
Standard umbilicals using screw-on lanyard, quick-release connectors often have to be replaced because they're stiff, hard to handle and don't survive pylon installation or operation. Replacing them is expensive, time-consuming and can delay critical missions. Heeding the call from military customers, W. L. Gore & Associates offers GORE MILD-STD-1760 Assemblies as the only affordable, sealed hybrid solution with a reliable connector system proven over time to solve these common pitfalls. They feature unsurpassed mechanical protection, high flex life and consistent disconnect loads proven to safeguard installation and operations.
---
Cable Performance and Specifications
Built for long-term reliability, GORE MIL-STD-1760 Assemblies with the L3Harris™ Field Replaceable Connector System (FRCS) are the only solution in the defense industry proven to guarantee safe operations with a low bend force over wide temperatures. They feature a robust construction that prolongs service with a smaller cross-sectional diameter than standard umbilicals. They also deliver a host of other advantages, including the following:
CONSISTENT DISCONNECT LOADS
To ensure successful missions, Gore and L3Harris used MIL-STD-810B to compare Gore's Assemblies with the connector system to standard umbilicals with screw-on MIL-STD-38999/31 lanyard connectors. The goal was to validate connector loads and store velocity during ejected pit releases. Results showed that 1 out of 10 standard umbilicals separated within the specification limit after 100 drops, half were unserviceable after a few drops, and 25% failed to disconnect at all. Meanwhile, ejection velocity didn't affect connector pull-off force with Gore's assemblies, which delivered consistent disconnect loads and can guarantee 100 fully high-speed instrumental drops.
SUPERIOR EMI SHIELDING PROTECTION
As requirements for power and frequency increase in today's military aircraft, radiating umbilicals can interfere with mission systems because of inadequate shielding effectiveness. That's where GORE MIL-STD-1760 Assemblies for Defense Aircraft can make a difference. By manipulating polytetrafluoroethylene (PTFE), Gore offers assemblies with exceptional electromagnetic interference (EMI) shielding performance at a minimum of 85% optical coverage in wide temperatures ranging from -60 °C to +150 °C.
HIGH FLEX LIFE
Constantly flexing umbilicals can weaken them and cause their performance to degrade during installation, maintenance and operation. Using MIL-STD-810B, Gore tested their assembly to find out if it could withstand repeated flexing over wide temperatures when encountering these activities. Results showed that GORE MIL-STD-1760 Assemblies continued to be reliable beyond 100,000 flexes without degrading their mechanical or electrical performance. When it comes to limited aircraft pylon spaces, Gore's assemblies are also quick and easy to install because of their high flexibility and robust construction.
CONNECTOR OPTIONS
We design GORE MIL-STD-1760 Assemblies to fit various connector systems like the jam-resistant L3Harris™ FRCS with a push/pull, on/off connection, as well as standard shell sizes 25, 17 and 15 store disconnects. We also have expertise in using alternative designs for other manufacturers like Amphenol®, Cinch, HiRel and TE Connectivity.
Meeting Rigorous Standards across Many Applications
GORE MIL-STD-1760 Assemblies have undergone substantial qualification testing to meet rigorous military specifications and customer requirements such as MIL-STD-1760 and MIL-STD-810 among others. They're certified for more than 100 ejected releases and 400 manual disconnects.
After being introduced to the North Atlantic Treaty Organization (NATO) in the 1990s, GORE MIL-STD-1760 Assemblies have delivered 100% successful store releases on many airborne platforms, including:
A-10 Warthog
B-1B, B-2
F-15E, F-16, F-35
Gripen, GR9
S-3B Viking
Super Lynx, Wildcat
Tornado GR4
Typhoon
How to Order GORE MIL-STD-1760 Assemblies
Safeguard your defense aircraft mission with GORE MIL-STD-1760 Assemblies available in Class I and II standard versions. We also offer bespoke and custom assembly options with MIL-STD backshells, custom backshells, and molding designs to meet your specific aircraft integration requirements. For more information about this product and our other high-performance solutions for aerospace and defense or to place an order for our assemblies, contact a Gore representative today.
Amphenol is a registered trademark of Amphenol Corporation.
L3Harris is a trademark of L3Harris Technologies, Inc.
---
FOR INDUSTRIAL USE ONLY
Not for use in food, drug, cosmetic or medical device manufacturing, processing, or packaging operations.