Catalog: GORE® Spaceflight Microwave/RF Assemblies for Traditional Space Applications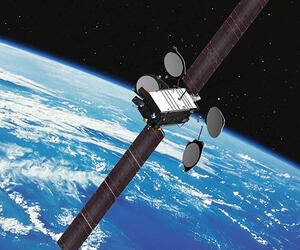 Product Selection Guides, English
Spacecrafts are exposed to extreme temperatures and conditions that can jeopardize signal transmission capabilities where it's not possible to perform quick repairs in space. Therefore, space programs need durable, reliable cable assemblies they can trust to perform well over millions of miles. To answer the call, W. L. Gore & Associates offers a complete line of GORE® Spaceflight Microwave/RF Assemblies for Traditional Space Applications which have provided decades of proven performance to major space organizations like the National Aeronautics and Space Administration (NASA) and European Space Agency (ESA). 
---
Complete Line of GORE Spaceflight Microwave/RF Assemblies
Made in Gore's ESA-qualified and ISO 9001:2000-certified manufacturing facility, GORE Spaceflight Microwave/RF Assemblies for Traditional Space Applications meet mass-driven or insertion loss application requirements. They are comprised of Gore's patented technology, expanded polytetrafluoroethylene (ePTFE), which allows us to produce high-performance cable assemblies in a small, flexible, lightweight design. Our extensive catalog of cable assemblies undergoes rigorous qualification testing to replicate integration, launch and in-orbit phases and includes the following types of solutions:
High Power
Manufactured on Gore's advanced passive intermodulation (PIM) line, the following cable assemblies deliver proven power handling and multipaction performance and are designed specifically for use with high-power connector solutions:
Type 41 (4.8 mm / 0.190 in)
Type 42 (7.4 mm / 0.290 in)
Type 28 (8.1 mm / 0.320 in)
High Frequency
The following cable assemblies are optimized for KA, Q and V band and meet even the most stringent specifications for high-frequency application needs:
Type 56 (3.6 mm / 0.140 in)
Type 5G (4.3 mm / 0.170 in)
Type 5D (4.8 mm / 0.190 in)
High Flex
Featuring stranded center conductors, the following cable assemblies provide superior phase stability in high-flex applications:
Type 26 (3.0 mm / 0.120 in)
Type 2T (3.0 mm / 0.120 in)
Type 21 (3.0 mm / 0.120 in)
High Density
Ideal for inside-the-box or box-to-box applications, the following cable assemblies ease installation in challenging spaces and help to reduce the overall mass of the spacecraft:
Type 5U (1.2 mm /0.047 in)
Type 8S (2.2 mm / 0.085 in)
Type 27 (3.0 mm / 0.120 in)
Benefits of GORE Spaceflight Microwave/RF Assemblies
Backed by decades of 100% failure-free flight records, Gore's cable assemblies have proven to be successful in a host of missions, including the 1969 Apollo 11 mission to the moon, and are trusted by hundreds of other iconic programs like the International Space Station, Envisat, Space Shuttle Program, Sentinel, Hubble Space Telescope and more. This is because they deliver many advantages compared to alternative products, including:
Reliable Signals amid Harsh Conditions
Using high-temperature solders and unique termination techniques, Gore's cable assemblies are specifically engineered to maintain electrical and mechanical integrity in volatile spaceflight conditions. Thanks to their ability to withstand the following, they provide uninterrupted signals with low insertion and return loss, as well as excellent phase stability, no matter where your spacecraft is exploring:
Radiation
Shock
Vibration
Extreme temperatures from -155°C to +150°C
Increased Flexibility for Easier Installation
In hand with our connector solutions, Gore's cable assemblies feature a small, low-mass, flexible design to making routing for system engineers easier in tight spaces and meet mass-driven requirements. And thanks to their durability, they're resistant to breaking or failing during the installation process.
Outstanding Electrical Performance across the Galaxy
Gore's solutions offer superior shielding effectiveness across a wide range of operating frequencies. Our high-power connector solutions reduce the risk of multipactor breakdown on SMA and TNC interface designs. They also offer low-PIM interconnects that meet the mission-critical needs of your application. It all adds up to outstanding electrical performance across the vast universe and decreased maintenance time on the ground.
How to Order GORE Spaceflight Microwave/RF Assemblies for Traditional Space Applications
GORE Spaceflight Microwave/RF Assemblies for Traditional Space Applications operate at frequencies ranging from DC to 40 GHz and are available in diameters from 1.2 mm (0.047 in.) to 8.1 mm (0.320 in.). Gore also provides a variety of robust, low-profile connector options to complement assembly performance, including:
SMA
SSMA
MSSS
SMP
SMPM
2.92 mm
TNCA and TNC
And more.
To explore how Gore's cable assemblies can benefit your traditional space application, contact one of our representatives. Our part numbers contain 16 characters that designate the cable type, connector type, assembly length and connector form. You can also use the GORE® Microwave/RF Assembly Builder to compare connector options, frequencies for various cable types and more. When you're ready to place an order, contact a Gore distributor.