Data Sheet: GORE® High Performance Wires for Defense Land Systems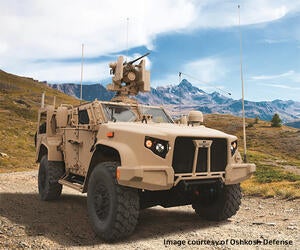 Data Sheets, English
Military ground forces are contemplating vehicle electrification to simplify maintenance and reduce logistical problems associated with fossil fuels. But, electrification means increasing voltages to avoid weight gain in wiring systems. On the other hand, higher voltages put more electrical stress on wires and risk physical damage. Luckily, W. L. Gore & Associates is on duty to solve these challenges with an optimal solution. GORE High Performance Wires offer the best combination of proven mechanical durability and EWIS (electrical wire interconnection systems) reliability over time.
---
Wire Performance and Specifications
When it comes to electrifying combat and transport vehicles, wire insulation must be durable enough to ensure system reliability, functionality and safety at higher voltages. But, current insulation materials tend to be limited in electrical and mechanical durability, degrading over time after exposure to harsh conditions, like abrasion, chemicals and high temperatures. These limitations can compromise EWIS integrity and reliability, but the typical solution involves adding more wiring insulation, which means bigger and heavier wires in electric vehicles (EV).
Lightweight and flexible, GORE High Performance Wires for Defense Land Systems were developed to provide an optimal solution that won't increase the EV's overall weight. Thanks to Gore's proprietary engineered fluoropolymer insulation material, our military-grade wires offer many advantages over current insulation materials, including:
LESS RISK OF WIRE DAMAGE
Chemically inert and non-flammable, our rugged wires don't degrade when exposed to hazardous chemicals or humidity. They bring a higher level of mechanical strength by resisting chafing, abrasion and cut-through over a wide range of temperatures. These features enhance vehicle safety and improve EWIS performance. Plus, our hydrophobic, non-hydrolyzing material prevents degradation over time for longer service life.
HIGHER PDIV/PDEV
Because our high-performance wires are made with low-permittivity material, they ensure higher PDIV/PDEV for improved electrical durability, reducing the risk of voltage breakdown over time. This feature also helps increase EWIS reliability, improve safety and make more EVs available thanks to less maintenance needs.
REDUCED TOTAL COSTS & WEIGHT
Gore's reliable wires offer outstanding electrical and mechanical reliability over time, meaning less expensive repairs and replacements for EV engineers. What's more, our lightweight, flexible wires not only ease routing in confined spaces, they also won't increase wire bundle size or add to the total weight of the EV.
Meeting Rigorous Standards across Various Applications
Unlike current insulation materials, GORE High Performance Wires for Defense Land Systems meet mechanical, electrical and material stability — in one solution — for future vehicle electrification. We rigorously test and qualify our harsh-environment wires to make sure they meet the most current industry standards, like ASTM D3032 and SAE AS4373™.
How to Order GORE High Performance Wires
For future vehicle electrification needs, our lightweight wires offer the best combination of durability and EWIS reliability over time without adding size or weight. They're available in standard sizes, and we're proud to offer complimentary samples for prototyping and evaluation within 48 hours of your request.
For more information about this product, contact a Gore representative for defense land systems today. When you're ready to place an order, contact one of our trusted distributors for in-stock availability.
---
FOR INDUSTRIAL USE ONLY
Not for use in food, drug, cosmetic or medical device manufacturing, processing, or packaging operations.