Data Sheet: GORE® Coiled Cables (High-Speed Data/Video) for Defense Land Systems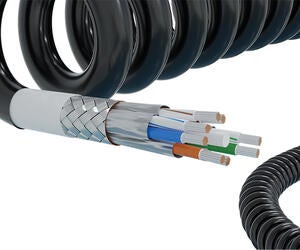 Data Sheets, English
Modern vectronics and carry-on equipment rely on cables to deliver fast, accurate Intel and uphold communication to ensure operational readiness, success and safety. As a trusted partner to ground forces, W. L. Gore & Associates offers a reliable coiled cable for high-speed data and video transfer that repeatedly outperforms conventional substitutes. Our custom coiled cable features a durable, compact design that defends against extreme combat conditions while reducing vehicle weight and equipment load and enhancing soldier comfort
---
Cable Performance and Specifications
GORE Coiled Cables (High-Speed Data/Video) for Defense Land Systems significantly improve signal integrity and speed up to 10 Gbps on vectronics digital networks and other communications systems. Besides their unfailing high-speed performance, our coiled cables offer defense forces other advantages that continue to outperform conventional substitutes, including:
RUGGED PROTECTION
A sturdy thermoplastic elastomer outer jacket and engineered fluoropolymer inner jacket, along with braided and aluminized polyimide shielding give GORE Coiled Cables (High Speed Data/Video) for Defense Land Systems added strength. This rugged coiled cable design protects sensitive wires from RF interference while withstanding wide temperatures, weather, vibration and other challenging conditions commonly found in combat zones. Other construction features include color-coded composite dielectric, silver-plated copper or SPC alloy wires, and a fluorinated ethylene propylene (FEP) filler.
WEIGHT SAVINGS
Our unique compact design also yields a significant size reduction over substitutes by bringing a military coiled cable that's 24% smaller and 25% lighter. Our low-weight coiled cable lightens the equipment load that soldiers have to carry during operations while also saving valuable weight in combat and support vehicles.
MORE COMFORT
Thanks to their high flexibility, our defense coiled cable expands to your desired length and effortlessly retracts to their original form, which helps to minimize stress on wires. You can easily attach them to vectronics and soldier-worn systems — even weave them into uniforms.
Meeting Rigorous Standards across Many Applications
GORE Coiled Cables (High-Speed Data/Video) for Defense Land Systems meet strict industry standards. Due to their long-term durability and reliability, our military-grade coiled cable is an ideal solution in a wide range of high-speed data and video applications, such as:
Augmented reality solutions
Digital camera/video systems
Helmet-mounted displays
Mission/radar systems
Radio/communications systems
Soldier-worn systems
Tactical links
Telescopic masts for optronics
Vectronics digital networks
Ordering GORE Coiled Cables (High-Speed Data/Video) for Defense Land Systems
Trusted by the armed forces for decades, our high-speed coiled cable proves to be a reliable replacement for conventional substitutes in modern vectronics and soldier-worn systems. If you have any questions or you're ready to purchase our product, contact a Gore representative today, who will help you customize a solution based on your exact application requirements and place your order.