GORE® Microwave/RF Assemblies
Care and Handling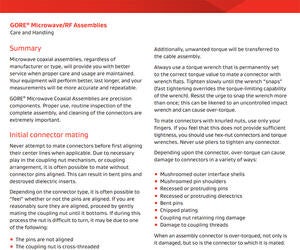 Technical Information, English
GORE™ Microwave Coaxial Assemblies are precision components. Proper use, routine inspection of the complete assembly, and cleaning of the connectors are extremely important.
---
This Care and Handling document includes info on:
Initial connector mating
Connector torque
Cable handling
Cable bend radius
Inspection of assemblies
Connector interface cleaning
---
FOR INDUSTRIAL USE ONLY
Not for use in food, drug, cosmetic or medical device manufacturing, processing, or packaging operations.