Data Sheet: GORE® Fiber Optic Cables (1.8 mm Simplex) for Defense Aircraft — EN4641-301 & JN1177 Qualified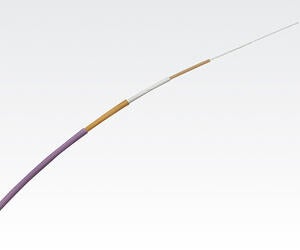 Data Sheets, English
For 10+ up to 100 Gb/s avionics digital networks that require a higher level of cable durability, W. L. Gore & Associates meets the demand with GORE Fiber Optic Cables, 1.8 mm Simplex for Defense Aircraft. These rugged cables exceed stricter EN4641-301 and JN1177 requirements for more durability primarily intended for larger, more rugged cable designs. Our aircraft cables protect against high weight impact, crushing force, shock, vibration and fluctuating temperatures experienced in extreme defense environments. Their compact construction also meets the aerospace industry's size, weight and routing constraints.
---
Cable Performance and Specifications
Balancing a high-temperature acrylate coating with a rugged buffering system, GORE Fiber Optic Cables (1.8 mm Simplex) for Defense Aircraft offer an impressive level of robustness to protect the fiber core. Their construction includes:
Perfluoroalkoxy (PFA) jacket with JN1177 marking
Strength member
Secondary expanded polytetrafluoroethylene (ePTFE) layer
Crush-resistant layer
Primary ePTFE layer
This version also features a slender design with smaller diameters and lighter weight materials for maximum flexibility and tight bending than competitive cables built with a double jacket. Available in single or multi-mode core types, our 1.8 mm Simplex accommodates current and next-generation avionics digital networks operating at 10 Gb+ up to 100 Gb/s.
HIGHER WEIGHT IMPACT RESISTANCE
To demonstrate higher weight impact resistance, GORE Fiber Optic Cables (1.8 mm Simplex) for Defense Aircraft were tested using EN3475, method 506. After repeating the test 5 times in the same spot with a crushing force of 800 grams (1.8 pounds), results revealed that our cable retained its optical properties with low attenuation, meeting minimum requirements for added durability.
HIGH VIBRATION & MECHANICAL SHOCK ENDURANCE
Because electronic systems can be exposed to hot and cold conditions during flight, we tested our 1.8 mm Simplex for vibration and shock performance in extreme temperatures. Results showed no degradation or optical loss in temperatures ranging from -40°C at 850 nm to +135°C at 1300 nm, proving superior strength against high-intensity vibration and mechanical shock for a longer lifespan.
GREATER TORQUE ENDURANCE
Since cables can easily get damaged during routing in narrow aircraft pathways, we tested the electrical stability of our fiber optic cable using EN3745, method 514. Results indicated that our 1.8 mm Simplex maintained reliable signal integrity after twisting and bending for 2,000 cycles with no evidence of jacket degradation, softening, surface damage, cracking, splitting or penetration for easier, more reliable installation.
BETTER KINK RESISTANCE & LOW SHRINK BACK
We also examined our fiber optic cable's ability to resist severe kinking and over-bending using EN3745, method 509. Results revealed that our high speed cables maintained stable optical performance with low loss without kinking or breaking, exceeding the minimum requirements.
To better support maintainers when terminating connectors with cables, we tested our cable's shrink-back resistance according to EN3745-205, method A. Results verified that our 1.8 mm Simplex met the qualification with dimensional stability and low jacket shrinkage after 25 cycles in temperatures ranging from -65°C to +135°C without thermal pre-conditioning.
Meeting Rigorous Standards across Aircraft Applications
Aviation cables must resist routine maintenance activities and extreme airborne environments while meeting size, weight and routing constraints. The 1.8 mm Simplex of GORE Fiber Optic Cables is tested and pre-qualified to make sure they meet or exceed the most rigorous standards for high data rate cables in defense aircraft, like the Eurofighter. These standards include:
ABD0031 (AITM 2.0005); BSS7230; FAR Part 25, Appendix F, Part I: Flammability
ABD0031 (AITM 3.0008B); BSS7238; FAR Part 25, Appendix F, Part V: Smoke Density
ARINC 802-3; Performance Requirements (GSC-13-84639, GSC-13-84640, GSC-13-84943)
BSS7239: Toxicity
EN3745-513; JN1177: Test Methods for Crush Resistance (GSC-13-84943-07)
Review the complete qualifications summary and contact a Gore representative to request the full report.
Designed to accommodate higher bandwidth requirements for faster data transfer in current and next-gen aircraft, Gore's fiber optic 1.8 mm Simplex can be reliably used in typical applications like:
Digital video systems
Ethernet backbone
Flight management systems
Radar systems
Transceivers
How to Order GORE Fiber Optic Cables for Defense Aircraft
Our rugged 1.8 mm Simplex satisfies the industry's demand for cables with more durability and higher bandwidth performance installed in 10+ up to 100 Gb/s avionics digital networks. For additional information about cable characteristic limits and application needs, including a bend-sensitive fiber option or particular fiberglass type, contact a Gore representative today.
If you're ready to order, contact an authorized wire and cable distributor. Explore our sample inventory to learn more about our tested, prequalified products and small quantities that are complementary and shipped within 48 hours. Gore's military aircraft part numbers featuring single mode and multi-mode, graded index core types from OM1 up to OM5 include the following:
GSC-13-84689-04
GSC-13-84689-07
GSC-13-84640-04
GSC-13-84640-07
GSC-13-84639-04
GSC-13-84639-07
GSC-13-84943-04
GSC-13-84943-07
GSC-13-84943-17 (Cable jacket material includes JN1177 marketing.)
GSC-13-85423-04
GSC-13-85423-07
GSC-13-85868-04
GSC-13-85868-07
FOR INDUSTRIAL USE ONLY
Not for use in food, drug, cosmetic or medical device manufacturing, processing, or packaging operations.