Data Sheet: GORE® Fiber Optic Cables (1.8 mm Simplex) for Aircraft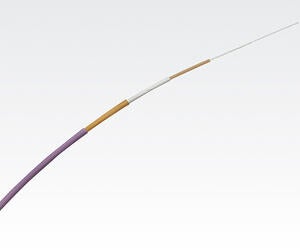 Data Sheets, English
To meet the challenges of the aerospace industry's most demanding environments and applications, W. L. Gore & Associates offers GORE Fiber Optic Cables (1.8 mm Simplex) for Aircraft. These rugged aerospace fiber optic cables guard against extreme temperatures, mechanical shock and crushing force to provide strong signal transmission for a wide variety of avionics network systems and related applications. At the same time, small size and lightweight make them ideal for installation and routing in areas where space is limited.
---
Cable Performance and Specifications
GORE Fiber Optic Cables (1.8 mm Simplex) for Aircraft feature a high-temperature acrylate coating and a rugged buffering system to protect their fiber core. This buffering system includes:
Perfluoroalkoxy (PFA) jacket
Strength member
Secondary expanded polytetrafluoroethylene (ePTFE) layer
Crush-resistant layer
Primary ePTFE layer
These materials reduce the force needed to move the cable's fiber under compression while ensuring optimal signal transmission and enhanced termination with many standard aerospace and defense connector systems. Cables are available with single mode or multi mode, graded-index cores to accommodate the most advanced aircraft data architecture available. They also offer the following:
Enhanced Crush Protection
To demonstrate superior crush resistance, GORE Fiber Optic Cables (1.8 mm Simplex) for Aircraft were evaluated alongside a leading alternative cable using EN3745 method 513. These tests revealed that our cables significantly exceeded the minimum weight impact requirements for enhanced crush protection while delivering excellent signal transmission. In contrast, the competitor's cable provided significant optical loss and fell short of industry specifications for crush protection.
High Vibration and Mechanical Shock Endurance
Because many avionics systems may face extreme hot and cold when airborne, our cables were also tested for vibration and mechanical shock performance after exposure to extreme temperatures ranging from -40°C at 850 nm to +135°C at 1300 nm. Test results demonstrated no degradation or optical loss between these temperatures, proving excellent endurance to high-intensity vibration and mechanical shock for a longer service life.
Meeting Rigorous Standards across Several Applications
We test and pre-qualify our aerospace fiber optic cables against the highest standards for performance to allow reliable use in the most challenging aerospace environments. These standards include:
Flammability: ABD0031 (AITM 2.0005); BSS7230; FAR Part 25, Appendix F, Part I
Smoke Density: ABD0031 (AITM 3.0008B); BSS7238; FAR Part 25, Appendix F, Part V
Toxicity: BSS7239
Test Methods for Crush Resistance: EN3745-513; JN1177 (GSC-13-84943-07)
Performance Requirements: ARINC 802-3 (GSC-13-84639, GSC-13-84640, GSC-13-84943)
Thanks to their compliance, GORE Fiber Optic Cables (1.8 mm Simplex) for Aircraft accommodate the most bandwidth-intensive applications to ensure efficient, reliable operation of critical civil and military aircraft systems. Popular applications include:
Avionics digital networks
Cabin/flight management systems
Digital video systems
Ethernet backbone
In-flight entertainment systems (IFE)
Transceivers
Weather radar systems
GORE Fiber Optic Cables (1.8 mm Simplex) for Aircraft support a wide variety of high-speed aerospace and defense connector systems and backshells to accommodate essential avionics systems. These include Amphenol®, COTSWORKS®, Glenair®, Radiall, ARINC, MIL-STD-38999, and MIL-PRF-29504.
How to Order Gore Aerospace Fiber Optic Cables
Our 1.8 mm Simplex cables play an important role in the aviation networks that make critical missions, flight safety, and crew and passenger comfort possible. For additional information about cable characteristic limits and application needs, including bend sensitive fiber options and fiberglass types, contact a Gore representative today.
If you're ready to order, please visit our list of distributors and explore our sample inventory to learn more about available product samples and lead times. Tested, prequalified samples and small quantities are available within 48 hours for the following GORE Fiber Optic Cables (1.8 mm Simplex) for Aircraft part numbers:
GSC-13-84689-04
GSC-13-84689-07
GSC-13-84640-04
GSC-13-84640-07
GSC-13-84639-04
GSC-13-84639-07
GSC-13-84943-04
GSC-13-84943-07
GSC-13-85423-04
GSC-13-85423-07
GSC-13-85868-04
GSC-13-85868-07
Amphenol is a registered trademark of Amphenol Corporation.
COTSWORKS is a trademark of COTSWORKS, LLC.
Glenair is a registered trademark of Glenair, Inc.
FOR INDUSTRIAL USE ONLY
Not for use in food, drug, cosmetic or medical device manufacturing, processing, or packaging operations.