Data Sheet: GORE® Hook-Up Wires for Defense Aircraft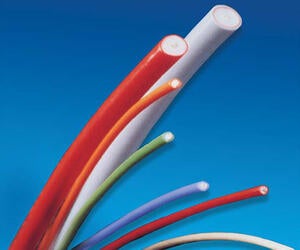 Data Sheets, English
With decades of excellence in innovation, W. L. Gore & Associates' high-performance solutions have a proven track record in military and aerospace applications. In fact, Gore's products have delivered reliable, long-lasting performance in even the harshest environments on every major military aircraft, from the F-15 to F-35, as well as Apollo space missions and Mars Landers.
Backed by this experience and our expertise, GORE® Hook-Up Wires for Defense Aircraft are suitable for applications seeking dependable, rugged solutions. Gore manufactures a variety of standard and custom polytetrafluoroethylene (PTFE)-insulated wire for any hook-up application.
---
Wire Performance and Specifications
As the industry's only vertically integrated supplier, Gore provides solutions that are known to help military aircraft reduce weight, improve fuel efficiency, and decrease the need for costly production delays due to replacements and maintenance. Benefits like these are credited to the properties of the GORE Hook-Up Wires for Military Aircraft, which include the following:
High Uniformity and Concentricity
Produced free of pinholes and with the highest uniformity, Gore's proprietary PTFE tape wrap material appears in both standard and custom hook-up wires, bringing concentricity and ease of installation to aircraft.
Durable Construction
With Gore's highly evolved process, conductors are helically wrapped with overlapping PTFE resin tapes, which are then inserted into a homogeneous mass. This construction makes GORE Hook-Up Wires for Defense Aircraft non-outgassing and non-flammable, as well as rated for extreme temperatures (–65°C to 200°C).
Meeting Rigorous Standards Across Several Applications
Suitable for any hook-up applications, GORE Hook-Up Wires for Military Aircraft comes in a variety of standard and custom variations, including products as small as 42 AWG with a voltage rating of 100 or 250 volts. Gore's standard hook-up wires are qualified and tested to meet popular military standards and voltages as follows:
Type ET: MIL-W-16878/20, 250 V
Type E: MIL-W-16878/21, 600 V
Type EE: MIL-W-16878/22, 1000 V
Custom versions can also meet MIL-W-16878 specifications while offering reduced diameter and weight.
How to Order GORE Hook-Up Wires for Defense Aircraft
Gore's experienced team of friendly representatives is standing by to help you start a partnership that will only benefit your military aircraft for years to come. To learn more about GORE Hook-Up Wires for Defense Aircraft or to discuss your specific application's needs, contact us today. When you're ready to order, contact a Gore distributor.
---
FOR INDUSTRIAL USE ONLY
Not for use in food, drug, cosmetic or medical device manufacturing, processing, or packaging operations.