Data Sheet: Aramid Felt, Acid-Resistant GORE® Filter Cartridge 475 g/m2 (14 oz/yd2)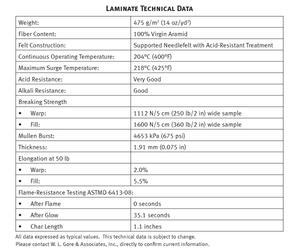 Data Sheets, English
A 204°C (400°F) maximum service temperature, stayed-Aramid felt filter cartridge for use in pulse-jet style dust collectors, where high differential pressure and high cleaning pressures are required due to aggressive dust loading.
---
Features and Benefits
GORE™ membrane technology provides an excellent combination of filtration efficiency and dust cake release.
Polytetrafluoroethylene scrim offers superior chemical resistance and excellent dimensional stability.
Unique acid-resistant treatment reduces the detrimental effects of moisture and acids.
Withstands pressure drop up to 6.2 kPa (25 inches water gauge).
Available in top, bottom, and horizontal loading configurations.
Applications
Chemicals processing: Dryers, bin vents, and nuisance dust collectors in the pigment, plastic and catalyst industries.
Minerals processing: Clinker coolers.
Metals processing: Process venting dust collectors for base metal kiln applications.
Technical Specifications
Weight

475 g/m2 (14 oz/yd2)

Fiber content

100% Virgin Aramid

Felt construction

Supported needlefelt with acid-resistant treatment

Continuous operating temperature

204°C (400°F)

Maximum surge temperature

218°C (425°F)

Acid resistance

Very good

Alkali resistance

Good

Breaking strength

- Warp

1112 N/5 cm (250 lb/2 in) wide sample

- Fill

1600 N/5 cm (360 lb/2 in) wide sample

Mullen burst:

4653 kPa (675 psi) minimum

Thickness

1.91 mm (0.075 in)

Elongation at 50 lbs

- Warp

2.0%

- Fill

5.5%

Flame-Resistance Testing ASTMD 6413-08:
-After Flame
0 seconds
-After Glow
35.1 seconds
-Char Length
1.1 inches
FOR INDUSTRIAL USE ONLY
Not for use in food, drug, cosmetic or medical device manufacturing, processing, or packaging operations.