Data Sheet: GORE® Coaxial Cables for Defense Land Systems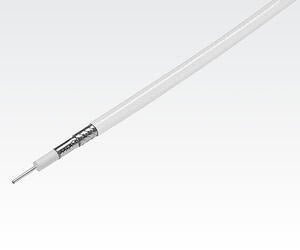 Data Sheets, English
Modern military land systems require countless sensors that depend on cables to transmit critical video as clearly as possible throughout the entire mission. W. L. Gore & Associates builds a reliable solution that can meet that prerequisite while saving valuable weight and reducing operating costs. GORE Coaxial Cables optimize signals and video transmission at 75 ohms in remote-controlled turret cameras, vehicle camera links and vectronics displays. With improved durability and protection, they exceed stringent industry requirements while also meeting SMPTE standards.
---
Cable Performance and Specifications
Designed specifically for 4K video interface systems, GORE Coaxial Cables for Defense Land Systems offer vehicle OEMs what they've been asking for — a reliable, lightweight 75-ohm cable that maintains controlled impedance during missions. Gore's cables have been proven to optimize signals and video transmission with ultra-low loss at 6 GHz despite challenging environmental conditions and mechanical forces. They also deliver numerous other benefits compared to standard legacy RG alternatives:
ADDED DURABILITY
Durability is improved significantly with Gore's strong engineered fluoropolymer jacket, braided shield, helically wrapped silver-plated copper outer conductor and expanded polytetrafluoroethylene (ePTFE) dielectric. These rugged layers allow our coaxial cables to easily resist fluctuating temperatures from -55 °C to +200 °C, changing weather patterns, high abrasion, hazardous chemicals and more. Providing superior shielding effectiveness over 100 at dB through 2 MHz, they also reduce RF interference among critical electronics in armored vehicles.
SIGNIFICANT WEIGHT SAVINGS
Without jeopardizing their mechanical strength and electrical reliability, GORE Coaxial Cables for defense land systems offer a lighter weight design with smaller diameters, saving valuable weight in military vehicles. Unlike legacy RG coaxial cables, you can flex and bend Gore's cables tighter, making them easier and faster to route in crowded areas. 
Meeting Rigorous Standards across Several Applications
GORE Coaxial Cables have undergone substantial qualification testing to ensure they transmit reliable 4K signals and video. Along with meeting the Society of Motion Picture and Television Engineers (SMPTE) standards, they exceed the following stringent industry requirements:
EN3475-503: Test Methods for Scrape Abrasion
EN4604-003: Cable Characteristics for Signal Transmission
FAR Part 25, Appendix F, Part I: Flammability
MIL-C-17G: Cables, Radio Frequency, Flexible and Semi-Rigid
SMPTE 292M: Bit-Serial Digital Interface for High Definition Television (HDTV)
SMPTE 424M: 3 Gb/s Signal/Data Serial Interface for HDTV
SMPTE 2081-1: 6 Gb/s Signal/Data Serial Interface for HDTV
SMPTE 2082-1: 12 Gb/s Signal/Data Serial Interface for HDTV
Their compliance and optimized performance at 75 ohms make GORE Coaxial Cables an ideal replacement for legacy RG alternatives in remote-controlled turret cameras, vehicle camera links and vectronics displays.
 
How to Order GORE Coaxial Cables
Available in a standard size, GORE Coaxial Cables prove dependable in many types of military vehicles. To learn more about how this product and our other high-performance solutions for defense land systems can enhance your application, contact a Gore representative today. When you're ready to purchase our part number CXN3671, you can also contact a trusted distributor.
FOR INDUSTRIAL USE ONLY
Not for use in food, drug, cosmetic or medical device manufacturing, processing, or packaging operations.