Beyond Mobility: How A Single ePTFE Material Innovation Changes People's Lives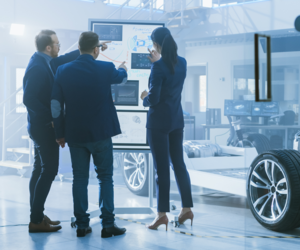 Industry Articles, English
Learn how a single material can transform lives, electrify the world, and make it more sustainable in a conversation with Enze Chen, our global strategic marketer for alternative energy and storage.
---
About the Article
With increasing electrification movements, the adoption of electric vehicles will exceed 45% of the world's mobility and transportation needs over the next decade. Therefore, Gore's ePTFE management (lithium battery cells and packs) and protection for numerous communication components in autonomous systems or vehicles are essential for shaping the future of mobility.
We can see that customers' need to address climate change issues and governments' mandate to achieve net-zero targets are causing disruptions in the automotive industry. As a result, OEMs and battery suppliers face similar critical R&D challenges, such as developing batteries with long life and long range while managing the risks of protecting battery cells.
Gore is constantly innovating its products as part of its commitment to helping automotive companies overcome R&D challenges. Beyond the automotive industry, ePTFE is ideal for use in a variety of industries, including aerospace, apparel, textiles, life sciences, mobile communications, and microelectronics. We are also working on groundbreaking initiatives to address future issues, such as sustainability. Our innovative solutions focus on a sustainable future, where ePTFE's unique properties are ideal for use in new technologies and products.
Gore is dedicated to leading the charge in ePTFE innovation, as the material continues to demonstrate its value across a range of fields. By pushing the boundaries of ePTFE technology, we aim to make a profound impact on humanity, revolutionizing the way we live, powering the planet, and promoting sustainability.