Torque Table: EN Raised Face Steel Flange, Ring, GORE® Universal Pipe Gasket (Style 800) or GORE® GR Sheet Gasketing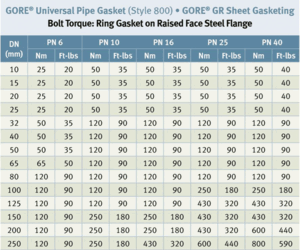 Installation Guides, Technical Information, United States
GORE Universal Pipe Gasket (Style 800) & GORE GR Sheet Gasket Ring Gasket on Raised Face Steel Flange: To achieve a reliable seal, adequate gasket stress must be applied during installation. This table provides an estimation of torque for use during assembly of standard design steel pipe flanges.
---
FOR INDUSTRIAL USE ONLY
Not for use in food, drug, cosmetic or medical device manufacturing, processing, or packaging operations.